It was a throwback party on "The Masked Singer" as the theme was "2000's Night."
But before the costumed celebrities took the stage, Jewel opened the Oct. 11 show with a performance of "Standing Still." The singer was the Season 6 winner and Queen of Hearts.
This week's performances included Gazelle, S'more, Cow and wild card contestant Pickle, who was ultimately squashed from the competition after his performance of "Beverly Hills" by Weezer.
What did each contestant perform?
Gazelle once again impressed the judges by singing and dancing to "Lucky" by Britney Spears, S'more sang "Hey There Delilah" by Plain White T's, while Cow kept panelists Robin Thicke, Jenny McCarthy Wahlberg, Nicole Scherzinger and Ken Jeong on their toes by crooning to Justin Timberlake's "Cry Me a River."
Who were in the bottom two?
However, after votes were calculated, host Nick Cannon announced that Pickle and S'more were in the bottom two. To save themselves, they would go head-to-head in the smack-down and each sing one more song: "Sugar, We're Goin Down" by Fall Out Boy.
Who went home this week?
Pickle was defeated and would be leaving the competition. But before he was unveiled, each panelist got one last chance to guess who they thought was under the mask.
Scherzinger guessed it was Charlie Sheen, Jeong believed it was Howard Stern, while McCarthy Wahlberg said it was Conan O'Brien and Thicke said Joel McHale.
None of them were correct because the Pickle was: Michael Rapaport.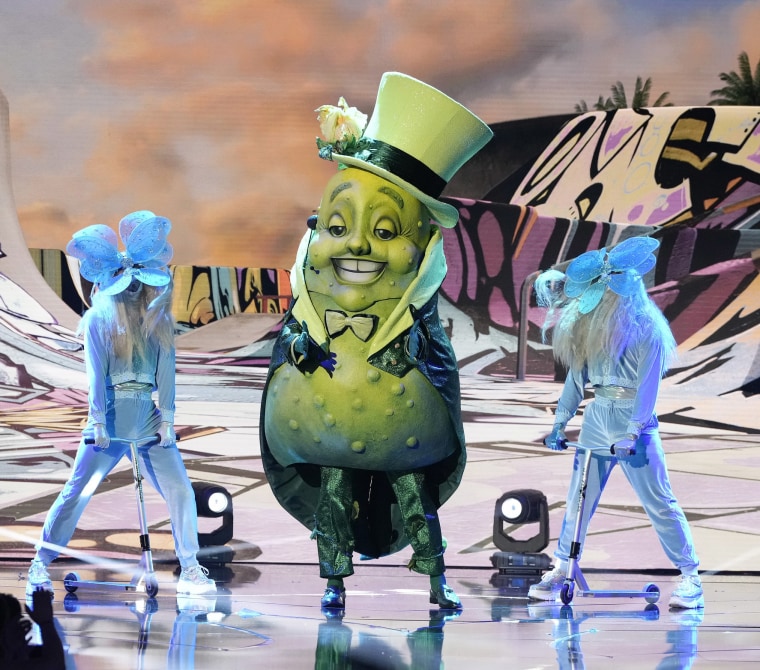 The actor and comedian then proceeded to yell at the panelists for not being able to guess who he was.
"You did great, Michael," Jeong said, to which Rapaport yelled back, "Oh no, I just didn't do great, I did fantastic. I was unbelievable! ...The crowd went crazy. I almost stage-dived right into this man's hands."
The panelists and audiences were cackling at his comments, before Cannon said, "We lost control."
"I don't know you, but I rarely get starstruck. I'm such a huge, massive fan and I can't believe you're on this stage," said Scherzinger.
"Well shame on everybody here, including you Nick Cannon. Don't suck up to me now, you had your chance!" the actor said, before adding, "In all seriousness, I had a great time. I love this show, I love Nick, I love all these guys. The crowd was great. I hope they're feeding you. It was awesome."
Over in the YouTube comments, the crowd went wild over Rapaport's reaction to having to go home.
"The funniest reveal on this show EVER. I have never laughed so hard. I love Michael Rapaport so much, he's one of the best comedic writers of a generation," one person wrote.
"One of the best reveals I've ever witnessed," another penned.
"He really didn't want to go home!" a third said, while another wrote that Rapaport's moment was "the most shocking reveal ever."
Next week, four brand new singers will enter the game as Group B. The new contestants will celebrate the songs of Elton John.
As the season continues, TODAY.com will be updating the contestant reveals. Additionally, later in the season Rita Ora will be replacing Scherzinger, who will be starring in a London West End production.