Actor Lukas Gage is opening up about what his mom thinks about some of his more, ahem, raunchy scenes.
Gage, who appeared in the first season of "White Lotus" and the most recent season of "You," recently told Variety that his mother is comfortable with him doing what he needs to do in show business.
"She says, 'That's a great a--. Get that money. Get that bag and be committed,'" Gage told Variety. "My mom's cool. She's like a cool little hippie lady. With nudity, I think we both share sort of a European vibe."
In "White Lotus," Gage played Dillon, a hotel employee who does drugs with Murray Bartlett's manager character Armond. The two have sexual relations — only to be interrupted by an angry hotel guest Shane Patton (played by Jake Lacy) and another employee, Belinda (played by Natasha Rothwell).
In the most recent season of "You," Gage plays Adam Pratt, a social climber engaged to Lady Phoebe (played by Tilly Keeper). In one memorable scene, he is wildly rude to a waiter in public only to sneak off with him later. The two then engage in what the kink community calls a "golden shower."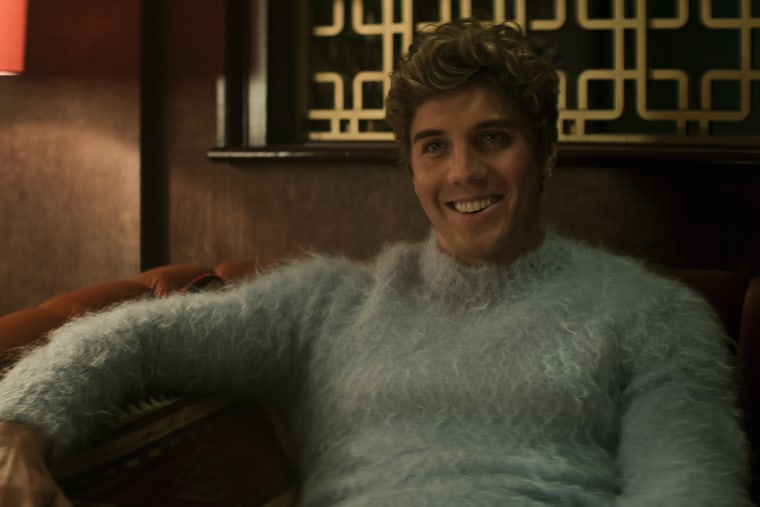 Gage recently told People that he thinks it is important to "not kink-shame ever and (to) be sex-positive" on the show.
"We're never making fun of anyone's kinks or anything. It's a part of him," Gage told the outlet. "I think there are underlying reasons for everyone's likes and kinks."
It's not the first time Gage has been asked about his on-screen sexual exploits. In a 2021 interview with the AV Club, Gage was upbeat about the "White Lotus" scene and said he was looking forward to "my a-- to get retweeted all over the Internet."
He revealed that he even helped rework the blocking to show their characters having anilingus.
"We said, 'Wouldn't it be more interesting if (Dillon's) getting his salad tossed?,'" the actor told the outlet. "I mean, how often do we see that on TV?" I think it's much more interesting and more jarring to walk in on." 
Though he's open about his small screen sex scenes, Gage has been much more private when it comes to speaking to the media about his own dating life.
Celebrity hairstylist Chris Appleton recently revealed on "The Drew Barrymore Show" he is dating Gage, though Gage didn't confirm or deny their relationship to the New York Times.
"I'm a pretty open book about most things in my life, but I have a problem with the culture of everyone needing to know everybody's business and nothing can be sacred," he told the paper. "It's a weird line that I'm still trying to figure out."
"For me," he said, "there are just some areas in my life that I don't want to shout out to the world on anyone's accord but my own."
Gage has, however, posted publicly about Appleton and their trips together on his Instagram.