It's official! "White Lotus" star Lukas Gage and celebrity hair stylist Chris Appleton are happily in a relationship.
Appearing on "The Drew Barrymore Show" on March 15, Appleton, whose clients include stars like Kim Kardashian and Jennifer Lopez, was at first coy about his new beau.
Explaining a recipe to host Drew Barrymore, he noted one of its benefits is a libido boost, to which she asked, "How's your libido lately?"
Appleton paused before answering, "Yeah, it's pretty good actually. I'm pretty good."
Prying further, Barrymore asked if there's anyone special in his life at the moment, to which he confirmed, "Actually, yeah."
"Listen, I'm very happy, very much in love," he continued. "And I feel very grateful to be able to share my time with someone very special."
Appleton called love in general a "really special thing," saying that meeting someone you truly connect with is even more unique.
Hailing the stylist as the "world's great catch," Barrymore took a moment to fangirl over the newly announced relationship. "You are such a good person. I can't think of anyone who deserves happiness more."
"Here's to love!" he responded, picking up Barrymore and twirling her around, laughing together.
The show then promptly displayed a photo of Appleton and Gage, which had originally caused fans to question if the two were tied romantically.
In February, they each posted photos on Instagram of them sitting on an all-terrain vehicle, with the location marked as The St. Regis Punta Mita Resort in Mexico.
Appleton captioned his post, also featuring the couple in the water and in the vehicle wearing masks, "Joyride." Gage commented, "Buenos," with the heart-eyed emoji. On his own post, the actor wrote, "la mejor," to which Appleton said, "Stud," also adding heart eyes.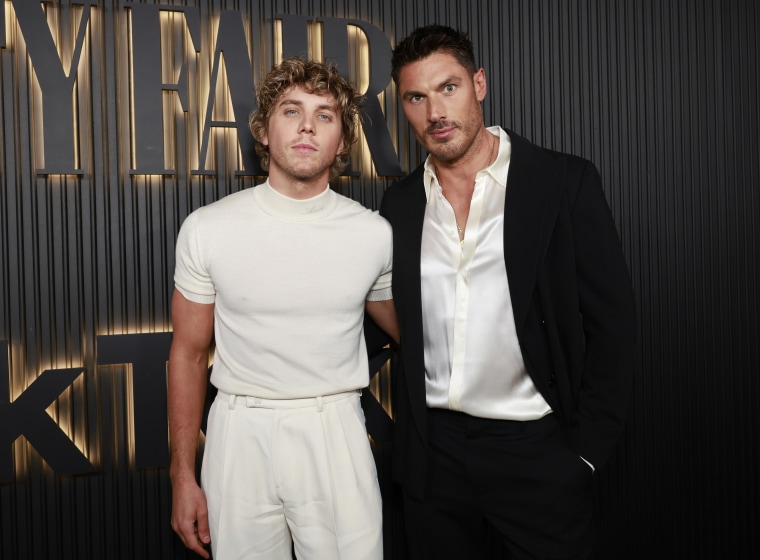 In a recent interview with The New York Times, Gage would not confirm or deny the relationship. Referring to the rumors, he said "If they want to think that, they can."
"I'm a pretty open book about most things in my life, but I have a problem with the culture of everyone needing to know everybody's business and nothing can be sacred," he added. "It's a weird line that I'm still trying to figure out."