"Love Is Blind" star Nancy Rodriguez walked away from the show single and now she is ready to search for love again. 
On Feb. 10, Netflix released its third "After the Altar" special, which provides an update on all the couples and single cast members from Season Three.
In the episodes, Rodriguez and Bartise Bowden reunite and address their break up at the altar. By the end of the special, Rodriguez tells Bowden she wants to move on from their relationship and no longer be friends. She calls it quits — for real, this time.
In an interview with TODAY.com, the 33-year-old reality television star explains her decision to distance herself from Bowden and why she's opening up to new possibilities by signing up for a dating app for Latinos called Chispa.
What it was like to catch up with Bowden after a year apart
In "After the Altar," Rodriguez and Bowden meet for brunch to chat about her family's emotional reaction to him rejecting her on their wedding day. During their talk, Rodriguez reveals she hasn't told her family that she's still in touch with Bowden. 
Rodriguez tells TODAY.com that the conversation with Bowden was filmed around the time the reunion was taped, when they were still trying to be friends despite their post-wedding blowout. 
"In 'After the Altar,' we actually sat down and just talked," she shares. "It had been over a year. It was kind of the first time that we had reconnected."
She shares her family's perspective on her relationship with Bowden
Later in the special, Rodriguez speaks to her mom, Erendira, and brother, Steve, about her friendship with Bowden. 
They're not thrilled to hear Rodriguez is still speaking to her ex. Both made their feelings clear during the Season Three finale, when both Erendira and Steve called Bowden out after the wedding ceremony.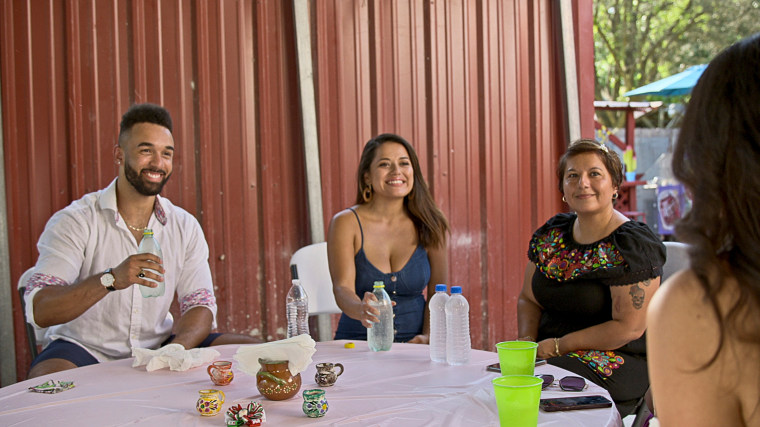 Rodriguez tells TODAY.com her relatives' response was "a true representation of the love that they have for me" and that she did not know the full extent of how upset they were until the show aired. 
"It further validated the type of love that we carry in our family. That love is deep, she says. "I'm so thankful that my family was able to speak on my behalf — what I wanted to say but what I couldn't say in that moment because I was at the altar."
"I'm so thankful that my family was able to speak on my behalf — what I wanted to say but what I couldn't."
Nancy Rodriguez on her family
Still, she says she would not change how she handled the situation. 
"There's nothing that I would take back about what happened," she says. 
While her dad walked her down the aisle, he was not as outspoken as her mom and brother during the wedding post-mortem.
Nancy explains that her dad has been supportive from the beginning and took his daughter's experience on "Love Is Blind" seriously. After the wedding, her father came to visit her for the week, she says. 
"He was just looking out for me because he knew how much effort and how much love I had put towards this experience," she explains. 
Even if he kept quiet, her dad shared his wife and son's sentiments about Bowden.
"My dad is not a fan of Bartise," Rodriguez says. "My dad felt as much blindsided as I did, because I was just telling my dad all the good things that were leading up to the wedding. My dad was a little caught off (guard) by the ending of that wedding day."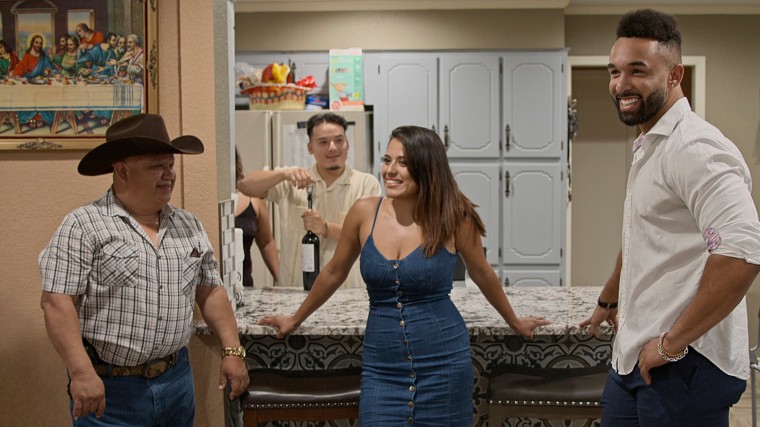 'We're not friends': Where Nancy Rodriguez and Bartise Bowden's relationship now stands
Rodriguez reevaluates their relationship after her family encourages her to put up boundaries. During Alexa Lemieux's birthday party, Rodriguez tells Bowden that the friendship has to end, a promise to herself she has kept.
"We're not friends," she shares. "It was something that I knew that I needed to do to remove myself from that kind of environment. If you're not doing anything for me personally, you're not helping me grow in any kind of way."
She adds, "It's really just extra baggage that I wanted to leave behind and that was part of my decision to separate myself." 
Now, she's focused on dating and finding matches with a similar cultural background
As she focuses on the next chapter of her life, Rodriguez — who is of Mexican descent — has decided to join Chispa, a dating app where Latinos and Latinas can get to know each other. 
"I think what makes Chispa so special is that it truly brings me together in a room with other singles who have similar backgrounds," the real estate investor says, comparing the platform and the mingling process to AOL Instant Messenger. 
"Even if they speak Spanglish," she jokes. "They don't have to speak (perfect) Spanish. My Spanish can sound a little rusty." 
She tells TODAY.com that at this point in her life she wants a serious relationship with a partner who understands her strong Latino family.
Rodriguez explains that being on the app makes it easier for her to open up.
"It puts me in a headspace where I can feel comfortable.  I can open up (and) be more vulnerable with someone who automatically is in the same cultural background as me," she says.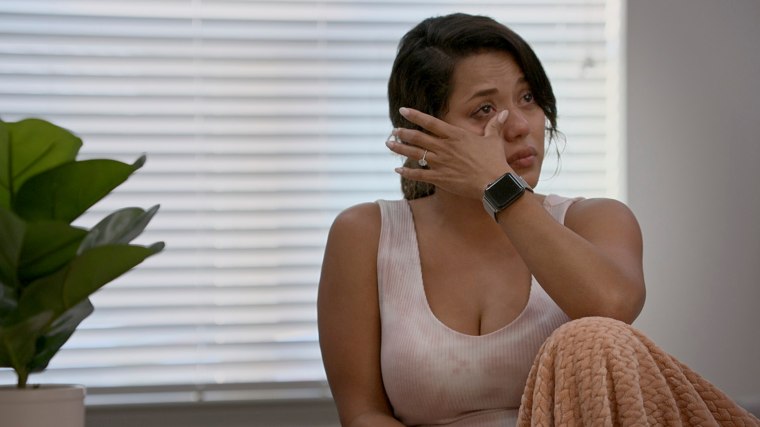 Previously, Rodriguez was not specifically searching for a partner with a similar cultural background. But something during "Love Is Blind" shifted her approach. When Bowden first met her, he spoke Spanish to her. 
"I think initially, without having that be a requirement, it did tug at my heartstrings because it's so nice to know that my culture, my language is there," she says. "(It's such) a rich culture. I love being Latina. And I think if anything it just took me to a place of being home." 
Now, she says, it's "different." She says her culture is something that is something she "values more" and wants to cherish.
She hopes the men she meets on the app can see her confidence, garnered through her time on the show and her growing career.
'I want to inspire other women': Expect to hear more of Nancy Rodriguez's journey
Moving forward, she's planning to share her experiences with love and dating with her followers.
"I think it is important for us to be talking about what it is to be 33, successful, independent and trying to find someone to match or be above that energy," she says. "I want to inspire other women to still be hopeful ... and not give up. Love is out there for all of us."