Spoilers about "The Ultimatum: Marry or Move On" Season Two below. 
Leading up to the Season Two premiere of "The Ultimatum: Marry or Move On" on Aug. 23, multiple trailers teased a blowup between two contestants. After watching the confrontation, the clips didn't do it justice. 
In Episode Two, viewers watched Lisa Horne and Brian Okoye, who came on the show together after dating for about two years, get into a heated argument. Brian started flirting with fellow contestant Riah Nelson at a bar, which irritated Lisa. So, she interrupted their conversation and called him out.  
Multiple insults and expletives were exchanged and Lisa, who issued the ultimatum to Brian and spoke repeatedly about wanting to marry him, walked off, appearing to quit the experiment. 
In separate interviews, Lisa and Brian opened up to TODAY.com about their intense disagreement and shared why their bickering escalated so quickly.
Lisa explained that the source of her frustration wasn't seeing Brian and Riah connect — which is the first part of the process — but "more so just (that) my anxiety (was) through the roof about the whole situation." 
"There were things that me and Brian were dealing with literally right before coming into the experiment that I was still on edge about," she added.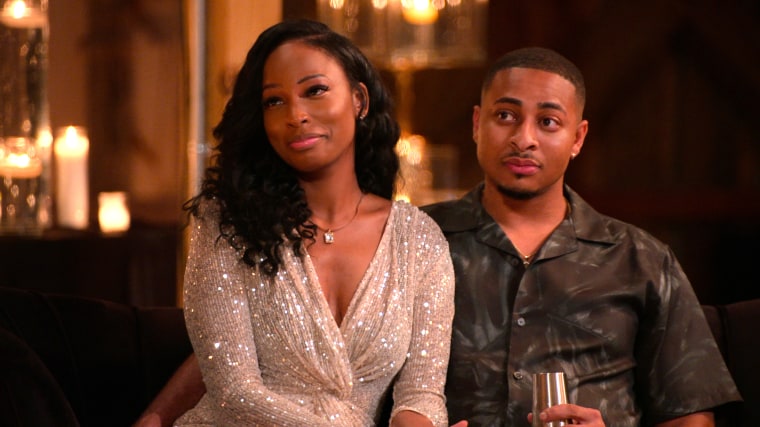 Riah bonding with Brian added fuel to the fire.
Lisa said when filming began she paid attention to the other contestants' explanations for why they wanted to come on the show. 
"Just from my perspective ... I didn't really care for certain people's reasoning for wanting to connect with others," she said. "I felt like it may be shallow reasoning. Like, OK, you're here for physicality or sexual whatever."
She recalled feeling "apprehensive" because she signed up for "The Ultimatum: Marry or Move On" to learn what she wanted in a marriage and to see if Brian was the right person for her. 
"I'm assuming everyone else is (doing that, too) and I didn't feel like that was everyone's motives," she continued. "And that is what triggered me specifically about (Riah)."
As for Brian, he said he was baffled when he saw Lisa become emotional in the bar because he did not understand her frustration. 
He was hoping to "diffuse" the situation before the argument escalated. 
"I know that there's no hate or malicious intent in (Lisa's) heart, right? And I know she was going through a lot just like any of the other cast members," he explained.
He told TODAY.com that he tried to "give her grace" at that moment because he was hopeful they could work through their problems. 
However, Brian recognized that he did not handle the situation the best he could. 
"I should have been the water to kind of put the fire out," he said. "But everybody was kind of just going through it, myself included." 
During Episode Three, all the contestants came together for "The Choice" ceremony, during which they selected a new partner for their three-week trial marriages. Lisa and Brian were noticeably missing from the table.
In the season's most shocking moment, co-host Nick Lachey announced that the couple left the show after learning Lisa was pregnant. 
"The Ultimatum: Marry or Move On" crew filmed the moment Lisa shared her pregnancy news with an excited Brian.
Lisa revealed to TODAY.com that she would've preferred to tell the rest of the cast in person instead of having Lachey relay their personal news. 
"I'm not gonna lie. I personally wanted to come to The Choice to tell everyone," she shared. "But Brian did not. Once I told him I was pregnant, he was like, 'I'm taking my woman. I'm taking my baby and we're going home.' And I respected that."
She continued, "As far as like, you know, Nick being the one to reveal it. I was uh … I didn't really care for it. I don't think Brian did either."
But she understood that they signed up for a reality television show, meaning they essentially agreed to invite Netflix, the contestants and viewers into their relationship.
"It's like, (if) you don't say it your way, someone else will. And that was fine," Lisa said. 
Brian agreed, and said at the time he cared less about the optics and more about protecting Lisa and their unborn child.
"It was a dilemma because we knew that it was going to come out one way or the other. Whether it was Nick Lachey or whoever, it was going to come out," he explained. "But we felt that, in that moment, the best decision was for us to make a decision to leave and focus on the health of her (and) be the best parents that we can."
Brian concluded, "So, I didn't feel a way about (Nick) disclosing information."
He said the pair volunteered to have their business "exposed" on the show and they accepted the ramifications. 
What happened after the show?
Although Lisa and Brian were not physically together when speaking with TODAY.com, the two are still in a relationship.
Lisa gushed that the two are "in a really great place" as a couple "and as parents."
"I notice it's different seeing the person that you love come into fatherhood," she said. "Seeing how he is as a dad, it brings on a new attractiveness about him." 
It took some work to get to where they are now. She said after leaving the show they knew they needed to establish a good foundation before welcoming a child together.
"Because obviously you see on this show that that wasn't the case. There were some things that truly needed to be worked on. We've been in therapy, we still are in therapy," she said.
Despite everything that happened, Lisa said she is glad she went on the show with Brian, adding that the experience helped her realize he was the right person for her.
"Because any other man, I feel like, would not have lasted," she said.
Brian also spoke about "happily co-parenting" with Lisa, sharing that it felt like they returned to a "different world" after "The Ultimatum." 
"I feel like maybe that's what deeply isolating and working on yourself and your relationship looks like for some people, at least it did for us," he said.
After leaving, Brian said they knew that raising a child and creating a "healthy family dynamic" were their main priorities.
"We definitely had to get it together, so we became very selfless," he shared.
He said they took the passion they showed during their time on the show and turned it into drive and determination to build a strong family for their child.
What happened at the reunion?
During the reunion, Lisa confirmed that she gave birth to a baby boy.
"He's seven weeks now, so still new. We've enjoyed being parents," Lisa shared at the time. 
Co-host Vanessa Lachey revealed that the reunion was filmed about 10 months after the experiment ended for the other couples. She also shared that Lisa and Brian's son is named Mason. 
Brian chimed in and said he was immediately changed after becoming a father. "I think the first few days were still surreal. It's like I have this little human who I'm responsible for the rest of my life. But once he was here, in our arms, it changed everything for me for sure," he shared.
As for her ultimatum, Lisa said she hasn't forgotten about it.
"I still have told him, you know, I'm not going to be a baby mama forever," she told Nick and Vanessa Lachey. "Like, you know, you still have to put a ring on this finger."
Brian said he is "100% locked in," and sees marriage in their future.
"But we're just not at that point yet," he said. "I think we're doing things the way that we want to do it. And I think that, for the first time in a while, we're on the same page on that." 
Correction Sept. 13 2023, 3:10 p.m. ET: A previous version of this story mistakenly stated that Brian's last name is Oyekein. His last name is Okoye.