Can "Sex and the City" have a lesson for people looking for love? If you ask Evan Handler, who plays Charlotte York's longtime husband in "Sex and the City" and its sequel "...And Just Like That," the answer is yes.
"The original show was all about these women searching for something that couldn't seem to find, and tapping into the quandary of preconceived ideas of what I think I need versus what is really important to have in a partner," Handler tells TODAY.com.
Charlotte did more than meet a man who checked all of her boxes — she married him. Charlotte tied the knot with Trey MacDougal (Kyle MacLachlan) in Season Three of "Sex and the City." And even though he was an old money, conventionally handsome man, the marriage fell apart fast (almost as fast as you can say Bunny MacDougal).
Then came Harry Goldenblatt, the lawyer played by Handler. He wasn't who Charlotte wanted — but it turned out he was who she needed.
"Along comes a guy who's 5 feet 7 inches tall, bald, Jewish, and doesn't fit any of those categories that Charlotte started out with. And yet she finds the most satisfying sex, then the most satisfying relationship, with a man who appreciates her and cherishes her and then respects her," he says.
To him, being on "Team Harry" is "healthy." He's not surprised to find that Harry has amassed a fandom of his own, rising above the rest of the show's love interests. The HBO sequel, which sees Harry and Charlotte's marriage steadily growing, has people coming out for Harry in droves.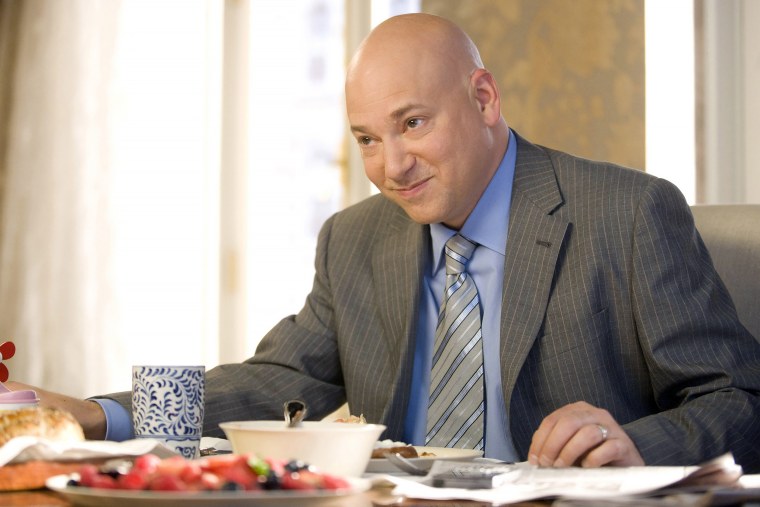 For Candace Bushnell, who created the "Sex and the City" column on which the show was based, the question to "Team Aidan" or "Team Big" is ... neither.
"When people ask me if I'm 'Team Big' or 'Team Aidan,' I loudly proclaim my love for Harry Goldenblatt," Bushnell said in a tweet.
Handler says women come up to him all the time and tell him they're searching for their own Harry.
"A lot of women come up to me and say, 'I'm looking for my Harry.' I always wonder, 'How many Harrys have he turned away? And how many will you still?'"
Handler also says who you pick has to do with "where you are in your life," saying, "You turn away from people because it's not the moment for you or that person at that time."
When "Sex and the City" came out in the early 2000s, Handler had the uncanny experience of going from a Harry to a, say, Mr. Big, with people suddenly interested in him because of his status.
"I had no shortage of relationships or women in my life (before). But women didn't flock to me. Suddenly, I was surrounded everywhere I went. Women glowed wanting to talk to me or have their picture with me. I thought, well, this is just because they saw me on a television screen. It was like a light switch being turned on," he says. "I knew what it was."
Handler sees his own life mirrored in Harry's story. His wife, Elisa Atti, is a chemist from a small town on the Adriatic coast of Italy. They share a 16-year-old daughter, Sofia Clementina.
"I was getting married to a non-American, non-Jewish, non-entertainment industry woman at the same time Harry on 'Sex and the City' was getting married to a non-Jewish woman. And now we're the long-lasting marriage at home (and on the show)," he said on TODAY with Hoda and Jenna.
He calls his wife a "gorgeous and brilliant powerhouse," but not a Charlotte. "My wife is similar to me. She always said she didn't think she was going to get married or meet someone. She is someone who was not going to commit to someone who didn't feel right. She was happier to be alone than to be someone who didn't suit her. We're happy we found each other," he says.
Handler entered "Sex and the City" not familiar with the phenomenon, but became a fan by catching up and watching reruns (which he does to this day: "It's a really entertaining show").
Now, he watches lives unspool on "And Just Like That" with curiosity and delight.
"I'm like an audience member when I get the script. Those choices and decisions — a lot of them take me by surprise. A lot of times I wonder, Oh, that's where they're choosing to go? Or, Oh, that makes complete sense." (Your call on what you think of Harry's bowler hat in Season Two, Episode One).
"It's a blessing to be part of something so many people love. Who gets to have something that for decades, millions of people around the world want to see again and participate in? I feel tremendously blessed to be part of it," he said on TODAY.