It's a mini-"Taxi" reunion!
Danny DeVito was joined by "Taxi" co-stars Tony Danza and Carol Kane when he showed up July 31 to support Rhea Perlman at the opening night of the play "Let's Call Her Patty" at Lincoln Center's Claire Tow Theater in New York.
The trio were all smiles when they posed alongside Perlman, 75, who played a recurring character on "Taxi," and "Charlie's Angels" franchise star Lucy Liu.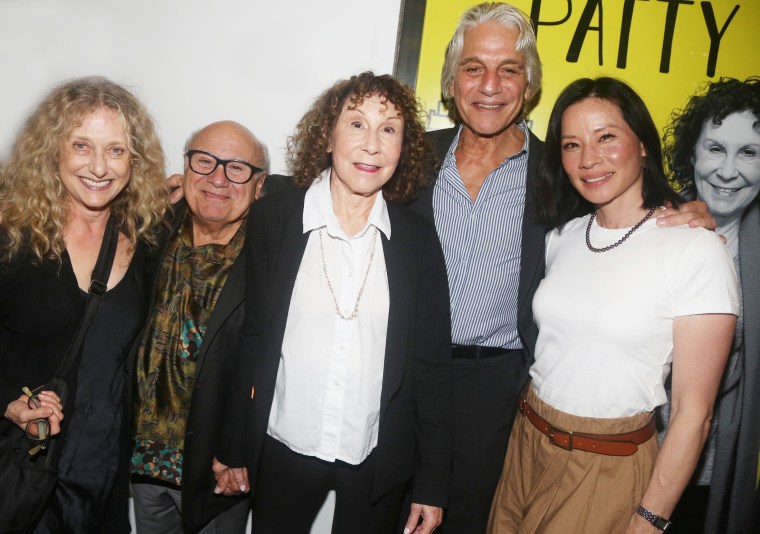 Perlman, who can also be seen in the new "Barbie" movie, opened up in a recently released podcast interview about her and DeVito's 2012 split, which came after 30 years of marriage.
"Danny and I, we are still married," Perlman told Julia Louis-Dreyfus on the May 31 episode of Lemonada Media's "Wiser Than Me" podcast. "And we are still very good friends and we see each other a lot. And our family is still the most important thing to both of us."
Perlman and DeVito tied the knot in 1982. They share three children: daughters Lucy and Grace and son Jacob. 
During her conversation with Louis-Dreyfus, the "Cheers" alum revealed that her breakup with DeVito hit her hard.
"I'm not gonna sugarcoat it, it was very difficult at first. And there were a lot of reasons that we separated, which I'm not going to go into," she said. "It took time for us to come to this, somehow, pretty decent understanding and relationship with each other."
Perlman said at the time she recorded the podcast episode that she was living happily with her dog, but wouldn't rule out finding love again.
"I don't like living alone. I like being alone. I like having time to myself," she said.
Perlman and DeVito's reunion with their former "Taxi" co-stars wasn't the only "Taxi" reunion this year. Danza and Kane got together with old pals Judd Hirsch and Christopher Lloyd for a meal at a New York restaurant in May.