This week's "Bachelorette" Season 20 finale was as historic as it was heartwarming.
Charity Lawson, a 27-year-old family and child therapist from Georgia, selected Dotun Olubeko, a 30-year-old integrative medicine specialist, as the winner of her heart.
Olubeko is a first-generation Nigerian-American who resides in Brooklyn. He moved to the U.S. from Nigeria when he was 4 years old, and he first bonded with Charity after opening up about his journey to citizenship on the show.
While Bachelor Nation has seen Black couples crowned as winners, the Aug. 21 "Bachelorette" finale featured the franchise's first couple who are Black and not biracial.
For Black "Bachelor" fans, the display of Black love was particularly meaningful.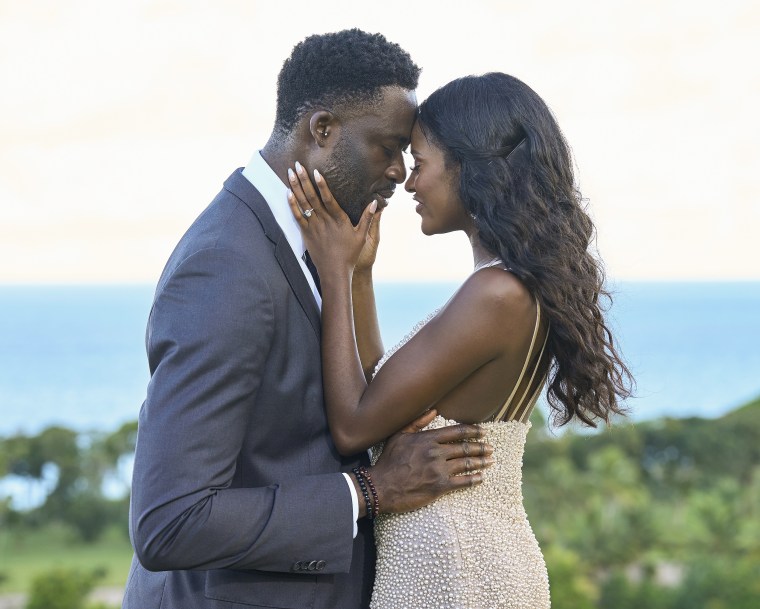 "It was so refreshing and lovely to see," Khadijah Hardiman, 28, tells TODAY.com. "I was watching with my mom and we couldn't stop crying. The proposal was beautiful to watch — it's obvious that both of them are so in love with each other."
Natalie Williams, 27, calls the celebration of Lawson and Olubeko's love story on national TV "huge."
"You see it on Shonda Rhimes. But to see it on a national, primetime (reality) show on ABC ... that's a monumental thing," she tells TODAY.com. 
Hardiman also highlights the importance of seeing a dark-skinned Black couple take center stage, given the existence of colorism —when individuals with darker skin tones are discriminated against, particularly by members of their own community. "I was happy to see how it played out," she says.
For Black fans of the show, the triumphant finale is taken as a hopeful, and welcome, sign of change for the franchise. 
Hardiman, who has watched every season of "The Bachelor" since 2016, tells TODAY.com that being a Black fan can be "exhausting," due to the lack of diversity within the franchise. Historically, she says, "Bachelor Nation doesn't address race issues."
On the rare occasion the franchise has attempted to broach race, the conversations have been complicated.
Rachel Lindsay made history as the show's first-ever Black "Bachelorette" lead in 2017, 15 years after "The Bachelor" first premiered. While her season ended in a lasting marriage, she severed her relationship with the franchise following an interview with former host Chris Harrison while she was a correspondent on "Extra." During their chat, Harrison discussed the backlash against "Bachelor" contestant Rachael Kirkconnell.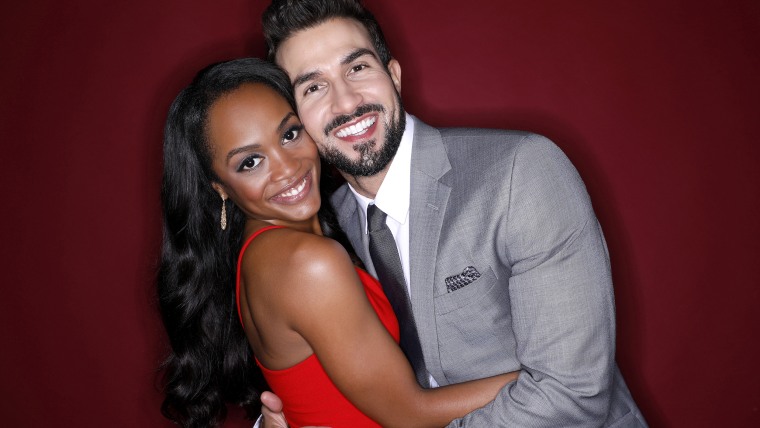 Kirkconnell won Matt James' season of "The Bachelor," another historic season in the franchise as James was the first Black male lead. During the season, pictures of Kirkconnell's past racist behavior emerged. She had attended an antebellum plantation-themed fraternity formal in 2018.
Harrison defended Kirkconnell. He asked for more "grace" from fans, saying Kirkconnell's actions could be excused because of when they took place: "Is it (not) a good look in 2018. Or is it not a good look in 2021?" Harrison asked Lindsay. "Because there's a big difference." 
Shortly after the interview aired, Harrison stepped aside from his longtime role as host and executive producer and was later replaced by current host Jesse Palmer. Kirkconnell apologized on Instagram and said her actions were "ignorant" and "racist." She is still currently in a relationship with James. Harrison addressed his exit on his podcast in 2023, saying he was "heartbroken, gutted, embarrassed …. the last thing in the world I ever wanted to do was be an agent of anything negative — whether it had to do with race or anything."  
Last year, Season 19 co-bachelorette Gabby Windey's final rose recipient, Erich Schwer, was called out after pictures of him in blackface in his high school yearbook were posted on social media. Schwer apologized on Instagram, but the show never addressed the scandal.
Lawson's season was a refreshing break from this pattern for Williams, who became a fan when Lindsay was chosen and has occasionally paused watching the show amidst controversies like the aforementioned. 
This season, for Williams, was the first without any "major mishap" for a lead of color.
"It was straightforward. I didn't feel like there was something I had to literally talk about with Bachelor Nation and say, 'This needs to be corrected with ABC executives.' I'm able to relax and laugh and be like, 'Oh my God, you're so cute,'" she says.
"I feel like now, I can really sit back and support the franchise."

Natalie Williams
Williams says previous leads of color like Lindsay, Tayshia Adams and Michelle Young "paved the way for Charity to come on and be confident and stick to her guns." Lawson previously discussed the responsibility she felt as the second "monoracial" Black lead before her season aired.
Williams' hopeful this season is a sign of greater accountability on behalf of the franchise, in terms of casting widely and generating responsible conversations around and on the show.
She points to contestant (and future bachelor) Joey Graziadei's candid conversation with Lawson's family about race as an example of progress.
"I feel like now, I can really sit back and support the franchise," Williams says.
"Could America finally get to see what healthy 'Black love' looks like? That wholesome, storybook kind of love. Yes!"
Martheline Brevil
Following the dating series since its inception, Martheline Brevil, 34, has felt the impact of the show's turn toward diversity, in that it allows her to connect with cast members more. While she'd always been "excited" and "delighted" to see love stories play out, she felt a "disconnect" in that none of the cast looked like her. 
She recalls beings "elated" when Lindsay was chosen as the bachelorette. But with Dotun and Charity, Brevil says she found a story that "felt like family."
"Could America finally get to see what healthy 'Black love' looks like? That wholesome, storybook kind of love? Yes! We, too, can also be smart, educated and charming professionals wanting to find love, who have loving and supportive families behind us, encouraging and guiding us to pass along this kind of love onto the next generation," she says.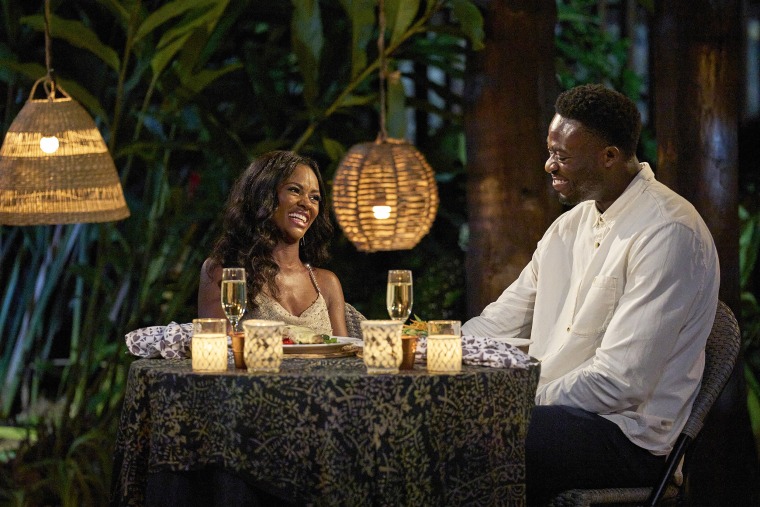 During the "After the Final Rose" special, Lawson and Olubeko revealed they are still happily together. In an interview with People, Olubeko said he and Lawson hope to frame themselves as role models for the kind of love these viewers resonated with. "We will continue to do our best to show what beautiful Black love can be like," he said. "And we hope that the franchise also continues down that path."
There's hope that Lawson and Olubeko will persist — both as a couple, and as a symbol of a changing "Bachelor" franchise. 
"I feel like it's the start of opening another door. Now, I'm ready for the Asian bachelor!" Williams says.