Rocker Meat Loaf stunned fans during a concert in Canada Thursday when he collapsed on stage midway through a song, fan videos showed.
Video shot from the crowd showed the 68-year-old singer keel over while signing his hit, "I'd Do Anything for Love (But I Won't Do That)," and then sprawl out on the ground at the Northern Alberta Jubilee Auditorium in Edmonton.
After a few moments, crew members and security rushed to his aid.
A statement released on Friday from the singer's representatives said the cause was "severe dehydration."
"He was admitted to a nearby hospital to undergo routine tests. His vital signs are stable and normal — he's responsive and recovering well," the statement said.
A spokesperson for Alberta Health Services told NBC News that a patient was taken from the venue to an Edmonton hospital, but they would not identify the patient or his condition.
The concert was cut short after the singer's fall.
MORE: Meat Loaf's Orange Crush: Angie Harmon (mostly because of her husband)
"For the whole show Meat Loaf seemed a little out of it," showgoer Callie Young told NBCNews. "I actually told my boyfriend I was having a hard time enjoying the concert because I was concerned for his health."
Another fan in the crowd, Jim Thibaudeau, noted, "It was a terrifying sight."
This wasn't the first time Meat Loaf has had a health scare during a performance. He collapsed during a show in Pittsburgh in 2003 and then at London's Wembley Arena in 2011. He cited exhaustion in both cases.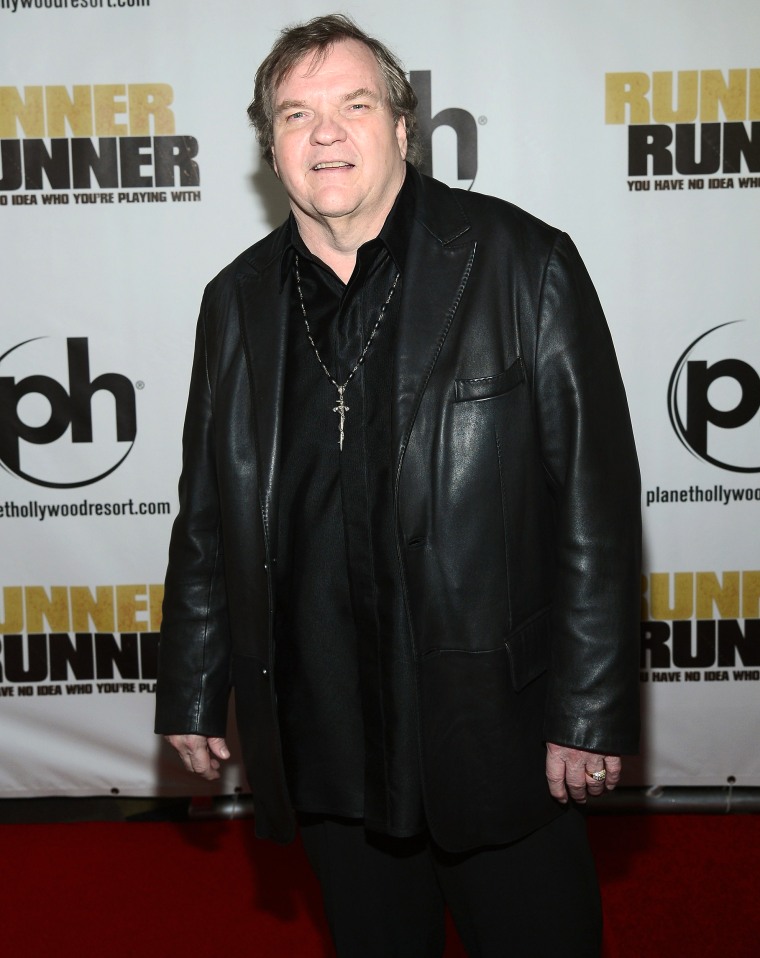 The singer has said he suffers from an irregular heartbeat caused by Wolff-Parkinson-White Syndrome as well as asthma.
Meat Loaf had canceled two other Canadian other concerts in recent days, due to poor health.
Born Marvin Lee Aday, Meat Loaf came to the fore in the late 1970s with bombastic, theatrical stage shows and rock-opera-style songs like "Paradise by the Dashboard Light" and "Bat out of Hell."
MORE: Meat Loaf 'speechless' after KLG, Hoda interview
He had a career resurgence in the early 1990s, winning a Grammy for "I'd Do Anything," and has appeared in films including "The Rocky Horror Picture Show" and "Fight Club."
The statement from Meat Loaf's representatives added, "He extends his heartfelt thanks for everyone's support and well wishes, and is expecting a speedy and full recovery.
"Any concert postponements/rescheduled dates will be announced at a later time."
Follow Randee Dawn on Twitter.