"Real Housewives of New Jersey" star Teresa Giudice is back home from her 11-and-a-half month stint in prison, and she's answering some of our burning questions.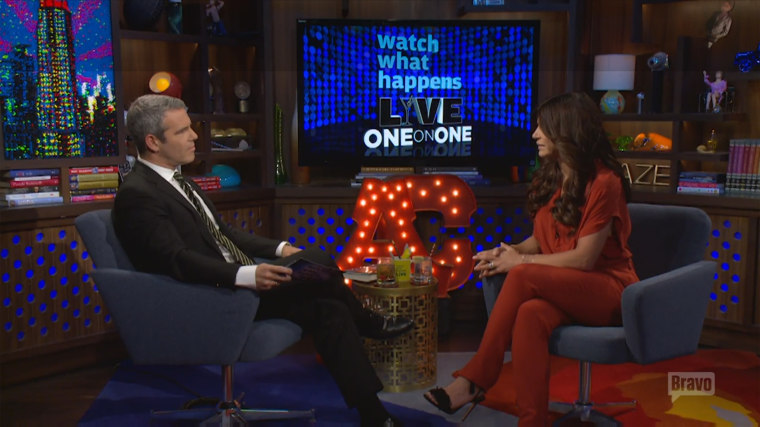 And on Tuesday night, she sat down with Andy Cohen from Bravo's "Watch What Happens Live!" for the first of a two-part interview in which she addressed questions many had after she returned from prison for pleading guilty in 2014 to bankruptcy fraud and conspiracy to commit wire and mail fraud.
Needless to say, Teresa was calm, cool and collected with her answers. Here's four things we learned about her from the chat!
MORE: Teresa Giudice reveals photos, craziest experiences from her 11 months in prison
1) Joe did not cheat, so far as she knows
Tabloids pounced on Joe Giudice (who starts his own 41-month prison sentence in March) when he was seen out and about in Atlantic City while Teresa was away, but she did not seem worried; Teresa said he was there with a friend, and someone "with money problems" was behind selling the story. "If Joe didn't want to be with me, he wouldn't be with me," she said.
2) 'That Lexus' is a lease
Truthfully, if you have a tax lien from the IRS hanging over your head of $551,563, landing a luxury SUV (particularly one made up to look like a gift) is pretty bad optics. But first off, it's a lease — not a purchase. "My lease was up on my car and I needed a car, so Joe got me a new lease and got me a Lexus," she said, noting that it was the dealership, looking for press attention, that put the bow on the car.
MORE: 'Real Housewives' husband Joe Giudice says he's 'to blame' for wife Teresa's jail time
3) She's learned from her mistakes
"I'm going to make sure whatever I put my John Hancock on that I understand fully before signing any other papers in the future," said Teresa.
4) Why Melissa Gorga's was not on the prison visiting list
Pretty simple: Teresa had a very full visitor's list and frankly, she wasn't interested in seeing her sister-in-law. "When I left, obviously things weren't the greatest between Melissa and I," she said. "I really didn't want to spend five hours sitting with Melissa and chatting with her."
Part 2 of Teresa's chat with Andy airs tonight at 9:30 p.m. ET on Bravo.
Follow Randee Dawn on Twitter.