It may have been 15 years since Shania Twain released a new album, but the truth is that the best-selling female artist in the history of country music is still the one with all of her fans!
And we got super lucky on Friday at TODAY, as Twain took over the Citi Concert stage with classic and new tunes — plus joined us in the studio to help co-host.
"I'm really feeling the love," Twain told TODAY before going out to face her adoring, screaming fans. "I didn't realize how appreciated I was."
We hope she realizes it now! In addition to her past hits, "That Don't Impress Me Much" and "Man! I Feel Like a Woman," Twain was also slated to bring out two brand-new, super-catchy tunes her single "Life's About to Get Good" and "Swinging With My Eyes Closed."
"It's really about going dark to light, sad to happy, lost to found," she explained of "Life's." "It's that euphoric feeling that we get when we realize there is a light at the end of the tunnel."
Turns out there's a light at the start of this one: "Life's" debuted at No. 1 on Billboard and Twitter's Trending Chart!
"Good" is the first track from her new album "Now," which will be released on Sept. 29. It's Twain's first album since 2002's "Up," and as she noted, writing and recording it was something of a self-created challenge.
"I'm a go-getter, I'm a fighter, I have a lot of determination in me," she explained. "I was scared coming out again after so many years and writing the whole album alone, which I did on purpose: to push myself and really find and rediscover myself as a songwriter."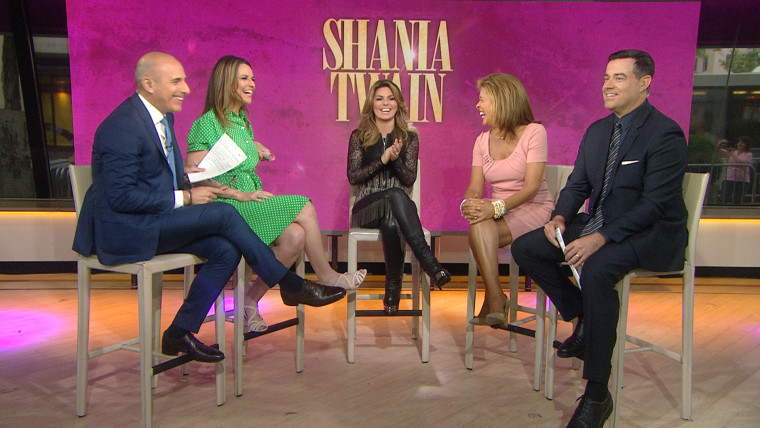 We fully expect "Now" will join her other platinum and diamond-selling releases, and probably rack her up a few more Grammy Awards to add to the five she already has! And in case you forgot just how massive an artist Twain has been for years, remember that "That Don't Impress Me Much" spent 28 weeks on Billboard's Hot 100, while "Man! I Feel Like a Woman!" was performed during the Super Bowl Halftime Show and earned her a Grammy.
And here's a bonus: She's going on tour in 2018!
So put on your fringe jackets and slip on those cowboy boots and get ready to feel like a woman — like Shania Twain! What better start to your weekend could there be?