Noah Cyrus has revealed she is engaged to fashion designer Pinkus.
The 23-year-old musician confirmed her engagement in a sweet Instagram post on June 26. 
Cyrus uploaded a carousel of photos that showed the couple donning eccentric outfits, holding hands, sharing a kiss and standing in the ocean together. The final snap was a close-up of her diamond engagement ring. 
"The greatest moment of my entire life was saying 'yes' to spending the rest of ours together," she began in the caption. "This past month of being your fiancé and being in our own little world of just us two has been so perfect and I wish I could never leave this time."
The "July" singer complimented her fiancé and said she never imagined finding a partner who was so loving, generous and accepting.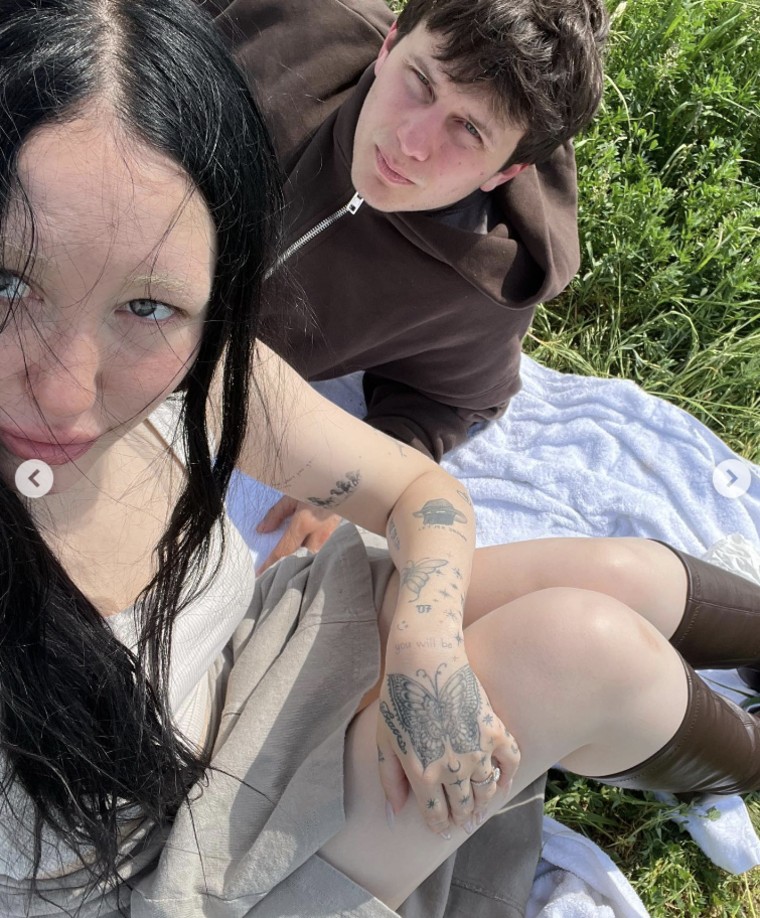 She continued to gush about the fashion designer, adding that he is "the most talented, the most loyal, the kindest person."
"I've never felt more loved or in love," she wrote. "I now know the feeling of forever not being long enough. I'm so excited to spend this life with you, our life so far is a life I never thought I deserved or would live. I never thought I'd be looking forward to living as much as I look forward to living with you. I'm so grateful for you." 
At the end of her post, she repeatedly expressed her love for her fiancé. 
"I don't know how I got so lucky … I would say 'yes' to you every day for the rest of my life," she said.
TODAY.com has reached out to Cyrus' rep for a comment. 
The Colors Clothing Company designer left a cheeky comment on the post. "U want kids?" he asked. 
Pinkus hinted at their engagement news a day earlier. On June 25, he posted a slideshow of photos and videos on Instagram of Cyrus strutting down a runway and some PDA-filled moments they've shared. One photo highlighted her eye-catching sparkler. 
"Proudest fiancé," he simply captioned the post. 
Cyrus commented a few times, writing "forever" next to a ring emoji. She also replied with four white heart emoji and wrote "the fiancé collection" in another response.
Mom Tish Cyrus, 56, seems to be a fan of the happy couple. She commented with five red heart emoji on Pinkus' slideshow. 
Pinkus thanked his future mother-in-law for her support. 
It appears the designer proposed just a few weeks after the couple publicly confirmed their relationship. 
In April, the singer shared a TikTok video of her embracing and kissing Pinkus in a car as the two of them laughed. 
She added her song with Vance Joy, "Everybody Needs Someone," to the post. 
Since then, she has uploaded other clips of romantic moments they have shared together, like kissing under a waterfall and Pinkus taking care of her bags in an airport. 
"Me not needing to think about anything cus my boyfriend does everything for me," she captioned the video.