Ali Krieger is apparently feeling a lot like Beyoncé did when she released her emotional 2016 album "Lemonade."
The NJ/NY Gotham FC star, 39, who is the midst of a divorce from her fellow soccer pro wife, Ashlyn Harris, 38, referenced the infidelity-themed album Oct. 19 on Instagram.
"Preparing for playoffs while in my Beyoncé lemonade era," Ali Krieger wrote next to pics of her kicking a soccer ball on a field.
"Lemonade," Beyoncé's sixth studio album, is hailed as a musical triumph. The lyrics confront race and gender politics, as well as the ramifications of infidelity within a relationship. The lyrics follow a woman processing being cheated on, with the album moving through suspicion, anger and resolution, culminating in the song of forgiveness "All Night," NBC News reported in 2016.
While it was initially unclear if Beyoncé was singing about herself or a fictional character, her husband Jay-Z later admitted to infidelity in a 2017 interview with the New York Times.
Since then, "Lemonade" has become pop culture shorthand for retribution and self-reclaiming seen in moments like Titus Andromedon's memorable "Hold Up" parody in "Unbreakable Kimmy Schmidt," sung after a breakup.
TODAY.com has reached out reps for Ali Krieger and Harris for comment about the post and their divorce.
Many of the athlete's friends and loved ones showed their support for her in the comments section of her post, with some making direct references to songs on "Lemonade."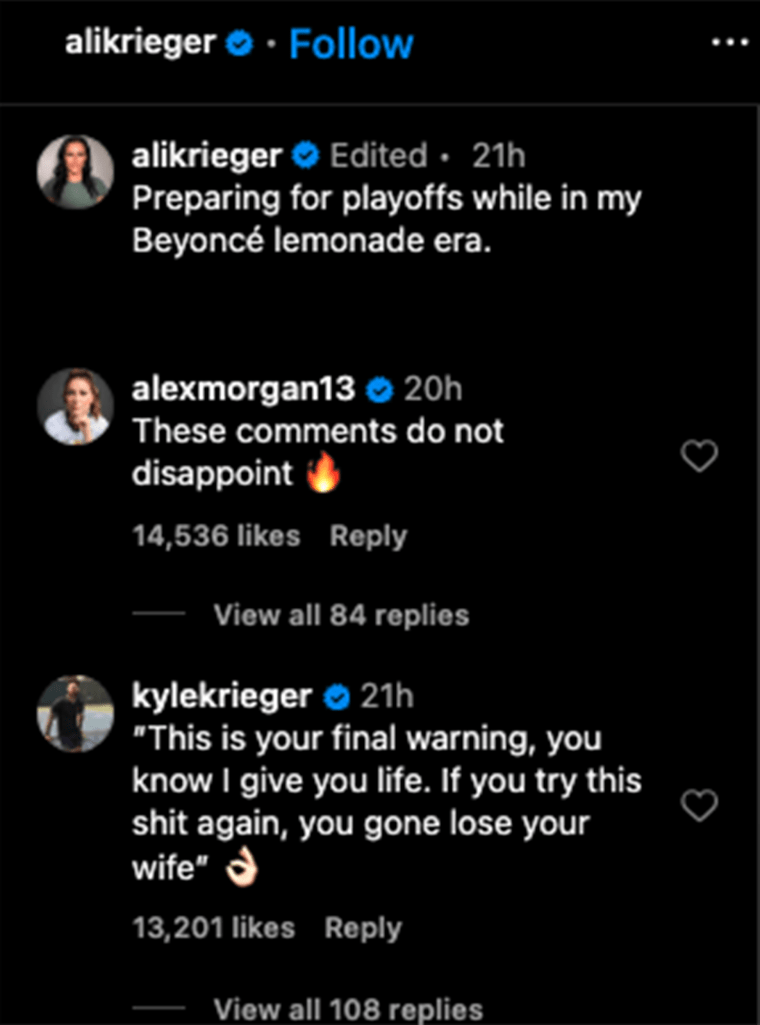 The athlete's brother, social media star Kyle Krieger, wrote, "Love you and so proud of you!! These hoes ain't loyal!! But me and your fans are."
Kyle Krieger also posted a GIF of Beyonce in her yellow dress from the video for "Hold Up," as well as lyrics from "Don't Hurt Yourself," one of most scathing songs on "Lemonade."
"This is your final warning, you know I give you life. If you try this s---- again, you gone lose your wife," Kyle Krieger commented.
The official Instagram account for the NJ/NY Gotham FC team also commented with a lyric from the Beyoncé song.
"Oh, you'll never recreate her," the team wrote in the comments, adding an emoji blowing a kiss.
Soccer pro Alex Morgan, who has played alongside both Ali Krieger and Harris on the U.S. Women's National Team, noted the many messages of support, writing, "These comments do not disappoint."
USWNT star Sophia Smith, a 2023 World Cup standout, responded by writing, "energyyyyy," and adding a mixed-up face emoji.
Harris filed for divorce from Ali Krieger last month after nearly four years of marriage, according to a petition filed in Florida's Seminole County Clerk's Office that was obtained by NBC News.
The couple, who tied the knot in December 2019, share two children: a daughter, Sloane, 2, and a son, Ocean, 1.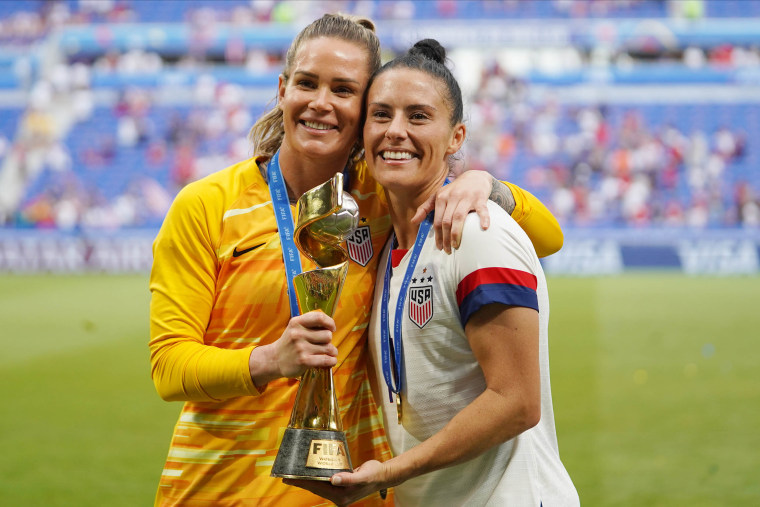 The pair met as USWNT teammates in 2010 and announced their engagement in March 2019.
"We became really close friends, and we just hung out, we clicked, and we had so much in common," Harris told People after the couple announced their plans to marry.
"We always sat next to each other on the bus and on flights, and we kind of just talked about our dreams and our hopes and what we wanted to do one day when we grew up. Because at the time, we were kids," she added.
Ali Krieger's "Lemonade era" post comes just days after Gotham FC nabbed a 6th place spot in the playoffs for the National Women's Soccer League, following their 2-2 draw with the Kansas City Current on Oct. 15.
The team is scheduled to take on North Carolina Courage on Oct. 22.
Gotham FC's playoff bid has also extended Ali Krieger's retirement tour. At the beginning of this season, she announced she would retire from professional soccer at the end of the 2023 season.