Taylor Swift has broken the internet once again.
On July 8, fans rejoiced when Swift, 33, released the music video to her new song, "I Can See You (Taylor's Version) (From The Vault)," which starred Taylor Lautner, Joey King and Presley Cash in it.
In the video, which was written and directed by Swift, Lautner and King break into a vault to help the pop star take back her "Speak Now" album, first released in 2010.
"Speak Now (Taylor's Version)," which dropped July 7, is the singer's third rerecording of a past album, part of an effort to own the rights to her music after her first six albums were sold by her original label, Big Machine Records, to a music group owned Scooter Braun, with whom she had a public feud.
Once the video dropped, Lautner shared a hilarious photo of him, Swift and his wife, also named Taylor, pointing to one another like in the famous Spider-Man meme.
The meme went viral in 2021 when it was revealed that all three actors who played Spider-Man — Tom Holland, Andrew Garfield and Tobey Maguire — would make an appearance in "Spider-Man: No Way Home."
"Secrets out! Tonight was wild," Lautner captioned the post.
However, the surprises didn't end there. Swift ended up bringing Lautner, King and Cash on stage with her at her Eras Tour stop in Kansas City.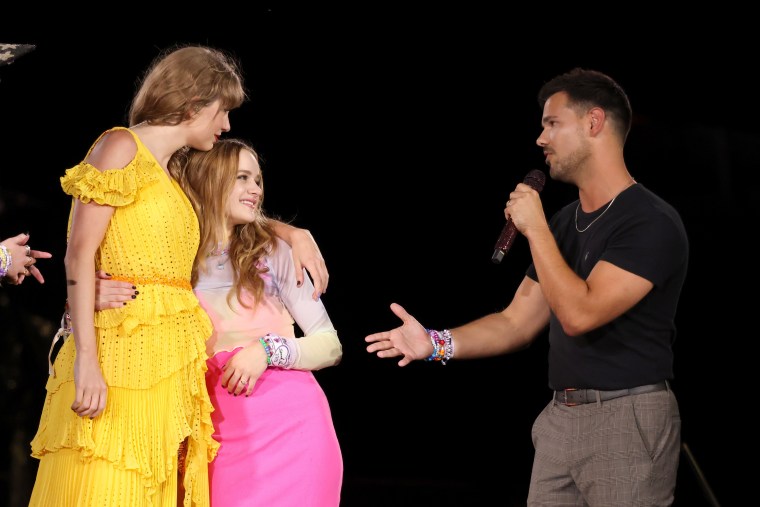 Once he graced the stage, Lautner immediately did a flip that took fans by surprise.
"It felt right," Lautner said in a speech he gave at the concert.
The "Twilight" star then talked about the music video that's been trending on Twitter and said he wanted to thank Swift for putting him, King and Cash in it.
"I just want to say one thing quick. I respect you so much. Not for the singer you are, the songwriter, the performer, but truly for the human you are," Lautner said. "You are courageous, humble, you are kind and I'm honored to know you, so thank you for having me be a part of this and being a part of my life."
In the '00s, Swift and Lautner dated briefly after the actor rose to prominence for playing Jacob Black in the "Twilight" saga. But once they split, Lautner seemed to have inspired Swift's breakup song "Back to December."
In the song, Swift sings about "swallowing my pride" to apologize for how a relationship ended, regretting how it transpired.
In a May interview with TODAY.com, Lautner talked about Swift, who was at the time gearing up to release "Speak Now (Taylor's Version)," and said that he wasn't scared of Swift revisiting that era in her life.
"I think it's a great album. Yeah, I feel safe," Lautner told TODAY.com, before referencing Swift's other ex-boyfriend John Mayer. "Praying for John."
Mayer is reportedly the target of some of Swift's strongest lyrics on the album, including the track "Dear John," which Mayer later said he felt "humiliated" by.
In the prologue to her rerecording of "Speak Now," Swift wrote that "Dear John" is the "most scathing" song she's ever written.