As the release date for Taylor Swift's third re-recorded album, "Speak Now (Taylor's Version)," looms this summer, there's one man with romantic ties to the singer who feels confident about revisiting the era ahead of the drop: Taylor Lautner.
Lautner, 31, laughs when TODAY.com asks about how he's feeling with less than two months before he, along with millions of Swifties, are set to revisit 2009 and 2010.
At the time, "Twilight," the book-to-movie franchise that launched Lautner's career, was at its peak. Lautner, too, was in the spotlight for his personal life: After dating Swift, he was said to be the subject of the tender breakup song "Back to December" on Swift's "Speak Now."
"I think it's a great album. Yeah, I feel safe," he tells TODAY.com. "Praying for John."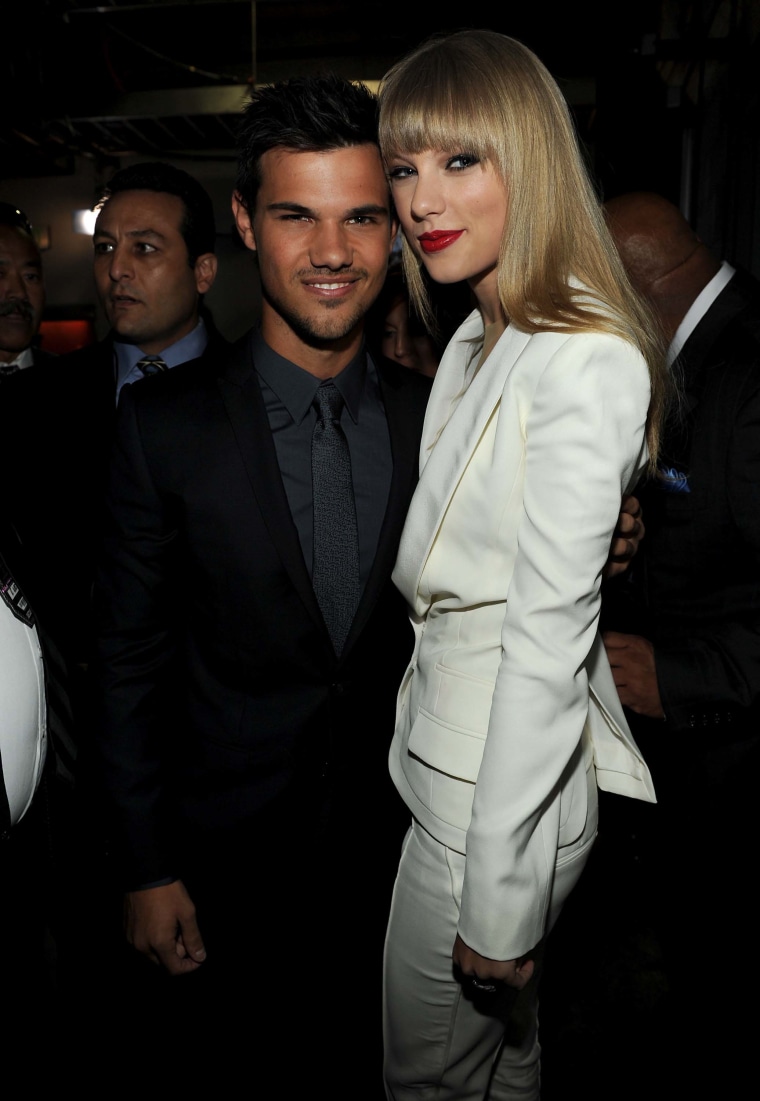 And by John, he's referring to John Mayer, who is reportedly the target of some of Swift's strongest lyrics on the album, including the track "Dear John." Mayer later said he felt "humiliated" by the song.
Lautner's wife, who is also named Taylor and goes by Tay, laughs next to him as he mentions Mayer. She says she's also excited for the album to come out (she's previously said "Speak Now" is one of the best albums of all time).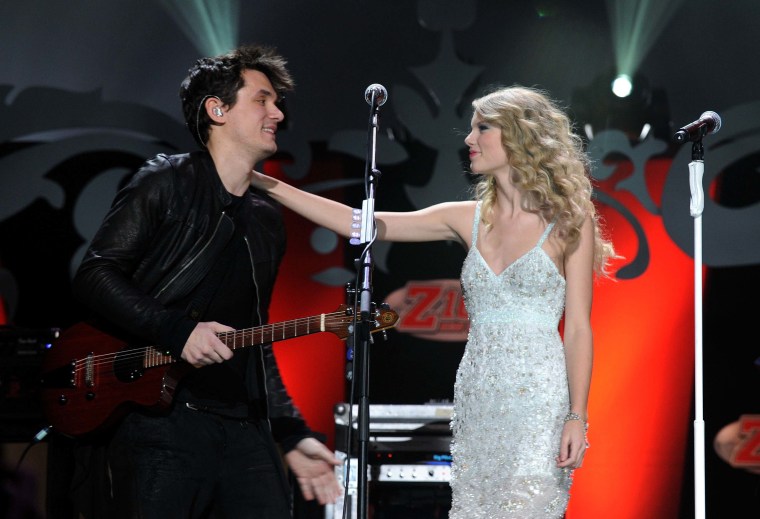 The Lautners, who have been married for just over six months, co-host the podcast "The Squeeze." Taylor Lautner starts sharing one of his favorite moments on the podcast so far, when guest Natalie Joy felt comfortable enough to share something personal that she hadn't planned on sharing.
"Just there on the spot, she felt comfortable enough that she looked at her fiancé, she looked at us, took a moment and was like, 'Yeah, I want to talk about this,'" he recalls of filming the episode.
"That's the ultimate validation to us because we really want to provide a safe space for all of our guests, especially when it's talking about subject matter like that," he adds. "Hopefully, we can provide that safe space for everybody we have on."
The couple says they haven't argued over the podcast yet, which Taylor Lautner says comes down to how they divide up the work ("We haven't argued about anything yet — knock on wood," Tay clarifies).
"Girl Tay does most of the work," he says, referring to their families' nicknames for each other. "I'm just there."
"He's the talent," Tay says with a smile.
The Lautners were first introduced through Taylor Lautner's sister Makena, who called him one day to say she had found his "future wife," who also had his same name, he previously told TODAY.com.
His sister suggested he invite the registered nurse to a game night in 2017, and for the first few days, he has said she didn't know he was interested in her — she thought he was just being nice to his sister's friends.
The couple has been together since, and Tay Lautner says she thinks the reason she thinks their relationship worked so well in the beginning is because she's "really bad at celebrities and knowing who people are."
"Taylor is different from Jacob in my head," she says, referencing the werewolf he plays in the famous series.
Taylor Lautner agrees his wife is "abnormally normal" around celebrities, and admits he is more of a "fan girl" around famous people.
"We'll just be in front of like the coolest person ever, and she could care less," he says. "Like, I'm sweating!"
He references a moment with Justin Bieber that she says happened on one of their first dates.
"I'll call her out here. In addition to be being a Twihard, she also was a big Bieber fan. Who wasn't?" he says. "I had known him for awhile, but the first time that Girl Tay met him I was thinking, 'Please hold it together.' And it was like she had met any random person."
While Tay Lautner acknowledges she's now living out the romance trope and fan dream of being a "normal person" who winds up with a celebrity, she tells TODAY.com it's never felt that way.
"In everyday life, I don't feel that because we live very normal lives. If Taylor lived like a celebrity, I probably wouldn't be with him," she says while laughing.
"It's not that cool," he says of having previously lived a famous lifestyle.
"If Taylor lived like a celebrity, I probably wouldn't be with him."
Tay Lautner on her relationship with her husband taylor lautner
The couple has now adjusted to living a self-proclaimed "normie" life, including doing their own laundry, an activity Taylor Lautner says he "loves," though he's pretty hard on the sarcasm.
"It's been good because she's shown me the ropes of things that I like, didn't get to experience a lot growing up," he says of living life with Tay. "I did miss some normal things. And yeah, it's nice to have somebody that shows you the way."
The newlyweds share they've had a busy six months since getting married in November, including starting their podcast and traveling around the globe.
"It feels like a new chapter of our lives," Taylor Lautner says, even though he says the couple have been dating since 2017.
The pair were able to revisit London while traveling, a city Taylor Lautner says was a special place in their relationship.
"Our love story started in London just three weeks after we met. Or three weeks after we started dating?" he asks Tay. Neither can remember.
"I had to go to London to film the show that I was doing. And I was like, by the way, if you want to come and visit me — which was such an insane thing — I hadn't known you for a month," he says to his wife. "I didn't think she would say yes, but she did. And that's where our story really started."
The couple tied the knot in a ceremony in California on November 11, 2022 — exactly one year after the couple became engaged.