Taylor Swift is delivering a clear message to her fans ahead of the release of her album "Speak Now (Taylor's Version)" on July 7. 
The "Anti-Hero" singer, who is making stops around the country every weekend for her Eras Tour, has a special part of her set where she performs two extra songs.
During every concert, Swift reveals two surprise songs — one she plays on guitar and another on the piano — and gives a speech about why the tracks are meaningful to her. 
Before introducing her first surprise song at her show in Minneapolis, Minnesota June 24, she took a moment to encourage her fans to act with "kindness and gentleness" online when "Speak Now (Taylor's Version)" is released in a couple weeks.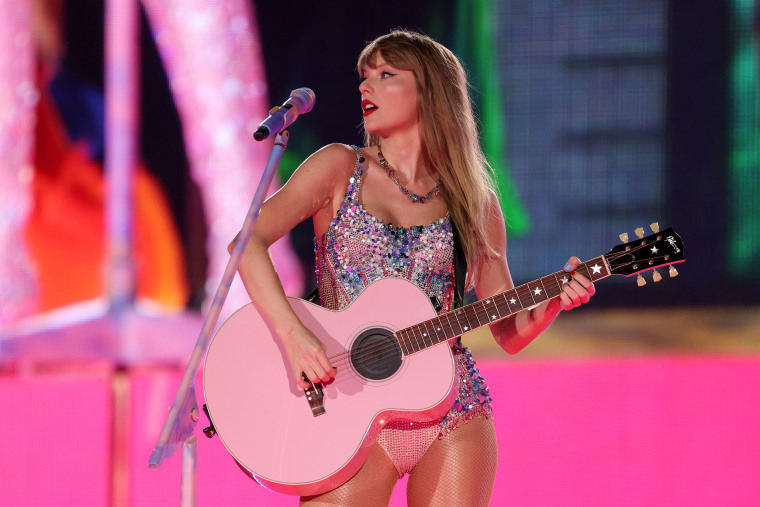 "I get to stand on this stage every single night of this tour and watch the most beautiful things happen," she told the crowd at the U.S. Bank Stadium in multiple videos shared on Twitter. She said she sees Swifties make friends, bond and share friendship bracelets. 
"So I was hoping to ask you that as we lead up to this album coming out, I would love for that kindness and that gentleness to extend onto our internet activities," she continued. "Right? So what I'm trying to say is, I'm putting this album out because I want to own my music. That's why I'm putting out this album."
The music superstar — who started re-recording her pre-2019 albums after music executive Scooter Braun purchased her catalog from her former record label without her approval — added that she believes any artist who wants ownership of their creation should be allowed to. She has already released her versions of albums "Fearless" and "Red." 
"I'm 33 years old. I don't care about anything that happened to me when I was 19, except the songs I wrote and the memories we made together," she said. 
Swift wrote "Speak Now," her third studio album, by herself between the ages of 18 and 20, she recalled.  The LP is a fan-favorite and includes emotional breakup songs that some speculate are about Swift's past relationships. 
As her fans applauded her, she said, "So what I'm trying to tell you is that I'm not putting this album out so that you can go and feel the need to defend me on the internet against someone you think I might have written a song about 14 billion years ago when I was 19. I do not care. We have all grown up. We're good."
Finally revealing the first secret song of the night, she concluded, "Only because I am proud of it as a song, I am going to play 'Dear John.'" The crowd then erupted into thunderous cheers before Swift strummed the opening chords of the vulnerable track on her guitar. 
Since "Speak Now" arrived in 2010, Swifties have theorized that "Dear John" describes Swift's 2009 romance with singer John Mayer when she was 19 and he was 32. 
The song, which is a reference to a breakup letter, is one of her most beloved ballads. "Don't you think nineteen's too young/ To be played by your dark, twisted games when I loved you so?/ I should've known," she belts during one chorus. 
In June 2012 interview with Rolling Stone, Mayer said he was "really humiliated" by the song allegedly being about him.
"It made me feel terrible. Because I didn't deserve it," he said at the time. "I'm pretty good at taking accountability now, and I never did anything to deserve that. It was a really lousy thing for her to do." 
The "Gravity" singer has not publicly commented on the upcoming release of "Speak Now (Taylor's Version)." However, actor Taylor Lautner, who is believed to be the inspiration behind "Speak Now"  breakup hit "Back to December," sent well wishes to his fellow star when he spoke about the album with TODAY.com in May. 
"I think it's a great album. Yeah, I feel safe," he said. 
The "Twilight" star joked, "Praying for John."
Fans are excited to hear the Grammy-winner's updated version of original tracks like "Dear John" and "Back to December," as well as new "vault tracks."
When Swift announced the tracklist for the re-release on June 5, she revealed that she collaborated with Paramore's Hayley Williams and Fall Out Boy for a couple songs. 
Referencing her song "Innocent," she tweeted, "I recorded this album when I was 32 (and still growing up, now) and can't wait to unveil it all to you on July 7th."