Although Taylor Lautner's "Twilight" character couldn't save Bella from going full-on vampire, he's ready to give his all to Olivia Rodrigo.
This week, Rodrigo announced her newest single called "Vampire," dropping this summer on June 30. On Instagram, she shared the single's cover art: a black-and-white photo of Rodrigo bearing purple bandages on her neck. In the caption, she wrote, "My new song vampire is out june 30th! you can presave now. so excited for this ahhhhh!!!!!!! 🖤🩸💜🫀❤️."
In the comments, Lautner, 31, hilariously channeled his "Twilight" character, Jacob Black, who's notably an enemy of vampires, and wrote, "K WHO TF BIT YOU."
The official Instagram account of "Twilight" also got in on the fun, writing, "Been waiting for this day!!!!! 😭 dreams really do come true."
On her Instagram Story, Rodrigo, 20, showed that she's a fan of "Twilight" when she shared an iconic meme from the 2008 movie that starred Kristen Stewart as Bella and Robert Pattinson as her vampire boyfriend, Edward.
"I know what you are," Bella says in one scene.
"Say it out loud," Edward replies.
But instead of Bella telling Edward that she knows he's a vampire, she hilariously replies, "Olivia Rodrigo's new single."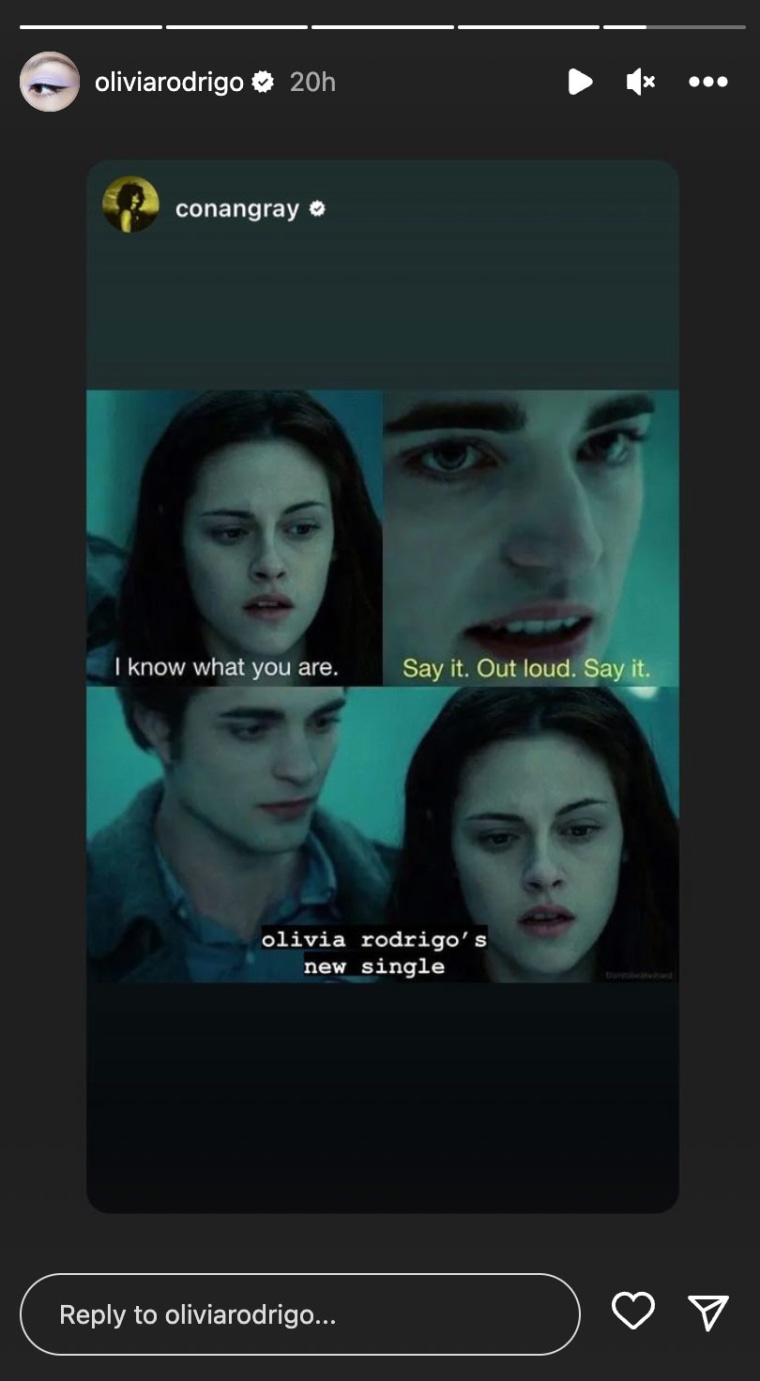 "Vampire" marks the first time that Rodrigo has released new music since her debut album, "Sour," dropped in 2021. It earned her two Grammy Awards, and when she was backstage taking photos for the press, she accidentally dropped one of her awards in a room full of gasping people.
"That's all right," someone said as she retrieved it.
As for Rodrigo's new song, it sounds like she's ready for her next era. According to a press release via Variety, "'Vampire' is the sound of an artist firmly in control, imbued with a sense of maturity and a bold confidence… With 'Vampire,' (Rodrigo) is poised to begin an exciting new chapter."