Pink is having fun in the sun and her husband, Carey Hart, is documenting it.
On May 30, Pink shared two photos of herself enjoying some time outdoors. In one snap, she appears to be sunbathing while wearing a sheer bikini top, and in the next pic, she shows herself taking a shower outside, which she reveals her husband took — to her surprise.
In the first photo, Pink is rocking a bathing suit top with bananas on it, shielding her eyes from the sun while flashing a big smile. The next pic shows the singer seemingly naked but she draws a star on her chest and a heart over her lower area, throwing up her hands with a joyous expression.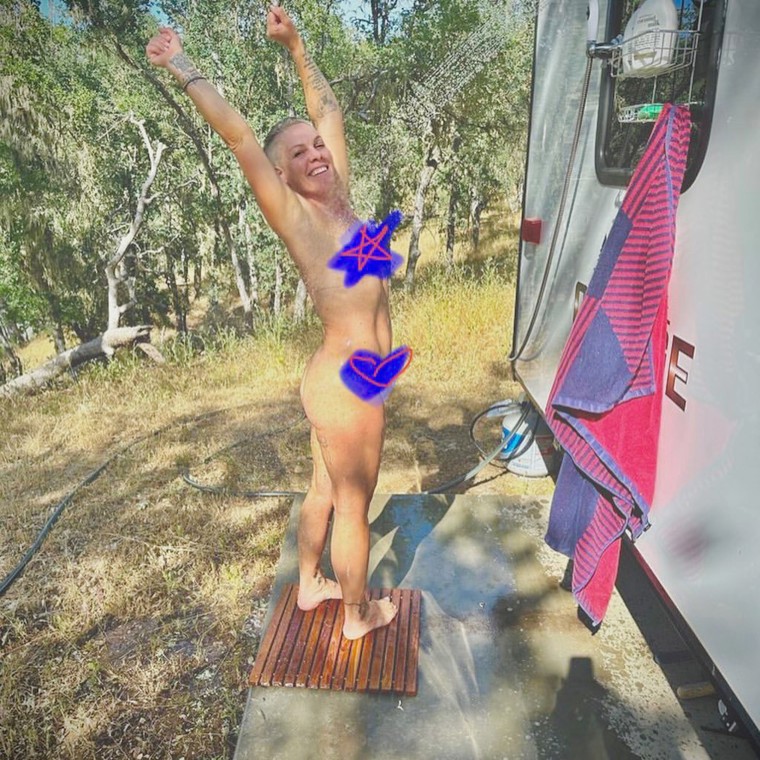 "Lake weekends and a new ridiculous bathing suit. If you haven't showered outdoors while your husband tries to scare you every five minutes you haven't lived!!!!!!," the "Trustfall" singer captioned the post, and included the hashtags #embarassingmoms, #eyerollsfordays, #bananaboobs, #imfun and #readyfortour.
In the comments, one person said, "We approve of this bikini."
Another wrote, "How are you so friggin divine? Love that new suit!"
A third added, "Living your best life.🤗❤️✨."
In February, Pink talked about her relationship with Hart, whom she married in 2006, when she made an appearance on "The Kelly Clarkson Show."
The "Our Song" singer said she's written multiple songs about Hart over the years, and she always takes his feelings into account when she's writing lyrics about him.
"You have to take (into account) Carey's amount of feelings he can handle and how much he is actually thinking about the words that I'm saying or listening at all," Pink said at the time.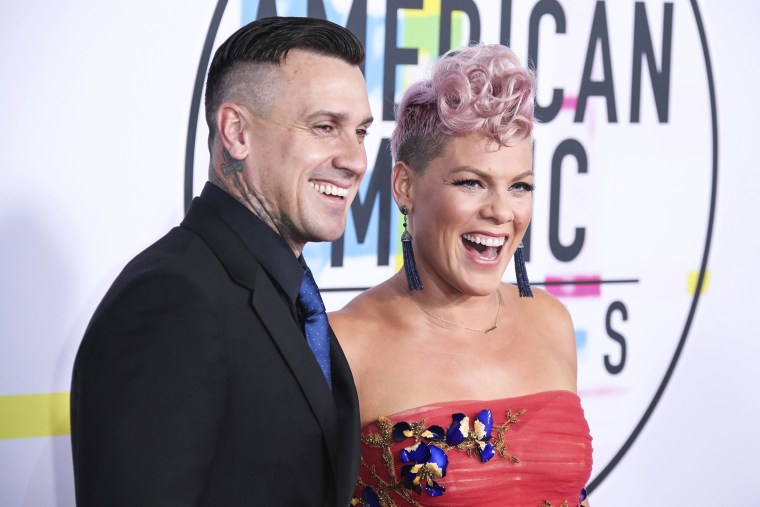 "There's one (song) on the new album that was a hard day and I played it for him because that's fair. He should know what's being said about him in the world," she continued. "And he just started giggling and he's like, 'Well, you're welcome.'"
After hearing what she said about him, Hart told Clarkson in May that it was "very accurate" what his wife was saying about him.
"You know, we've been together 21 years. I have very thick skin," he laughed. "Very little affects me. I don't know exactly what day she's talking about, specifically. But it's probably just the temperature."