While fans may speculate about the inspiration for Olivia Rodrigo's song "Vampire," she says she doesn't plan on sharing the story behind the hit.
Rodrigo joined TODAY's Willie Geist on Sunday Sitdown Sept. 10 to discuss her sophomore album, "Guts." Her new album debuted Sept. 8 following her breakout success in 2021 with "Sour," featuring hits including "Drivers License" and "Good 4 U."
While the 20-year-old described her first album as being "very much about heartbreak," for "Guts," she focused on the "pressures of young adulthood" and the "growing pains" of turning 20.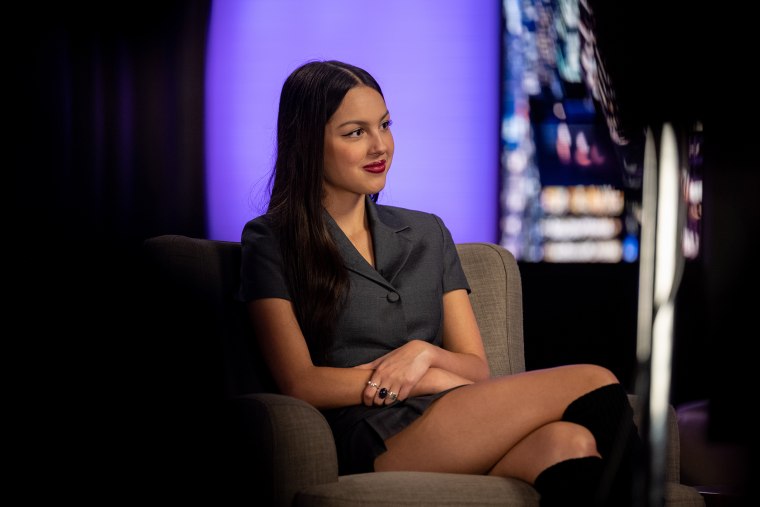 Rodrigo entered her "Guts" era on June 30 with the powerful single "Vampire" — an angry ballad directed at someone who's "bleeding" Rodrigo "dry." Speculation quickly abounded online about who inspired the song's tune.
But Rodrigo hasn't publicly confirmed — or denied — any theories. 
When Willie asked the Grammy winner why it was important for her to not publicly reveal the song's real-life inspiration, Rodrigo said, "I think explanation is never good for art."
"Why would I pigeonhole a song into being about this one thing in my life, when everyone has their own interpretation?" she added.
Instead, she aims to connect with her listeners through a shared emotion.
"It just makes me feel less alone in my feelings when I write this song about some specific instance where I felt this really strong way," she told Willie. "And then I look out into the crowd and I see some girl who felt exact same way. It just makes me realize that we're all so much more alike than we are different."
Rodrigo has been open about writing about her own life in her music, including on "Guts." When Willie asked the singer what the album's title meant to her, she said it had multiple meanings.
"It means courage. It means trusting your gut," Rodrigo said. "I like spilling your guts, too. I feel like every song I've ever written is just sort of me spilling my guts a little bit."
When asked by if she ever hesitates as to just how much she spills her guts when writing, the singer said, "Yeah. In the moment, when I'm writing a song, I try not to censor myself too much. Or think about what people on the internet are going to say about it."
At the end, Willie brought up that Rodrigo has been dubbed a voice of her generation, because she tells her "own story" while resonating with listeners.
"All I can do is be myself, I think, and write songs that I like," Rodrigo responded. "And I think the fact that people gravitate towards them is amazing."