President Snow, the villainous tyrant of "The Hunger Games," at 18 years old was broke and power hungry.
The character's origin story is the subject of the upcoming film adaptation "The Hunger Games: The Ballad of Songbirds & Snakes," based on the 2020 book by Suzanne Collins. The book and the film, which comes out Nov. 17, serve as a prequel to "The Hunger Games" series and explore the core events that led Snow to become the antagonist fans are familiar with.
"The Ballad of Songbirds & Snakes" is set around 60 years before the events of the first "Hunger Games" story. Only two characters from the original films appear in the prequel — Coriolanus Snow and his cousin, Tigris. The rest of the cast are entirely new faces, including a character played by Rachel Zegler of "West Side Story" fame.
The story opens with Coriolanus fighting for his family's legacy against the backdrop of the 10th annual Hunger Games. (For reference, Katniss Everdeen competed in the 74th and 75th Hunger Games.) He's assigned a tribute to mentor named Lucy Gray Baird, a singer from District 12, played by Zegler.
In the official trailer for the film, Lucy Gray is seen bowing for the cameras, a reference to Katniss Everdeen's mocking gesture from the "Hunger Games" films as she works to take down the Capitol — but don't expect them to be similar.
Unlike Katniss, played by Jennifer Lawrence, Lucy Gray is a performer, Zegler says.
"She's a very different dynamic, in response to being placed in an arena in front of a bunch of people and having to make the world root for her — she's very good at that," Zegler said at a press conference, comparing her character to Katniss. "She's very persuasive in her performance and very good at getting an audience on her side."
Here's everything to know about the cast and the characters they play.
Tom Blyth as Coriolanus Snow
English actor Tom Blyth follows up Donald Sutherland's performance as President Snow in the "Hunger Games" trilogy. Blyth previously starred in the MGM+ show "Billy the Kid."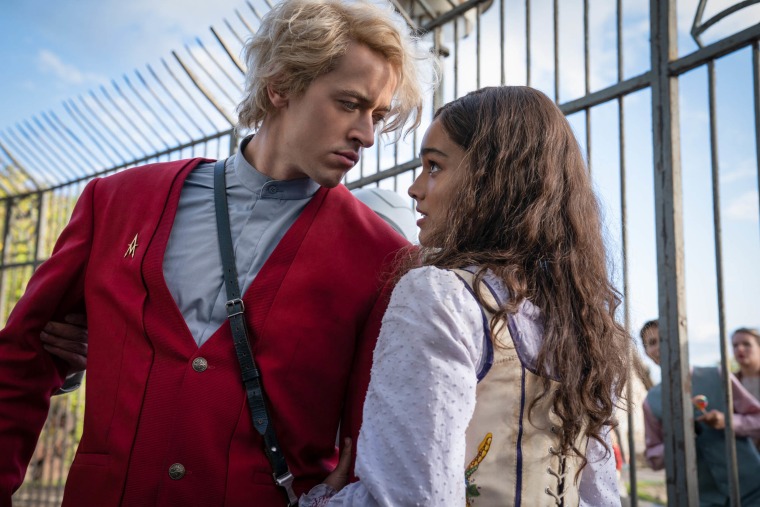 Blyth describes his version of Snow as a "different character" compared to the Snow remembered by fans. Instead of an antagonist and dictator, he's a brother, a grandson, a student and "an ambitious kid who just wants to do well in his life."
"Then, by the end of the movie, he's something totally different," Blyth said at a press conference.
The film opens with a struggling Snow family after the original war between the districts and Capitol that led to the Hunger Games.
While his family is nearly bankrupt, Coriolanus holds on to the image of affluence as a top scholar at his school, secretly desperate for a scholarship to continue his education and provide for his cousin and grandmother.
Blyth describes his performance as following three different iterations of Snow throughout the film's nearly 160-minute runtime: "Coryo, the boy; Coriolanus, who is becoming a man; and then Coriolanus Snow, the future president."
Each version of Snow took a different toll on Blyth, he tells TODAY.com. Psychologically, playing a future villain proved the most difficult. But playing the first version of the character, while Snow "still has a heart," wasn't easy.
"He's malnourished, and I had to lose a lot of weight for that," he says. "So I the actor was struggling physically with that. I was very tired and didn't have much energy. I was eating apple and almond butter for most of my meals."
Toward the end of the film, Blyth was a "little thicker" and able to eat more.
"But psychologically, he's getting more and more depraved and more cold, so that was difficult," he says.
Rachel Zegler as Lucy Gray Baird
Rachel Zegler, known for her breakout role in "West Side Story" and as the lead in the upcoming live-action "Snow White," lends her acting and singing to the role of Lucy Gray Baird, a tribute from District 12 with a fascinating backstory.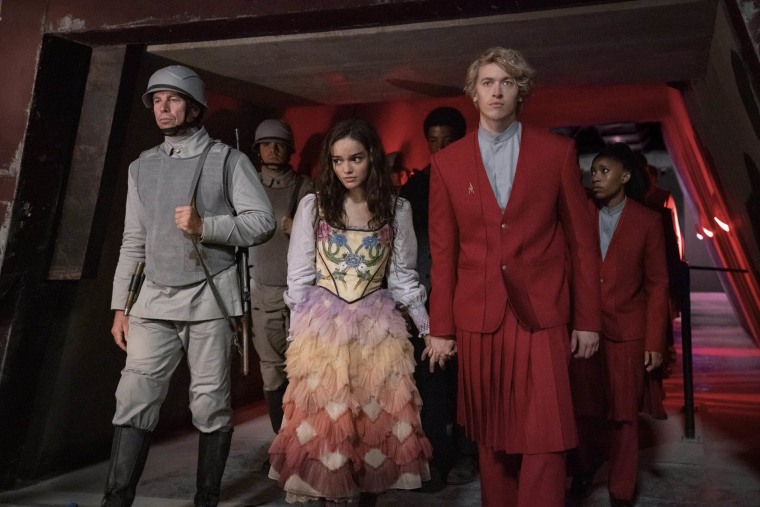 Unlike most people in Panem, she doesn't identify by a district, but rather by her family of traveling performers called the Covey. Zegler sings several times throughout the film, as the "songbird" represented in the title, based on lyrics originally written by Collins for the book. She said she sang live on set for "every take."
"I felt like it was really, really important not only to me, but also to the character, that I would be doing a disservice if I didn't perform live," she said at a press conference.
In the book, which is written in first person and told solely through the eyes of Coriolanus, Lucy Gray is an enigma, with unclear intentions or ambitions for her future.
Zegler, a self-proclaimed megafan of all the original books, has defended the character, writing on X that her name is "Lucy Gray," not just "Lucy."
"She corrects people in the book, i corrected people on set. it's very very very important to call her lucy gray. not just lucy," Zegler tweeted Nov. 11.
But even Zegler doesn't fully understand Lucy Gray, she tells TODAY.com.
"I would love to say I know her 100%," she says. "But I think the point is, you have to acknowledge that you don't."
As the character herself says in the book and film, Lucy Gray is a mystery.
"It's a pretty amazing dynamic to get to play as an actor because you're not really clear on the motivation, she keeps things a bit morally gray, for lack of a better word," Zegler adds.
What Zegler does know is that Lucy Gray is no Katniss Everdeen.
"Suzanne (Collins) subverted expectations with her heroine character," she says. "With Katniss, you have a clear-cut vision of what she wants to do, her motivations and why she's a good person, a good character. And with this one, it's really a bit more like, she's on Team Lucy Gray the whole time. She'll do whatever it takes to be Team Lucy Gray."
Josh Andrés Rivera as Sejanus Plinth
A fellow "West Side Story" alum, Rivera joins Zegler as Sejanus Plinth, a new Capitol resident with a strong sense of morality who struggles to execute it. Sejanus and Coriolanus maintain a complicated friendship with blurred lines of loyalty and responsibility.
Rivera describes Sejanus as someone with a "big heart."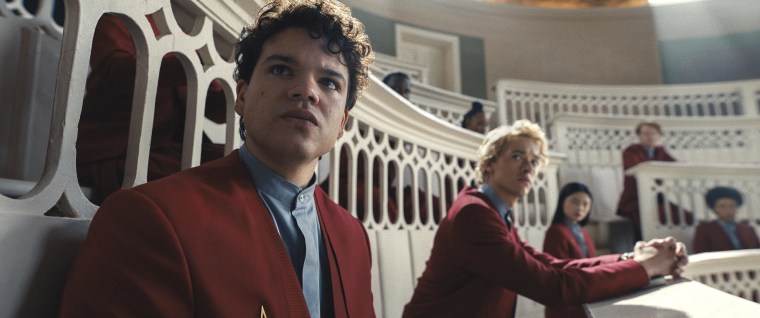 "I tend to wear my heart on my sleeve as well," he tells TODAY.com.
But compared to himself, Sejanus is more brave, Rivera says.
"He's not afraid to stick out even if that means that everyone gets mad at him or, you know, he faces some backlash," he says.
Rivera and Zegler have been in a relationship for two years and celebrated their anniversary shortly before the film's release date.
Hunter Schafer as Tigris Snow
Hunter Schafer, known for her role in "Euphoria," stars as Tigris Snow, one of two characters who appear in the original "Hunger Games" trilogy.
During the events of "Mockingjay," Tigris helps Katniss and her crew of rebels infiltrate the Capitol by housing and feeding them. By this time, Tigris has surgically altered her appearance to look like a tiger, with black and gold stripes and whiskers.
But like Blyth's version of Snow, Schafer noted "there's a pretty big jump from this movie to that Tigris."
Schafer's character has not yet undergone this transformation, though her love of fashion and self-expression is strong.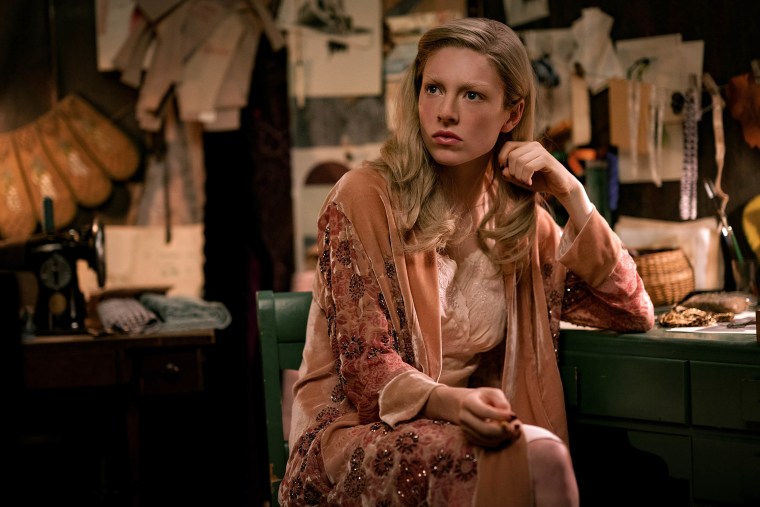 Schafer said the role of Tigris appealed to her because of how she relates.
"I feel aligned with how she moves throughout the world and uses fashion as an armor, and I admire her values towards family and family first and operating on the fact that she'll do anything for them," she said at a press conference.
Schafer often turns heads for her red carpet looks, such as the time she wore a feather as a top at the Oscars.
"Tigris and I definitely have an affair with fashion that runs deep," Schafer tells TODAY.com.
Despite her future rebel sympathies, in "The Ballad of Songbirds & Snakes" Tigris' loyalty is wholly with Coriolanus, maintained through their phrase, "Snow lands on top."
Viola Davis as Dr. Volumnia Gaul
Viola Davis stars in "The Ballad of Songbirds & Snakes" as Volumnia Gaul, the head gamemaker of the 10th Hunger Games who gradually becomes Coriolanus' mentor.
Gamemakers are the people responsible for making the gory and violent Hunger Games entertaining to an audience.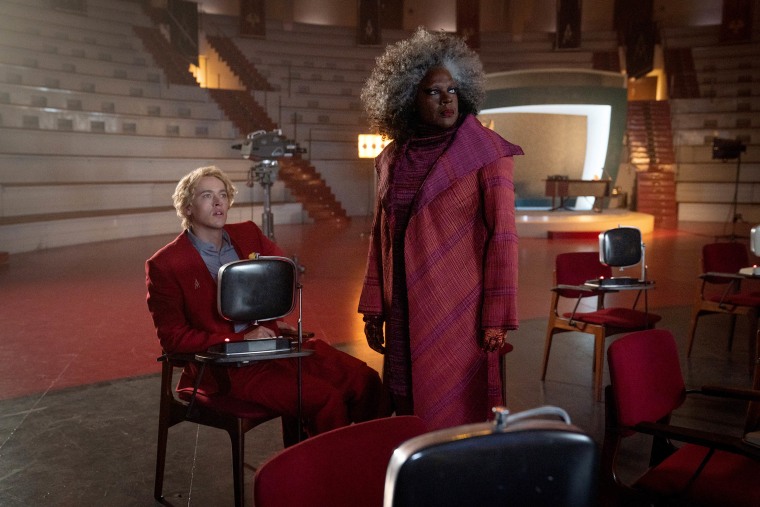 Davis attended the film's premiere and told The Hollywood Reporter she enjoyed playing the villain and making people "squirm."
"Like Tom Blyth — oh, man, it was a joy because he just was very receptive to it, so I was just so happy about poking him," Davis said. "Even in the scene where I had to inject him and give him stitches, I think — loved it."
Peter Dinklage as Dean Casca Highbottom
Peter Dinklage stars in the film as Casca Highbottom, the creator of the Hunger Games.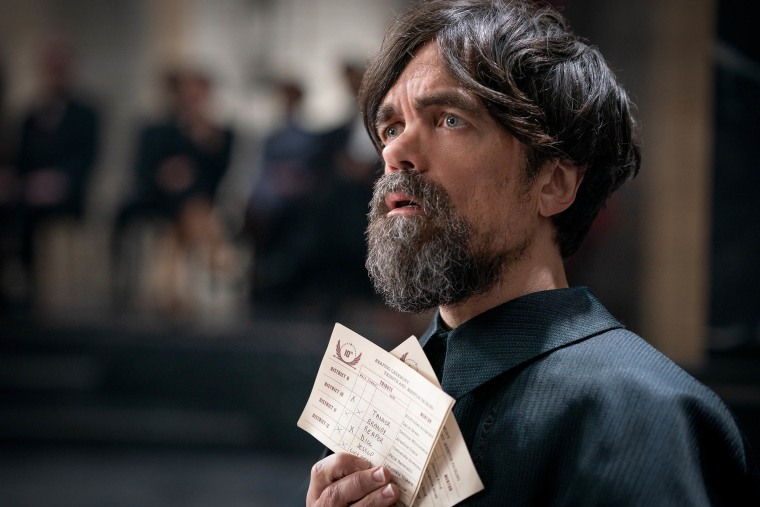 Casca also serves as the dean of the Academy, where Coriolanus attends school.
The dean created the mentorship program that drew Lucy Gray and Coriolanus together, and he maintains an icy relationship with the future president of Panem.