There's no doubt about it! David Corenswet will be our new Superman.
The 29-year-old actor is set to take on the role alongside Rachel Brosnahan, who'll be playing Lois Lane, in 2025's "Superman: Legacy."
The film's director, James Gunn, confirmed the news when he shared an article from The Hollywood Reporter that talked about the two actors being cast in the next "Superman" film.
"Accurate!" he said on Twitter. "(They are not only both incredible actors, but also wonderful people)."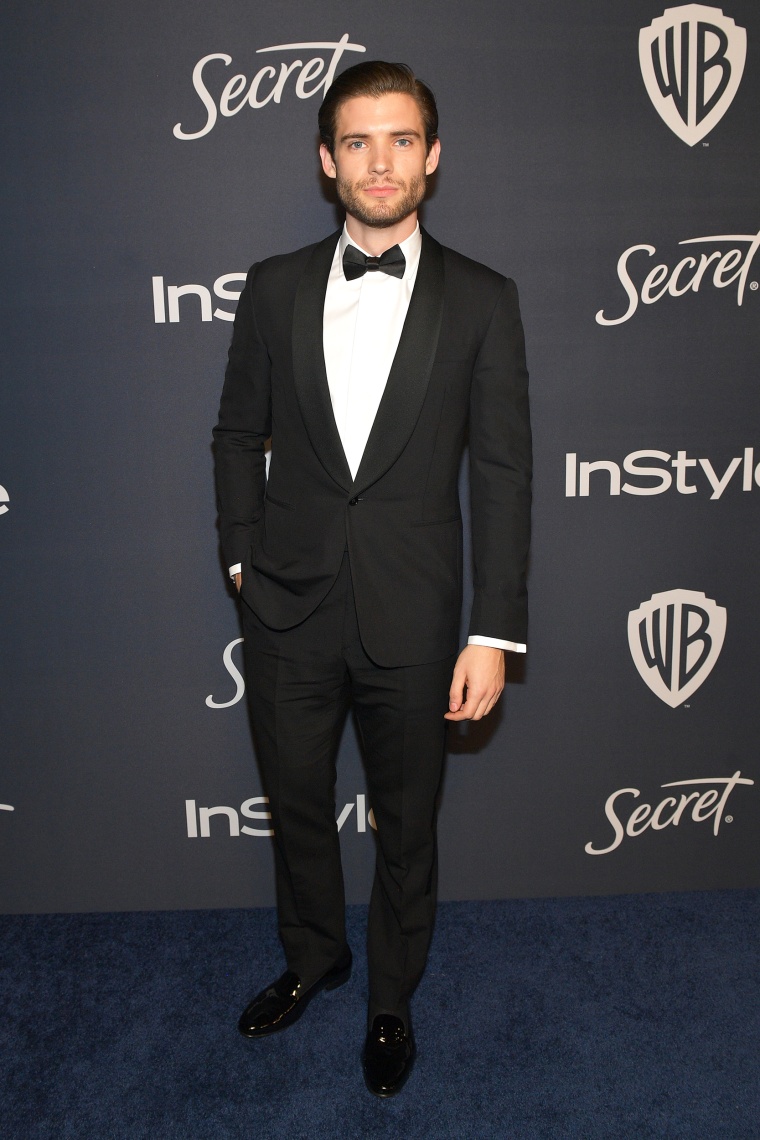 Corenswet will be adopting the role from Henry Cavill, who began playing Superman in the 2013 film "Man of Steel." In a December 2022 Instagram post, Cavill revealed that he was no longer going to play the man of steel.
"I have just had a meeting with James Gunn and Peter Safran and it's sad news, everyone. I will, after all, not be returning as Superman," he said in a statement at the time. "After being told by the studio to announce my return back in October, prior to their hire, this news isn't the easiest, but that's life. The changing of the guard is something that happens. I respect that."
"My turn to wear the cape has passed, but what Superman stands for never will," Cavill added.
Read on to learn a few interesting details about Corenswet.
He started his own a cappella group in high school and is a "Star Wars" nerd
In a 2020 interview with MTV, Corenswet revealed he started his own a cappella group in high school with his three best friends.
"We were briefly called Three Card Monte, and then we added a fourth [member], and so that ruined the whole thing," he said.
Corenswet also noted that he's a "Star Wars" nerd and it started when he began renting VHS tapes at Blockbuster.
"It was rent one, get one free for a week, and I rented 'Star Wars' and 'The Empire Strikes Back.' I would watch them back-to-back, and then when I got to the end, I would feel so emotionally connected to the characters and the world, and I would have such a feeling of wanting to live in that world, that I would go back and start the movies over again right then."
"And that really connected with my imaginary use of play, especially as a young kid," he continues. "I spent a lot of time by myself in my basement pretending to be a Jedi. That really drew me. I started acting orthogonally to that."
He went to Juilliard
According to Corenswet's IMDb page, he graduated with a Bachelor of Fine Arts in drama from New York City's prestigious Juilliard School in 2016.
However, his love for acting started much younger. He told MTV that when he was 9, he auditioned for his first play in his hometown of Philadelphia. And thanks to the help of his dad, who was a "theater actor for many years," Corenswet started to learn more about the business. It wasn't long until he decided that he wanted to do this as a career.
"It all eventually merged into this thing of, 'I guess I should keep pursuing this because I have some experience in it, and I've built up some momentum in it, and I also really love movies and love watching them.' And it turns out — I didn't discover this until I was maybe a freshman in college — I love making movies, every aspect of it," he said.
He's a dog lover
If you follow Corenswet on Instagram, then you probably know that he's a big dog lover.
Corenswet's account has sweet photos of him playing with some adorable pooches. In one fun snap, he appears to be holding a cocker spaniel pooch in his arms while he's dripping wet.
Corenswet captioned that post, "I caught this fish with my own two hands and I'm keeping him."
He has appeared in a number of great projects
As a former child actor, Corenswet is no stranger to the profession. He has acting credits in 2022's "Look Both Ways," "We Own This City," "Pearl" and the 2019 TV series, "The Politician."
In "The Politician," Corenswet's character died by suicide after he dealt with many social pressures at school.
Corenswet knows that he looks like Henry Cavill
"It came to my attention before the internet got a hold of me," he told Entertainment Weekly in 2019 of his resemblance to Cavill. "But my pie-in-the-sky ambition is definitely to play Superman. I would love to see somebody do an upbeat, throwback [take on Superman]. I love the Henry Cavill dark and gritty take, but I would love to see the next one be very bright and optimistic."
Corenswet adores Superman
While speaking with EW, Corenswet talked about his love for Superman and revealed why he thinks the iconic superhero is "amazing."
"The cool thing about Superman is the thing that everybody says is the problem with the character, which is that he's invincible," he said. "That's the most interesting thing abut him. What a difficult position for a person to be in. There's so much to be mined there, and deal with the drama that's inherent in somebody who doesn't have any problems and can't die."