Michael Joseph "Prince" Jackson Jr. admittedly can't sing or dance, but he is following in his famous father's footsteps in a much more meaningful way.
The oldest of Michael Jackson's three children, Prince has evolved from the subject of intense fascination as a child of the King of Pop to an adult looking to give back to others.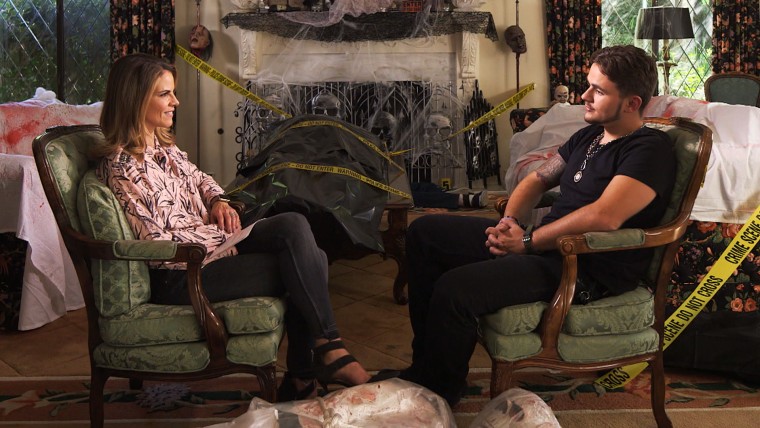 Prince, 20, founded the foundation Heal Los Angeles, a charity to help foster children who have aged out of the system and further the cause of Michael Jackson's "Heal the World" organization.
"I think he would definitely be proud of the type of work that we're doing and giving back to the community,'' Prince told Natalie Morales on TODAY Tuesday from the Jackson home in Encino, California.
They held their second annual "Costume for a Cause" event on Sunday to benefit the foundation, with Prince and his siblings, Paris, 19, and Blanket, 15, joining in the fun. Blanket, who has changed his name to the initials B.G., helped design a haunted house and maze for the event.
"I think it's just the way my dad raised me and my siblings,'' he said. "It's just like something that's bred into us to really give back to the community."
As far as inheriting his father's voice or legendary dance moves, Prince admits that was not passed on.
"I can't dance,'' he said. "It's very sad, it's very sad. I didn't get that gene."
While the world couldn't get enough of Jackson's music during the days of "Thriller" and "Bad," his children had no real idea about him dazzling crowds on stage.
"He didn't really like us watching his work,'' Prince said. "We didn't really know who he was as the King of Pop until we were significantly older. When we saw a video of his concert and him performing, and then girls were passing out, and dudes were passing out, and it was crazy."
The three siblings formed a tight bond as they endured intense scrutiny despite their father's attempts to shield them from the public.
Paris opened up earlier this year about her struggles with depression, drug addiction and her attempts to commit suicide in the wake of their father's death in 2009.
"Me and my siblings, we get along really well,'' he said. "Especially my sister, she's grown so much, and I think she's been able to really step up. And I don't really see myself as her older brother. It's kind of like we're equal partners when it comes down to it. And B.G.'s just so mature for his age – it's a pretty strong bond."
They all now look to honor their father's legacy through their charity efforts.
"My dad always taught me to lead by example, so I hope that I can set a good example that you can have fun by helping other people, and you can make a change just by doing that, so encouraging other people to do the same,'' he said.
An extended interview with Prince Jackson will air on NBC's "Access Hollywood" on Tuesday night.
Follow TODAY.com writer Scott Stump on Twitter.