In a candid new interview with Rolling Stone, Paris Jackson talks about her struggles with addiction, addresses rumors of Michael Jackson's paternity and says she believed her father was murdered — "and everybody in the family knows it."
In the wide-ranging new interview, Jackson, 18, detailed what life was like growing up as the daughter of the King of Pop before and the heart-wrenching aftermath of his 2009 death.
"They always say time heals, but it really doesn't,'' she told the magazine. "You just get used to it."
Jackson was 11 when she delivered a tearful farewell at her father's memorial service after he died at 50 of acute propofol and benzodiazepine intoxication. His death was ruled a homicide by authorities.
In the wake of the tragedy, Paris struggled with depression and drug addiction and made multiple attempts to commit suicide.
"I was crazy,'' she said. "I was actually crazy. I was going through a lot of teen angst."
RELATED: Michael Jackson's daughter gets 'Dangerous' tattoo in honor of her late father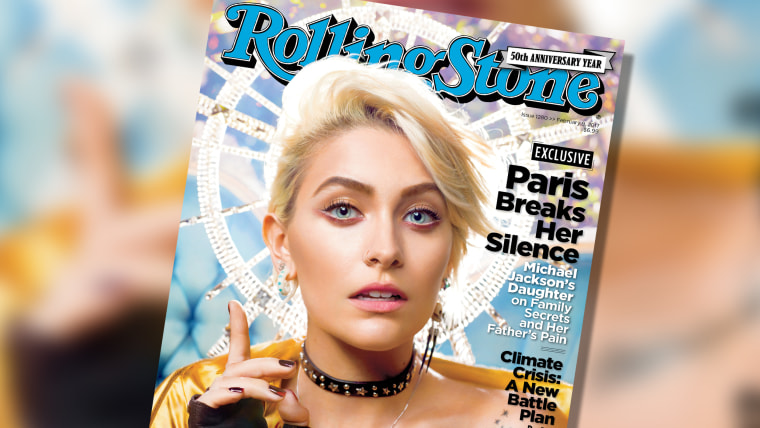 Jackson also made several allegations regarding her father's death in the interview, including claiming AEG Live, the promoter of the planned "This Is It" tour, overworked the iconic singer.
The Jackson family lost a wrongful death lawsuit against AEG in 2013 when a Los Angeles jury decided the company was not negligent in hiring Dr. Conrad Murray, who was convicted of involuntary manslaughter for administering a fatal dose of propofol to Jackson.
The company "does not treat their performers right,'' Jackson said. "They drain them dry and worked them to death."
AEG Live declined comment to TODAY.
While Jackson blamed Murray for her father's addiction to propofol, she also made the stunning allegation that she believes someone else murdered him.
Her father would "drop hints about people being out to get him," she told the magazine.
Rolling Stone writer Brian Hiatt, who conducted the interview, told TODAY, "She wouldn't say who she thought might be responsible for Michael's death, but it sounds like she has thoughts in her head of who it might be and she would like to work to find justice."
RELATED: 'Queen of My Heart': Paris Jackson honors father Michael with birthday tattoo
Jackson also addressed rumors about whether Michael was her biological father, saying this is the only time she will speak about it. Jackson had Paris and her brother, Prince, 19, with former wife Debbie Rowe.
"She doesn't want to have to keep talking about these things ... but as far as she is concerned, she wants people to know that she is Michael Jackson's biological child from her perspective and that he told her so,'' Hiatt said.
Jackson added that she identifies as black and that her father encouraged her to be proud of her roots. She has nine tattoos honoring her father, including one of his "Dangerous" album cover she posted on Instagram in May.
She also spoke about the challenges of growing up in the glare of the spotlight, particularly after Jackson was hit with multiple allegations of child molestation.
"Nobody experienced him being a father to them, and if they did, the entire perception of him would be completely and forever changed,'' she said.
Hiatt added, "Paris got most emotional in our talks when she mentioned that her dad would come to her at night and her dad would be crying and saying how could the world do this to me, why would they say I did these things I didn't do, and for her that was heartbreaking."
Follow TODAY.com writer Scott Stump on Twitter.