In a candid TODAY interview that aired Monday, Melissa Rivers reflected on the sudden passing of her mother, legendary comedian Joan Rivers.
But on Tuesday, she visited the TODAY studios for a more lighthearted chat, laughing it up with Kathie Lee Gifford and Hoda Kotb while discussing her new memoir, "The Book of Joan: Tales of Mirth, Mischief, and Manipulation."
Though she initially had doubts about writing the book, in the end Rivers said, "It saved me. Because it gave me permission to laugh. ... It allowed me to remember stories and laugh and be joyful."
Rivers had joked at one point that publishers were hanging out at her mom's funeral, hoping she'd sign on for a book, but confessed that wasn't really true. "They waited, I think, it was like two, three weeks," she said.
There was so much material, though, thanks to Joan's sense of humor and the fearless way she lived her life. Rivers said that her mom was always a hard worker, but preoccupied with death.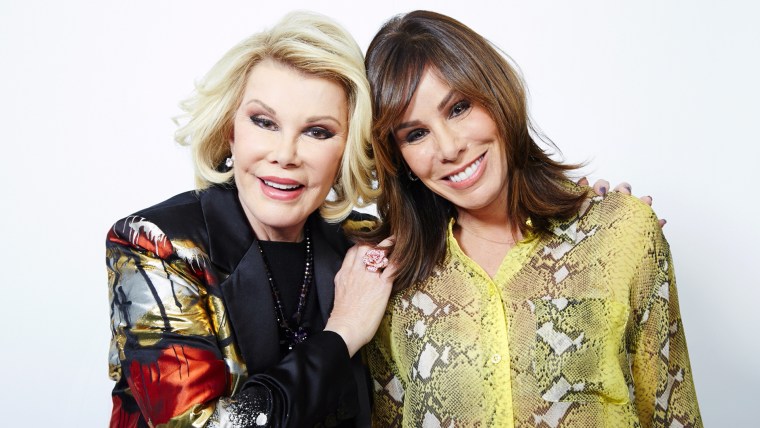 "I would get these phone calls left on my voice mail every time she would travel," said Rivers. "'Just so you know, if the plane goes down, I want the insurance company to hear this: I had everything with me. I took all of my jewelry. I've got paintings in the suitcase.'"
As for growing up with Joan as her mom, Rivers admitted her upbringing was more typical than people would think. "I like to say on the scale of Cleaver to Addams, we skewed closer to Addams, but not all the way," Rivers said with a smile. "It was a very traditional household in a crazy world."
"The Book of Joan: Tales of Mirth, Mischief, and Manipulation" is currently available in bookstores and online.