Kate Beckinsale shared the story of how her "Much Ado About Nothing" co-stars Keanu Reeves and Robert Sean Leonard saved her from a major fashion mishap on the red carpet at the 1993 Cannes Film Festival.
On Instagram, Beckinsale posted a photo she said her mother found of her 1993 appearance for the "Much Ado About Nothing" premiere at the festival. In the photo, wears a bodysuit and skirt — though her interesting choice in footwear was cut off.
"Unfortunately it's not full length so you can't see the Dr. Martens," she wrote of her shoes in the caption of her Instagram post.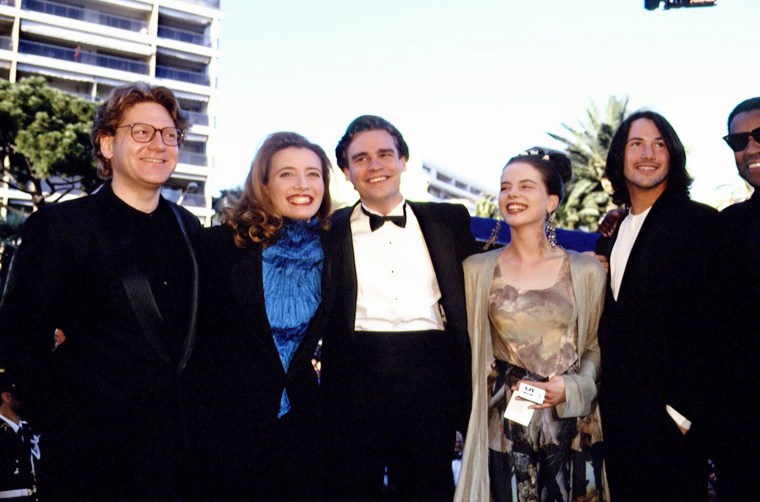 What's also not able to be seen in the picture? Her near fashion malfunction, which she described in the post.
"I had bought the bodysuit in the Sock Shop at the airport and when I got in the car to drive to the premiere with Denzel and Pauletta Washington, all the poppers in the crotch popped themselves open and it flipped up like a roller blind," Beckinsale said.
"I didn't feel it was appropriate to go delving around in my undercarriage with all of us in the back of the car so I just quietly panicked. Walked out onto the biggest red carpet of my life and whispered to Keanu and Robert Sean Leonard what had happened," she continued.
Then, she described their solution. "In this picture I am holding the front gusset down and the two of them are holding the back gusset," she said.
She lauded her co-stars for their help, even if they didn't quite understand what was occurring at the time.
"Absolute legends who may not even have fully understood the physics of what was happening or even heard the word 'gusset' before, but both jumped in to save me no questions asked," she said.
Actor Naomi Watts commented on the post, calling it "hysterical."
Beckinsale was reliving her 1993 appearance at Cannes after attending the premiere of "Pot au Feu" at the French festival on Monday in a gorgeous green Zuhair Murad gown covered in jewels.
"At the Pot au Feu premiere, 76th Cannes Festival in my dream dress — remembering my first time on these steps 30 years ago in scuffed steel toe capped Dr. Martens. Both magical," she wrote in a post featuring her look.