John Krasinski and Emily Blunt, who delighted us in TV series and films like "The Office" and "The Devil Wears Prada," have been happily married since 2010.
But as Krasinski recently revealed to Playboy, Blunt let him know early on that she wanted to date him, not a gushing fan. (Remember, this is the man who's seen "Prada" more than 100 times.)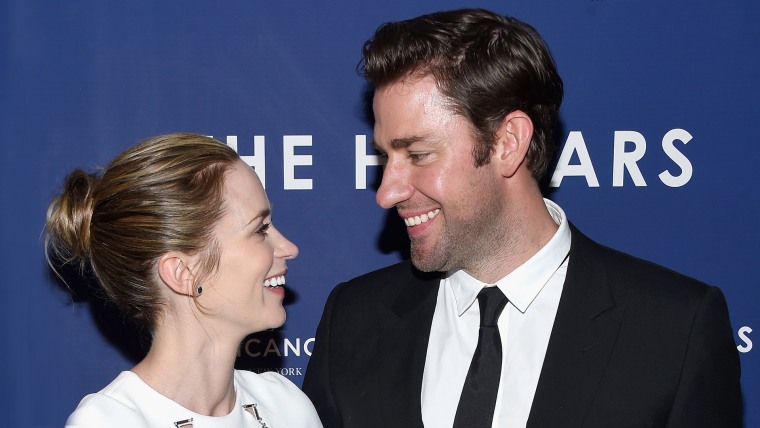 "I remember being at my house and saying to her, 'So I just want to have this really honest conversation. I think you're one of the best act — ' I didn't even get out 'actress,'" he said. "She just went, 'No, no, no, no!' Very loud."
Turns out her instincts were spot on.
"We didn't have that conversation again for a really long time, and it saved our relationship," he said. "We got to have a very removed existence, because we just looked at it as though we were two people who had fallen in love, rather than two Hollywood celebrities who'd met each other."
Fortunately, that's changed over the course of seven years of marriage and two daughters (Hazel, 4, and Violet, 18 months), and these days being fans of each others' work translates into support, love and sometimes a co-starring role.
Though both actors are busy with projects like "Jack Ryan" (Krasinski) and "Mary Poppins Returns" (Blunt), they're also starring in the upcoming horror thriller "A Quiet Place" together. Krasinski directed the film, but fortunately Blunt had his back the whole time.
"I think my wife gets me," he said. "Not just to sound adorable, but the truth is she gets me more than anyone else has ever gotten me. And so she allows me to, for lack of a better term, bottom out for a second and get really scared."
So right here, right now is the life the 38-year-old always wanted. "I really wanted to be married from a young age," he said, "because my parents were really happily married and that seemed really cool: having a partner, having a best friend."
And now he does!
Follow Randee Dawn on Twitter.