When John Krasinski first got together with now-wife Emily Blunt, he had no trouble confessing his feelings for her. But he wasn't so quick to share his feelings about one of her films.
As it turns out, the actor is a big fan of the big-screen hit "The Devil Wears Prada" — an embarrassingly big fan.
He recently confessed to watching the flick more than 75 times, but when he stopped by TODAY Thursday morning, anchor Matt Lauer had his doubts about that claim.
RELATED: Emily Blunt and John Krasinski welcome daughter Violet
"John, that's not true, is it?" he asked.
"Yeah, I might have been lying," Krasinski admitted. "It might be over 100."
And he got an early start on binge-watching it so many times.
"I think I saw a good 50 of them before I ever met Emily," he explained. "So what you're getting on camera is ... you're getting a confession that I was a stalker and I somehow pulled off a wedding."
Joking aside, his love affair with the fashion-forward film started when he and a friend couldn't get into seeing a sold-out action feature and figured they'd check out "Prada" instead.
RELATED: Find out which actress almost had Anne Hathaway's part in 'The Devil Wears Prada'
"It's got the word 'devil' in it — real masculine. Let's get in there," Krasinski recalled thinking at the time. "And then we saw it, and I remember at the end, I thought it was one of the best movies I'd ever seen. But I also didn't want to betray my feeling to my buddy, so I was like, 'What did you think?' as I was wiping away my tears. He's like 'It's pretty good.'"
Krasinski tried to play it cool, but really thought, "Oh, my god! I'm going to see it twice today."
As for Blunt, she almost found out about his obsession in the early days of their relationship when she stopped by his house while he was watching it.
"She walked through the door and I flipped the channel so fast I think she thought I was watching something inappropriate," he said.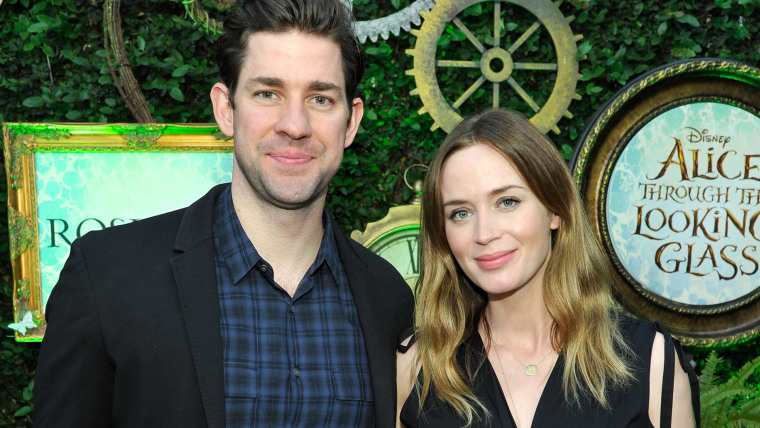 But he's not embarrassed anymore.
"It all worked out," he added with a nod.
Krasinski fans looking for a film to watch over and over again can start counting their viewings of his latest release (as both an actor or director), when "The Hollars" opens Friday.
Follow Ree Hines on Twitter.