Jamie Foxx is up and at 'em, according to his daughter.
On May 12, the "Day Shift" actor's 29-year-old daughter Corinne Foxx took to her Instagram stories to contradict media claims that her father's health had further declined.
In April, a representative for the 55-year-old actor confirmed to NBC News that the actor had been hospitalized after his condition became "serious."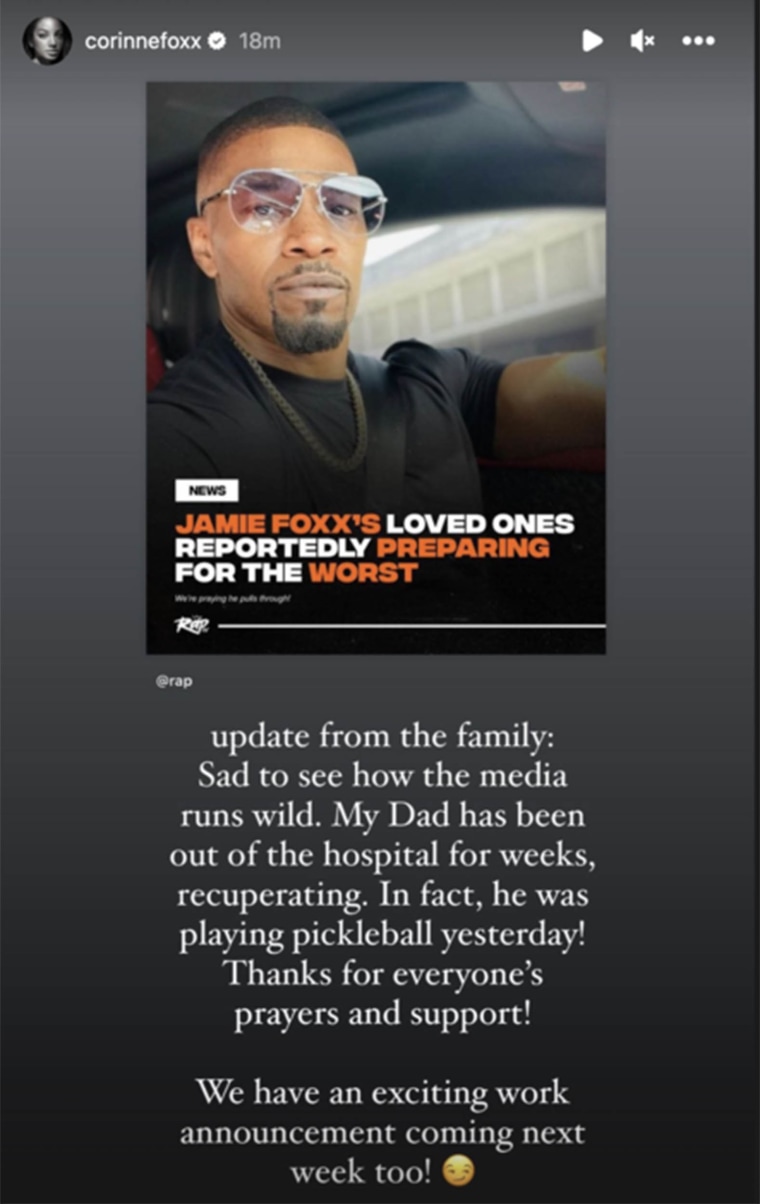 On Instagram Friday, Corinne Foxx shared that her father is now recuperating.
"Update from the family: Sad to see how the media runs wild," she wrote in the post featuring a tabloid headline that read "Jamie Foxx's Loves Ones Reportedly Preparing For The Worst."
"My Dad has been out of the hospital for weeks recuperating." she continued. "In fact, he was playing pickleball yesterday! Thanks for everyone's prayers and support!"
Concluding the post, Corinne Foxx informed fans they could look forward to an "exciting work announcement coming next week too."
Earlier this month, on May 3, Deadline confirmed that the actor's health would affect his role as host on the Fox television musical game show "Beat Shazam."
In a statement, Fox confirmed that Nick Cannon would temporarily step in for Jamie Foxx while Kelly Osbourne would, for the moment, replace Corinne Foxx, who was the DJ on the show. Jamie Foxx served as host for the series' first five seasons. Corinne Foxx joined the show's second season as a DJ.