Not everyone is on board with Harrison Ford's decision to fly.
The legendary actor, who was piloting a vintage World War II training plane when it crashed on a California golf course in 2015, says wife Calista Flockhart won't always fly with him now.
"I changed a lot of things in my life," he told the Hollywood Reporter. "My wife does not fly with me in vintage airplanes anymore — she will in others. I certainly don't want to have to recover from that kind of accident again. It was really hard on my family and it was hard on me.
"I went back to flying. I know what happened. So that's part of the reason (I went back). There was a mechanical issue with the airplane I could not have known about or attended to in any way. So in the words of the great philosopher Jimmy Buffett: S--- happens."
Ford's plane lost power in its engine, causing the crash. His publicist said in a statement to NBC News at the time that he was "banged up" and went to a hospital. The "Indiana Jones" actor, 80, said there is always room to improve when it comes to flying.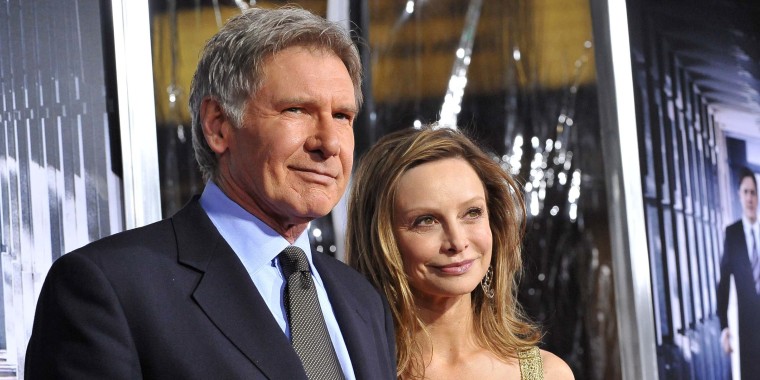 "Well, you never do anything perfect. That's a dangerous concept. So you're always looking to see what you did," he said. "Flying is especially like that. After every flight, you can analyze the flight and say, 'Remember when I did that? That was a rookie mistake.'"
Ford, who can currently be seen on the AppleTV+ comedy "Shrinking" and the Paramount+ series "1923," has talked about his 2015 crash before.
"I remember some of it. I remember the engine stopping. I remember that part very well," Ford said when he appeared on "Jimmy Kimmel Live!" in October 2015, more than seven months after the crash.
"And then I remember telling the tower what I was going to do and I remember their suggestion," he told Kimmel. "Their suggestion was that I take the normal route to land, and I knew I wasn't going to do that, so I said 'No.'
"And that's the last thing I remember until five days afterward, actually," he said. "I'm told by the doctors that the amount of general anesthetic I got induced a retrograde amnesia."