A group of senior citizens who thought they were just going to their exercise and quilting classes on Monday got a surprise from a woman who knows a thing or two about staying active in her golden years.
Dolly Parton gave the crowd a thrill when she showed up for a ceremony to rename the Sevier County Senior Center in Sevierville, Tennessee, to make it the My People Senior Activity Center in honor of her late parents.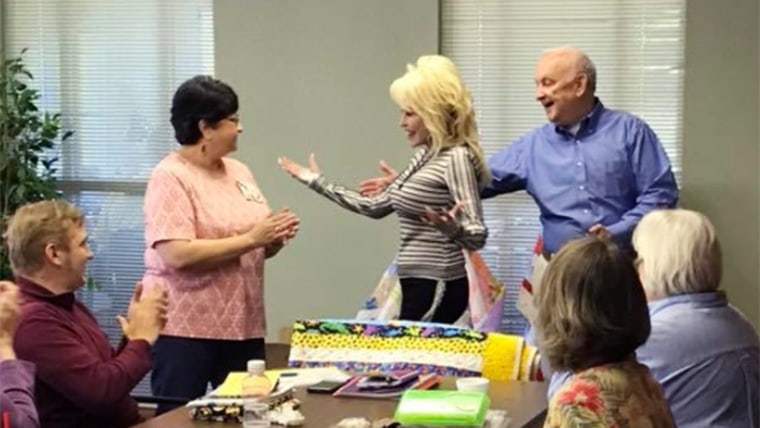 The 72-year-old country legend also performed the song "My People," hopped in the middle of an exercise class with some hand weights, and joined in on quilting activities.
"It was priceless to see everyone and how happy they were,'' Jane Howes, director of the center, told TODAY. "We're still on Cloud Nine."
The center had to keep her appearance a secret despite the fact that it was more than two years in the making. A local medical center had the naming rights for the first 15 years of the center's existence before the name change this year.
Parton's representatives had asked them to keep it under wraps due to security reasons and because the building's main room only holds about 200 people.
"It was terrible because we knew people would be mad at us because we didn't open our mouths at all,'' Howes said. "If word got out, several thousand people would have come and there would've been no way to handle a crowd like that."
The lucky group of about 100 seniors out of the center's membership of 3,000 were treated to some up-close moments with Parton, who is from Sevier County.
"I am so excited to be part of this today,'' Parton said at the ceremony. "Of course, you know I'm a senior, too. When I was over in Sevier County High School, I couldn't wait to be a senior, and now that I'm in my second childhood, I'm a senior again.
"Anyways, I saw one of my old boyfriends from high school. He said, 'Dolly, you look like a million dollars.' I said, 'Well, thank you. That's just about how much it's cost to make me look like this.'"
Parton got the new name of the center from the My People Fund that she founded, which gave $1,000 to each family whose home was lost or damaged from wildfires in Sevier County in 2016, with $8.9 million donated in all.
The center serves as a social network and activity hub for people between 50 and 100 years old, with the median age of the members being between 70 and 75.
Parton served as the perfect example of remaining active as a senior citizen.
"To see how she is just so vibrant is great for our members, who are very active already,'' Howe said.
"I just keep myself busy, and I think that's the key to staying young, and I'm proud to be a senior citizen,'' Parton said. "Of course, we all wish we could stay 30 forever, but we can't, so I think it's important that we stay active.
"We stay with a good attitude and get out and stay involved, make friends and be whatever, and I think being a part of this whole thing is really great, and it is my pleasure to dedicate this to my people."
Follow TODAY.com writer Scott Stump on Twitter.