Cindy Crawford will be back for Super Bowl 52.
The legendary supermodel has re-created her iconic 1992 Super Bowl commercial for Pepsi — and this time she brought along her handsome 18-year-old son, Presley Walker Gerber.
In fact, the ad, which aired on TODAY Thursday morning, actually showcases Presley first.
"This is the Pepsi for this model," a voice-over, courtesy of Jimmy Fallon, announces as the teen stands in front of a vending machine. "Aaaaaaand his mom."
Mother and son even strike the same signature pose in the clip.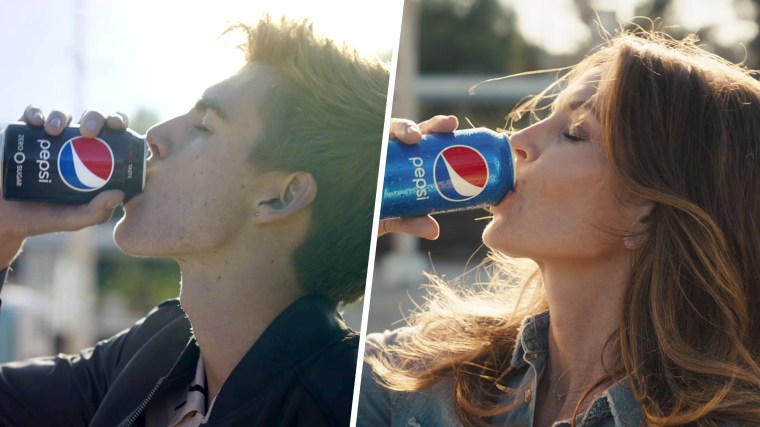 Crawford, 51, told The Washington Post she jumped at the chance to re-create the ad — especially since it meant she could work with Presley, who, along with his sister Kaia, 16, is following in his mom's modeling footsteps.
"Just as a mother, we drove to work together that day and we shared the same trailer. And when he was doing his thing, I was just a proud mom watching from the sidelines, trying not to annoy him," said Crawford.
Twenty-six years ago, a tank top-clad Crawford made major waves in the sexy commercial, which found her driving her red Lamborghini to a roadside vending machine to cool off with a can of Pepsi.
Crawford — who sported denim shorts cut from a pair of jeans she brought to the set that day — told the Post she loved that the 1992 commercial become "such a classic." (Just last year, "Late Late Show" host James Corden joined Crawford for a hilarious spoof of the ad.)
"It was one of those moments in my career that when I walked down the street, people were like, 'Pepsi!' Or I'd be at a bar and people would send me over a Pepsi," she said. "And it's funny because during Halloween a lot of women will dress up as me in that commercial. It's like an easy Halloween costume."
The new commercial, which will air during Super Bowl 52 this Sunday, also features other special guests, including Michael Jackson.
The ad features a clip from the King of Pop's famous 1984 Pepsi commercial, along with flashback footage of Britney Spears and all-new footage of stock-car racing star Jeff Gordon and Celtics point guard Kyrie Irving.