Talk about a smart move!
CBS has released a first trailer for "Young Sheldon," a new sitcom that will focus on the 9-year-old Sheldon "Shelly" Cooper, the quirky, socially-awkward genius currently portrayed as an adult by Jim Parsons in "Big Bang Theory." And even if you aren't a "Theory" fan, you'll want to give it a look.
In the 5-minute trailer we get a good look at young Shelly (Iain Armitage), a bow-tie-wearing new 9th grader whose older brother is not thrilled they'll be peers ("I'm not planning on being in the 9th grade for very long," he assures his growling brother) and has a twin sister who's thrilled he's no longer part of her class.
Sheldon lives in East Texas, loves trains and has a very black-and-white sense of right and wrong with very little filter, which irritates his teachers right out of the box: "Five minutes into my math class, he questioned my credentials!" cries one.
His parents are baffled but accepting, and he learns during the trailer that he may have come by his plainspokenness honestly: Dad was fired from a coaching job for speaking out, too.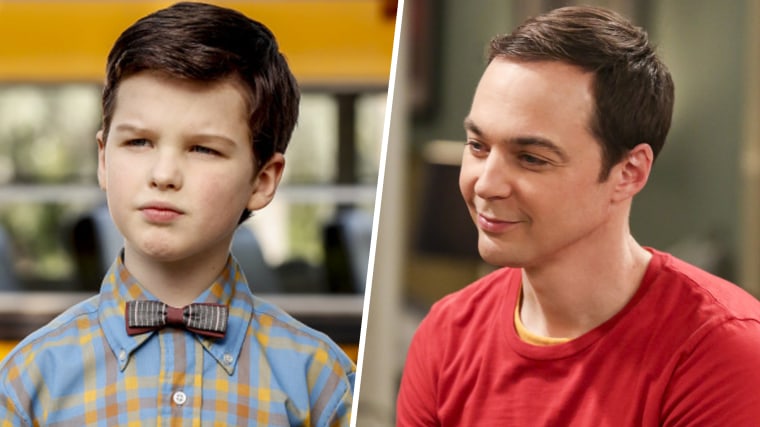 What may surprise "Theory" fans is that "Young Sheldon" doesn't really look or feel like "Theory" (or any of Chuck Lorre's other sitcoms): It's multicamera and takes place less on a soundstage than in real locations. That gives it a more modern feel, and opens things up for at least one truly heartwarming moment (wait for it in the trailer).
If you're thinking that Armitage looks familiar, you're right: He recently appeared as Ziggy in HBO's "Big Little Lies." Meanwhile, his mom is played by Zoe Perry — the daughter of actress Laurie Metcalf, who plays Sheldon's mom on "Theory."
This has been a big year so far for Parsons, who got married earlier this week, will executive produce "Sheldon" and also lends his voice to the show as a narrator, a la "Wonder Years."
It's no longer theoretical: We're looking forward to this! The new series will premiere after "Big Bang Theory" on Sept. 25 then move to a Thursday slot on Nov. 2.
RELATED
Follow Randee Dawn on Twitter.