2003: The year Beyoncé dropped her debut solo album, Roger Federer won his first Grand Slam title at Wimbledon and Steve Martin hosted the 75th Academy Awards.
The 2003 Oscars ceremony was chock full of memorable moments, from Bennifer's red carpet kiss to Adrian Brody's unplanned liplock with Halle Berry. But the ceremony is also remembered as a dark example of the world before the #MeToo movement, with a best picture lineup that demonstrated Harvey Weinstein at the height of his media empire's influence and success.
And to think: The show almost didn't happen. Just days before the ceremony on March 23, the country declared war and invaded Iraq. Here's what the Academy Awards looked like 20 years ago.
The U.S. - Iraq war begins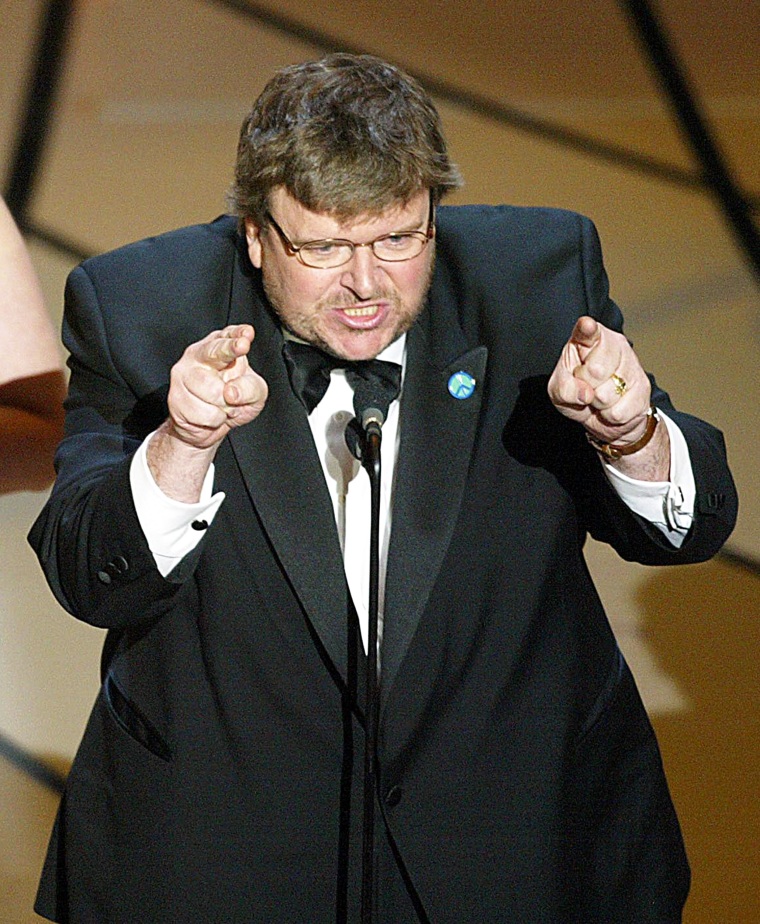 The 2003 Academy Awards were held on March 23. Four days earlier, the United States launched its invasion of Iraq, eventually overthrowing the government led by Saddam Hussein.
Initially, the Academy considered postponing the ceremony, but in the end, chose to proceed as scheduled with diminished "red carpet fanfare," according to the official Oscars website.
Several celebrities also canceled their appearances at the event. Later in the event, during a segment meant to showcase 75 previous Oscar winners to mark the event's 75th year, only 59 were present, according to Gold Derby.
Several of the victory speeches were also politically charged in the wake of current events. Michael Moore, who won an Oscar for best documentary feature for "Bowling for Columbine," called George W. Bush a "fictitious president" in his speech and was met with a mix of applause and loud boos from the crowd.
"We live in a time where we have a man sending us to war for fictitious reason," he said. "We are against this war, Mr. Bush. Shame on you, Mr. Bush, shame on you. And anytime you've got the pope and the Dixie Chicks against ya, your time is up."
Nicole Kidman won best actress 'by a nose'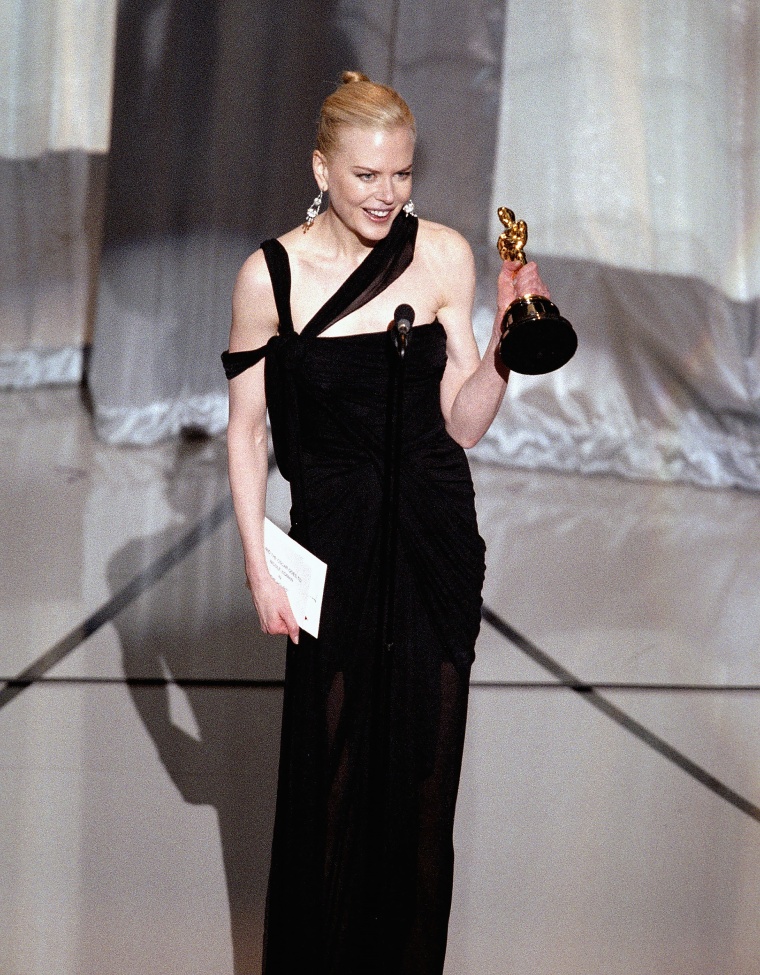 Nicole Kidman's 2003 nomination for best actress followed right on the heels of her loss in 2002, where she was up for the same award for her performance in "Moulin Rouge."
Kidman's win for her portrayal of Virginia Woolf in "The Hours" marked her first and only Academy Award win. Kidman was up against Salma Hayek, Diane Lane, Julianne Moore and Reneé Zellweger.
Many might not even recognize Kidman in the film today — not because of the passage of time, but because of her nose.
In the film, Kidman wore a prosthetic nose to make her look more like the "Mrs. Dalloway" author. The transformation required three hours of make-up each day, Kidman told SF Gate in 2003.
At the ceremony, Denzel Washington unfolded the envelope containing the name of the best actress award winner and said, "The Oscar goes to, by a nose, Nicole Kidman."
Later in 2017, Kidman revealed on "The Late Show" that the moment wasn't all she had hoped for.
"I have to say, when I won my Oscar, I was not in a great place in my life," Kidman said.
"I didn't have a partner to share it with," she explained. "I was sort of flailing emotionally and personally." She is now married to the singer Keith Urban.
The fashion was the early 2000s at its peak
On the red carpet, spaghetti straps, bright colors and tulle dominated.
Jennifer Garner wore an ice-blue dress form-fitting dress held up by thin straps. The dress featured a bodice decorated with crystals, and she paired it with open-toe heels.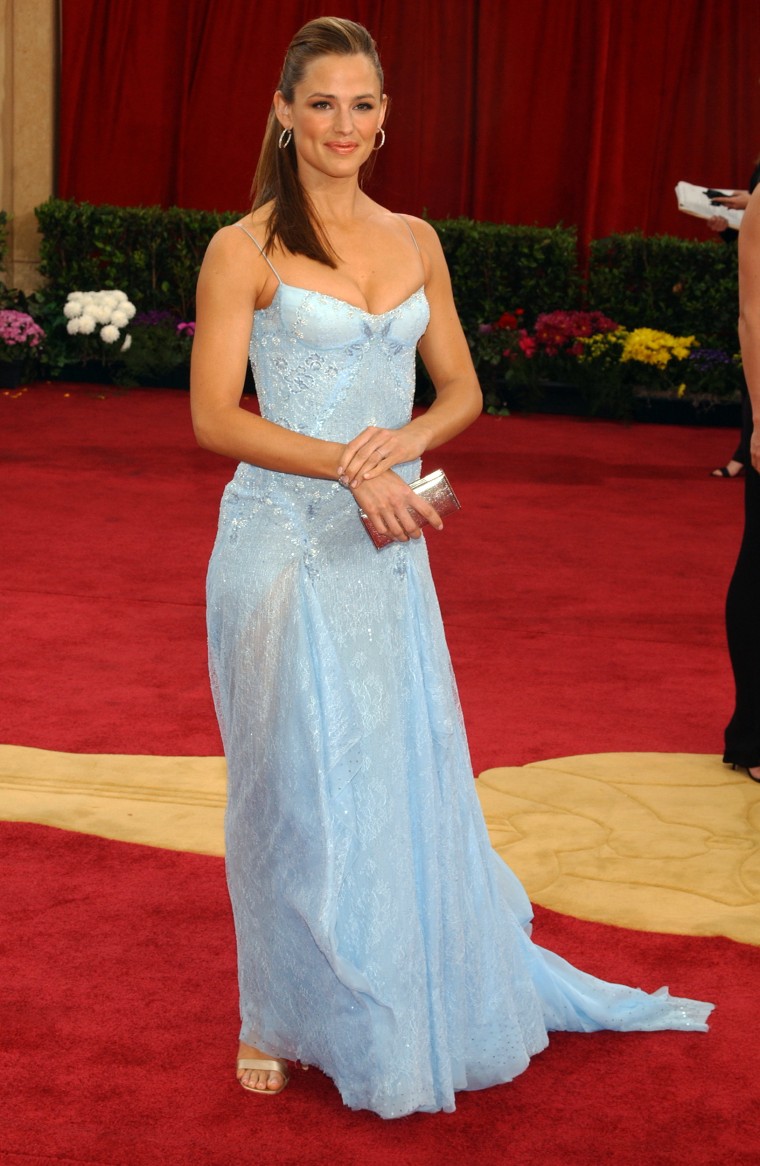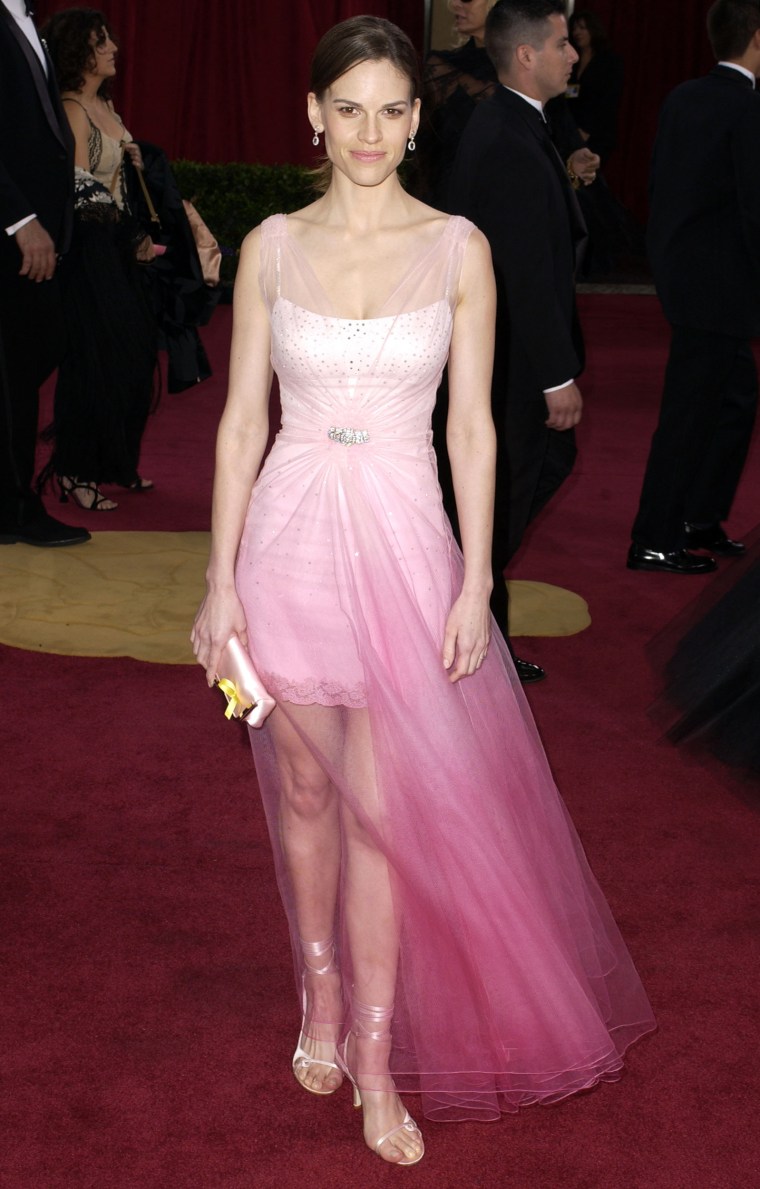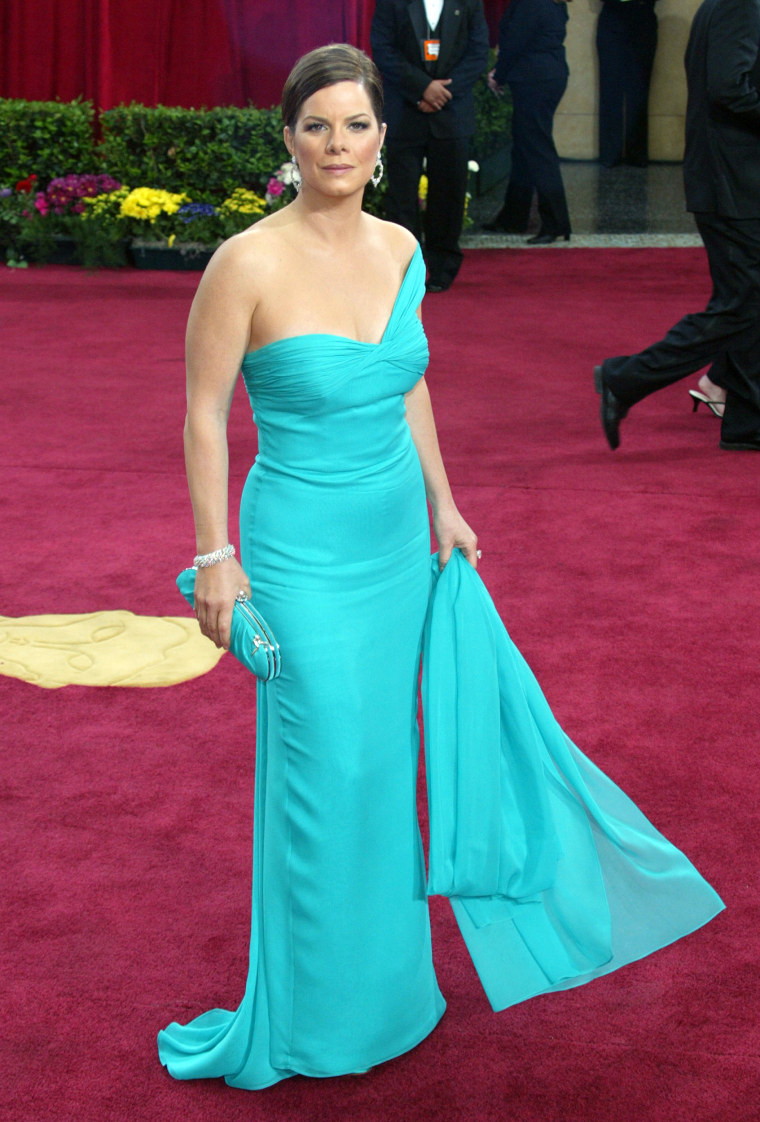 Hilary Swank wore a baby pink dress covered with a long tulle skirt fastened to the dress with a central crystal broach. Like Garner, her dress was emblazoned with tiny, shiny crystals.
Other colorful ensembles included Julianne Moore's strapless emerald green gown and Marcia Gay Harden's bright teal one-shoulder dress.
2003 was a major year for the Harvey Weinstein-led distributor Miramax
Of the five nominees for best picture at the 2003 Academy Awards, three were produced by Miramax, which was co-founded and, at the time, co-chaired by the now-disgraced film industry titan Harvey Weinstein. 2003's best picture winner, "Chicago," was one of Miramax's most successful films at the box office.
Nominees "The Hours" and "The Gangs of New York" were also Miramax films. "Frida," led by Salma Hayek, and "The Quiet American," starring Michael Caine, also racked up nominations for the production and distribution company.
In total, Weinstein's movies received more than 40 Academy Award nominations in 2003, a feat that a studio hadn't accomplished since 1940, according to The New York Times.
In 2017, Jodi Kantor and Meghan Twohey of the New York Times and Ronan Farrow, then for The New Yorker, exposed Weinstein's patterns of abuse and sexual assault, which started a reckoning with harassment in the workplace known as #MeToo.
Rose McGowan, Gwyneth Paltrow, "Frida" star Salma Hayek and former employee Rowena Chiu were among the women who stepped forward against Weinstein. Hayek wrote specifically about her experiences with Weinstein on the set of "Frida," for which she was nominated at the 2003 Oscars, in the New York Times.
Weinstein is currently serving a 23-year prison sentence after being convicted of rape and sexual assault in 2020 in New York. In February, he was sentenced to another 16 years for rape in a Los Angeles case.
A film adaptation of Kantor and Twohey's book "She Said," which chronicles how they broke the Weinstein story, premiered in 2022 and received several award nominations, including a best supporting actress nod for Carey Mulligan at the 2023 BAFTAs.
Weinstein has denied all allegations of nonconsensual sex.
Studio Ghibli's surprise upset: Hayao Miyazaki beats 'Lilo & Stitch' and 'Ice Age'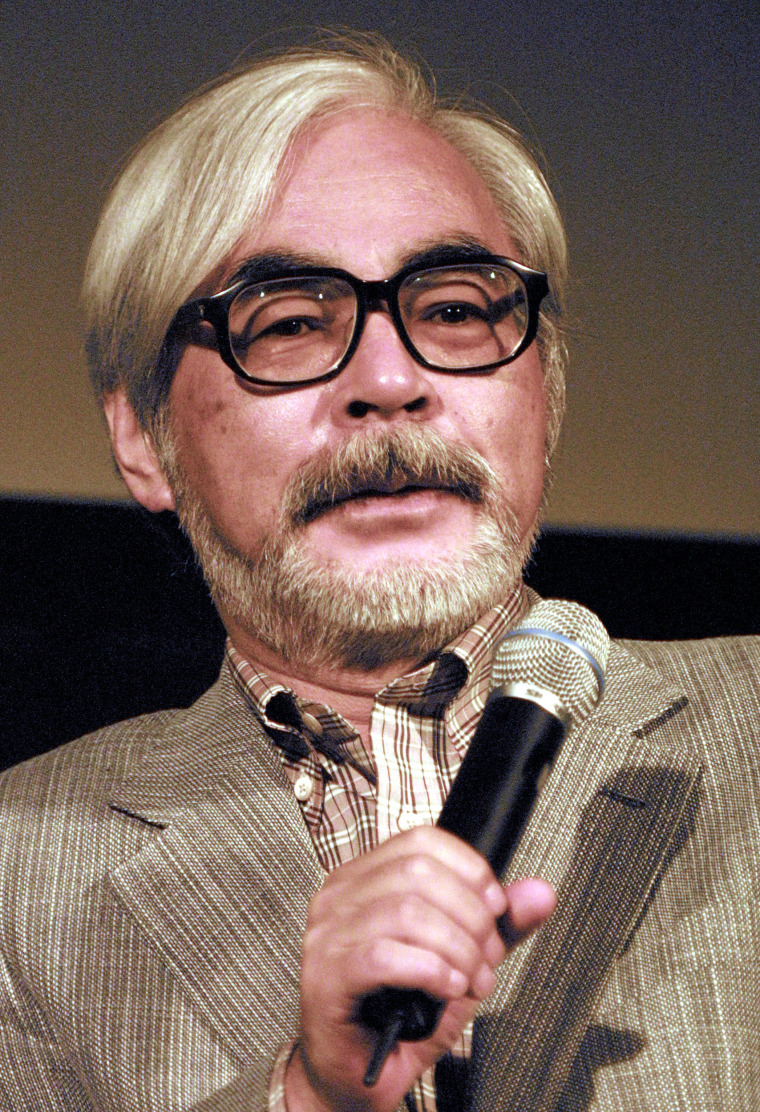 Hayao Miyazaki's fantasy adventure "Spirited Away" faced United States box office giants "Lilo & Stitch" and "Ice Age" in the best animated picture category, and emerged victorious.
It was the first and only time a hand-drawn, non-English animated film won the award.
Miyazaki, however, was not in attendance to accept the award from presenter Cameron Diaz. In a 2009 interview with the Los Angeles Times, he said he boycotted the awards because of the Iraq invasion.
"The reason I wasn't here for the Academy Award was because I didn't want to visit a country that was bombing Iraq," he told the outlet. "At the time, my producer shut me up and did not allow me to say that, but I don't see him around today."
Roman Polanski wins best director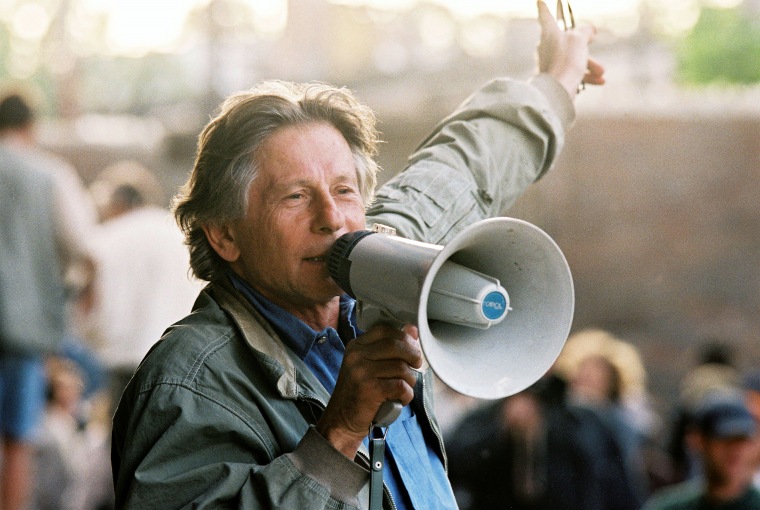 Roman Polanski won his only Academy Award in 2003 for "The Pianist," despite being a fugitive from the United States. Polanski was not in attendance to accept the award.
Polanski was charged in 1977 with raping a 13-year-old girl, who later came forward as Samantha Geimer. Geimer wrote a memoir and publicly forgave Polanski.
He later pleaded guilty and accepted a plea bargain for unlawful sexual intercourse with a minor. He fled the United States in 1978 before his sentencing and relocated to France.
"The Pianist" was filmed in Europe and tells the story of a Polish-Jewish pianist player who survives the Holocaust. Polanski himself had escaped from the Kraków Ghetto as a child.
In response to questions about the controversial win, the film's screenwriter Ronald Harwood said, "I will discuss his work as a director of a film and no other aspect of his life tonight … I have nothing to say about it," ABC News reported at the time.
It was the height of Bennifer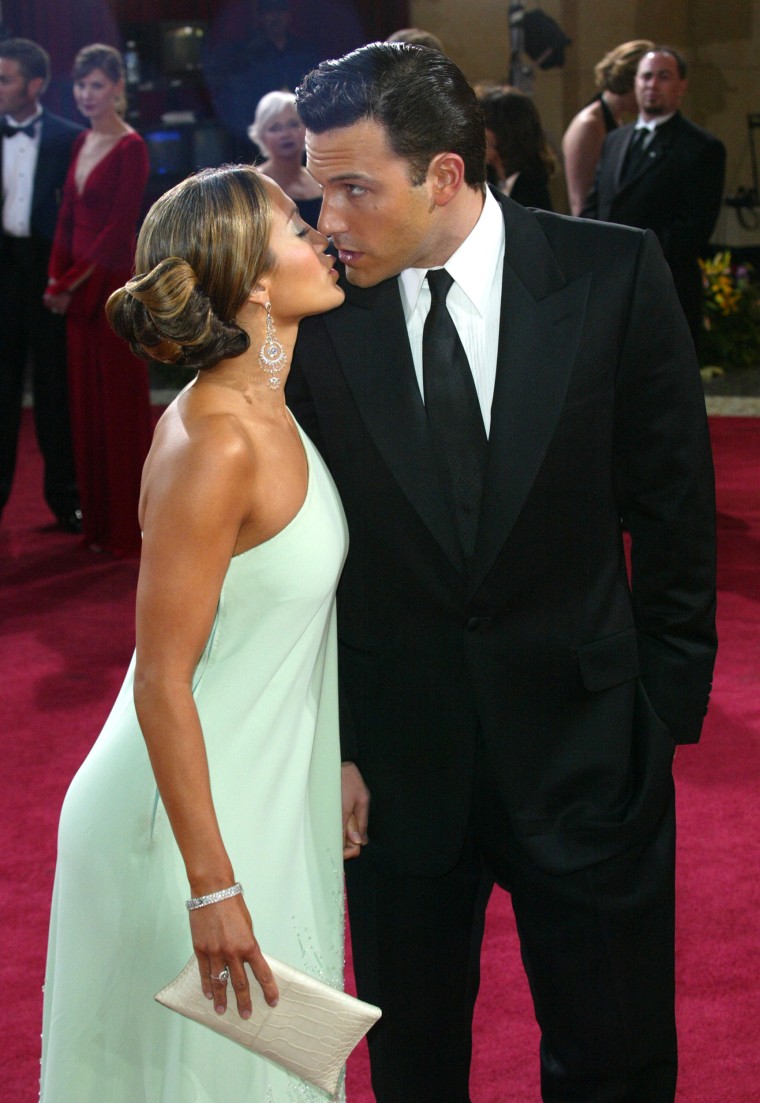 While not nominated for an Academy Award, 2003 also marked the year of "Gigli," the critically maligned romantic crime comedy movie starring Jennifer Lopez and Ben Affleck at the height of their offscreen romance.
On the red carpet, the two were photographed sharing an awkward kiss, with Lopez leaning in and Affleck looking up and away into the distance.
Bennifer was a fan-favorite celebrity couple at the time and dated from 2002 to 2004 before ending their engagement.
More than a decade later and after each went through a divorce, Lopez and Affleck rekindled their relationship in 2021 and got married in Las Vegas the following year.
Catherine Zeta-Jones performs pregnant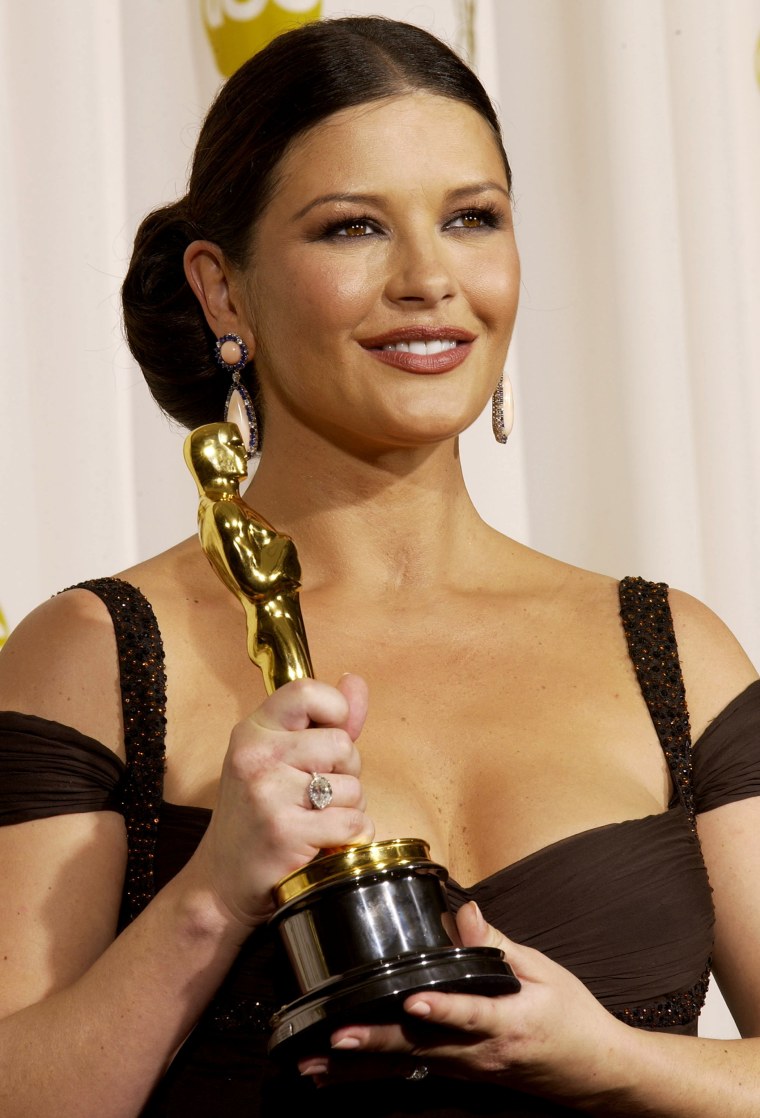 "Chicago" led the pack for most nominations in 2003, racking up 13 nods at the Oscars. The musical movie won six, including best picture and best supporting actress for Catherine Zeta-Jones. Zeta-Jones beat out Kathy Bates, Queen Latifah, Julianne Moore and Meryl Streep for the award.
Zeta-Jones played Velma Kelly, a murderous vaudevillian, and performed Broadway hits like "Cell Block Tango" and "All That Jazz" in the movie.
At the Oscars, the actor wore a black dress that showed off her baby bump and performed one of her songs with Queen Latifa. Zeta-Jones welcomed her second child with Michael Douglas, Carys Zeta Douglas, less than a month later.
Adrien Brody kisses Halle Berry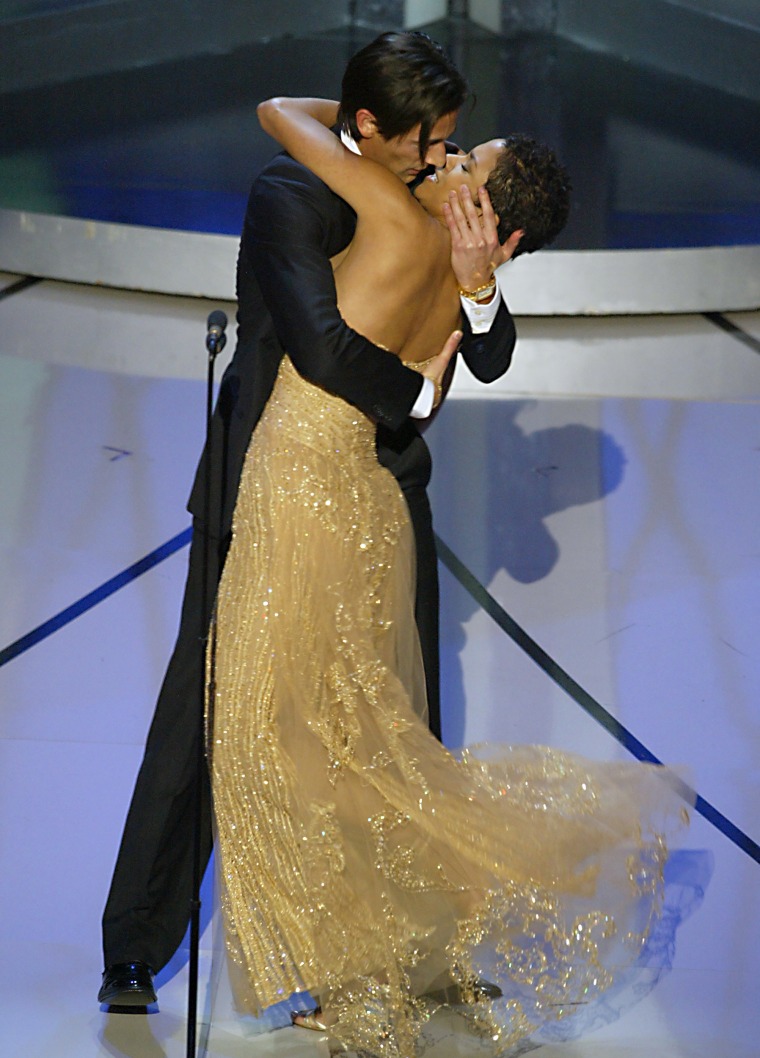 Brody's 2003 win for best actor in "The Pianist" was considered an upset, as he beat both Jack Nicholson and Daniel Day-Lewis for the award. At the time, ABC News reported that a "relative unknown" was "crowned best actor."
After he was named the winner for his role in "The Pianist," Brody, then 29, looked visibly surprised, covering his mouth in shock.
After walking onto the stage, he ran up to presenter Halle Berry and grabbed the back of her hand, kissing her on the lips. When he let Barry go, she looked visibly confused.
In 2017, Berry told Andy Cohen that the kiss was unplanned. She said in the moment she'd been thinking, "What the f--- is happening?" and "just f---ing went with it."
Meryl Streep and Jack Nicholson break records for most nominations
At the 2003 Academy Awards, Jack Nicholson was up for best actor for his role as a retiree attempting to start over in "About Schmidt," marking his 12th nomination. That nod made him the most nominated male actor, a record he holds today.
That same year, Meryl Streep received her 13th Oscar nomination, a nod in the best supporting actress category for "Adaptation." She became the most-nominated performer in Oscar history by beating Katharine Hepburn's 12 nominations.
Streep still holds the title for most nominations, now with 21. Hepburn and Nicholson are tied for second with 12. Hepburn has the most wins of any actor.
A Martin Scorsese film received 10 nominations — and zero wins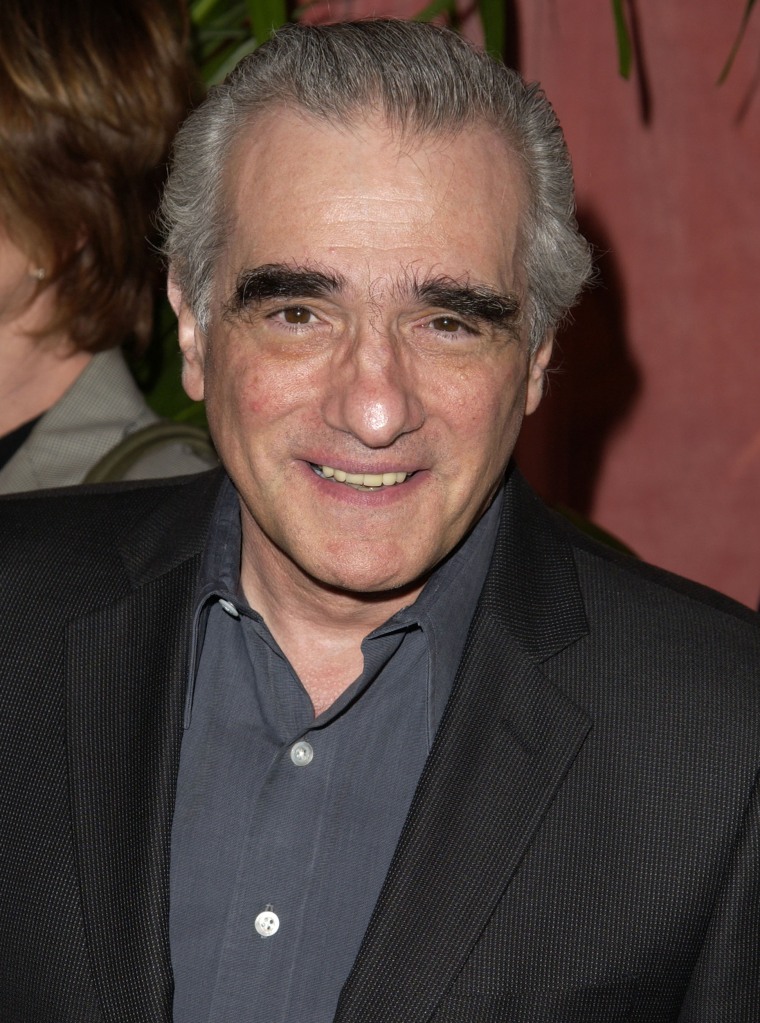 Martin Scorsese's historical drama "Gangs of New York" received the second-most nominations at the 2003 Academy Awards, including best picture, best director and best actor for Daniel Day-Lewis, with 10 in total. However, the film was shut out completely at the awards ceremony, marking another snub of the acclaimed filmmaker.
By 2003, Scorsese had been nominated individually several times for his work on films like "Taxi Driver" and "Goodfellas" — but he'd never won, and 2003 wasn't his year either.
Scorsese won best director in 2007 for "The Departed," which, like "Gangs of New York," starred Leonardo DiCaprio.