Former Hollywood producer Harvey Weinstein was sentenced to 16 years in prison Thursday for a rape conviction in Los Angeles, adding to a more than two-decade long sentence already handed down in New York.
Weinstein, 70, was convicted in the Los Angeles case in December, three years after he was convicted at a sex crimes trial in New York City.
In the Los Angeles case, a jury found Weinstein guilty of three counts related to the accuser known as Jane Doe 1: forcible rape, forcible oral copulation and sexual penetration by foreign object.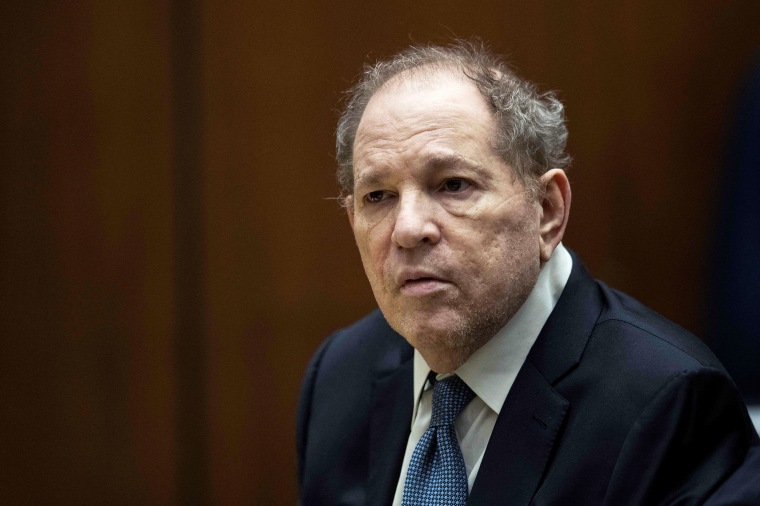 The jury found Weinstein not guilty of sexual battery by restraint involving a second accuser, identified as Jane Doe 2, and was unable to reach verdicts for allegations involving Jane Doe 3 and Jane Doe 4.
Attorney Gloria Allred filed a motion with the court Tuesday on behalf of three women after a judge denied them the ability to read victim impact statements at the sentencing. Allred's motion states that the decision violates the women's rights under Marsy's Law, which gives the right to those who suffer direct or threatened harm by a crime.
The judge declined to push the hearing to hear Allred's appeal, but Jane Doe 1 was permitted to offer a statement to the court before the judge's sentencing decision.
Weinstein faced a possible sentence of up to 24 years in the Los Angeles case, Los Angeles County District Attorney George Gascón has said.
Weinstein's legal team filed an appeal requesting a new trial, alleging that evidence was excluded about a romantic relationship between Jane Doe 1 and a witness that could have altered the jury's decision.
Superior Court Judge Lisa B. Lench denied Weinstein's request for a new trial.
Weinstein is currently serving a 23-year sentence on a rape case that was considered a landmark trial of the #MeToo movement.
In that case, he was convicted in New York in 2020 of third-degree rape and first-degree criminal sexual act for crimes against two women, one an aspiring actor and the other a "Project Runway" production assistant. An appeal is pending.
Weinstein pleaded not guilty at both trials, and has denied all allegations of nonconsensual sex. In both trials, Weinstein waived his right to take the witness stand.
In the 1990s and the 2000s, Weinstein and his younger brother, Bob, were titans of the movie business, producing formative films like "Pulp Fiction," and Oscar-winning dramas such as "Shakespeare in Love" and "The King's Speech."
In 2017, The New York Times and The New Yorker published explosive investigations into allegations of a pattern of sexual misconduct by Harvey Weinstein.
The stories inspired a wider reckoning over abuses of power and sexual harassment in the workplace that became widely known as the #MeToo movement.
This article first appeared on NBCNews.com.