Watch what happens when you start pouring your life and hopes and dreams into a diary, 'cause you might end up focusing on what's really important.
That's a lesson Bravo's "Watch What Happens Live" host Andy Cohen seems to have learned by not only keeping a diary, but publishing it. The latest volume of his daily musings, "Superficial: More Adventures from the Andy Cohen Diaries" is now available, and as he told TODAY's Matt Lauer, it's given him a fresh perspective.
RELATED: Meet Andy Cohen's rescue dog Wacha, who 'really rescued me'
"I am the least introspective person typically, but the course of writing this diary actually for three years has made me think about things in a totally different way," he said.
Like what? Well, big things! "I think it's opening myself up to love and a relationship and maybe a kid, I think I'm closer to that spot than I ever was," said the 48-year-old.
And as he also revealed, he doesn't believe he needs to be in a committed relationship to move on to child-rearing. "I don't think [so]," he said. "I feel like I can just do it."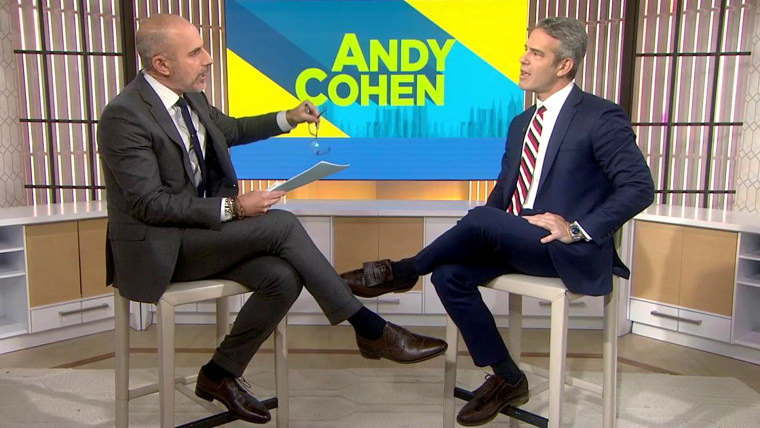 Alas, for fans of "Superficial," the story may be coming to a close for now. Cohen says he's pretty much done putting everything he's got into words.
RELATED: How Andy Cohen's (adorable) dog has changed his life — and his morning routine
"I put the pen down in May of this year, because I'm sitting there writing on Memorial Day and ... I started to get emotionally exhausted reporting on my life," he said.
"I don't know if I'll do another [volume]," he added, saying he wasn't even keeping a diary now. "I'm tired, dude."
Well, just wait until you have a kid running around, Andy!
Follow Randee Dawn on Twitter.