So proud of "Mom"!
Anna Faris helped her TV mother, Allison Janney, celebrate her big Oscar win by posing with the actress and her brand-new Academy Award. (Be warned that there is profanity in the caption.)
"Allison won!!! And I got to hold it!!!! It's heavy as s---!!!" Faris, 41, captioned the joyful Instagram pic on Monday.
The pair's "Mom" co-star Mimi Kennedy shared another shot of them hamming it up with Janney's statue.
The 58-year-old "West Wing" alum won the award for her performance as disgraced Olympic skater Tonya Harding's hardbitten and abusive mother, LaVona, in "I, Tonya."
In Monday's photos she's seen wearing a T-shirt emblazoned with a comical message about surviving Hollywood's grueling awards season. But in reality, Janney did much more than survive.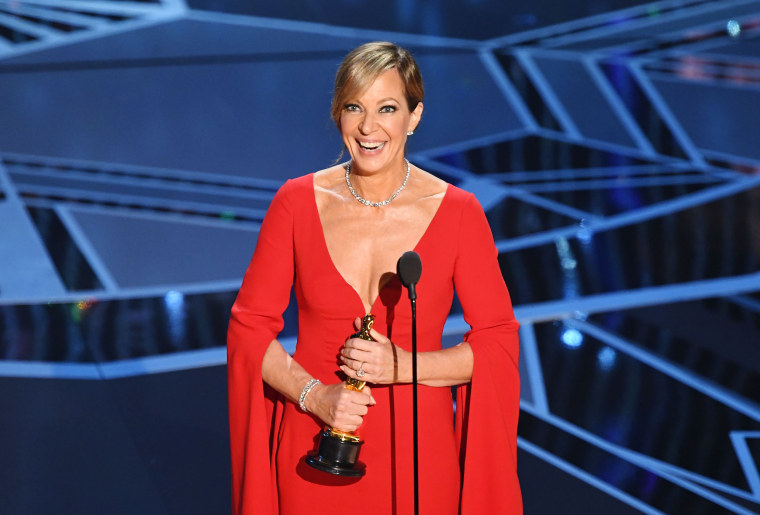 In addition to winning her first Oscar, she also nabbed the Golden Globe, the SAG Award, the BAFTA, and several more prestigious trophies for her knockout performance.
No wonder Faris is so proud!
The cute pair, who've played a mother and daughter recovering from addiction on "Mom" for five seasons, recently celebrated another success together.
When the CBS sitcom celebrated its 100th episode a little over a month ago, Faris shared a photo of herself giving Janney a great big smooch and captioned it, "I love you mommy!"