Allison Janney is opening up about her "awkward" encounter over the weekend with the Duke and Duchess of Cambridge — and she admits she's pretty sure she broke a few royal etiquette rules.
During her appearance on "The Late Late Show" Wednesday, Janney, 58, revealed she met Prince William, 35, and the former Kate Middleton, 36, after the 2018 BAFTA Awards in London, where she was honored for her performance as Tonya Harding's mom in "I, Tonya."
What royal faux pas did the actress commit? Well, for starters, Janney was barefoot when she happened upon the royal couple, who also attended the ceremony.
"Every woman knows — I was in very high heels at the Royal Albert Hall. It was like Vegas. Everything was so far to get everywhere," Janney explained as host James Corden held up a photo as evidence. "My feet had had it. So, I took my shoes off."
The actress said her lack of shoes made her feel silly, particularly since Kate, who's expecting the couple's third child, was still wearing heels.
"She was in her heels and pregnant, so I felt like a bit of a wimp that I was there in my bare feet," she said, adding that she attempted to make the most of the "awkward moment" with a joke.
"I told her that she should take her shoes off because she's pregnant," she said.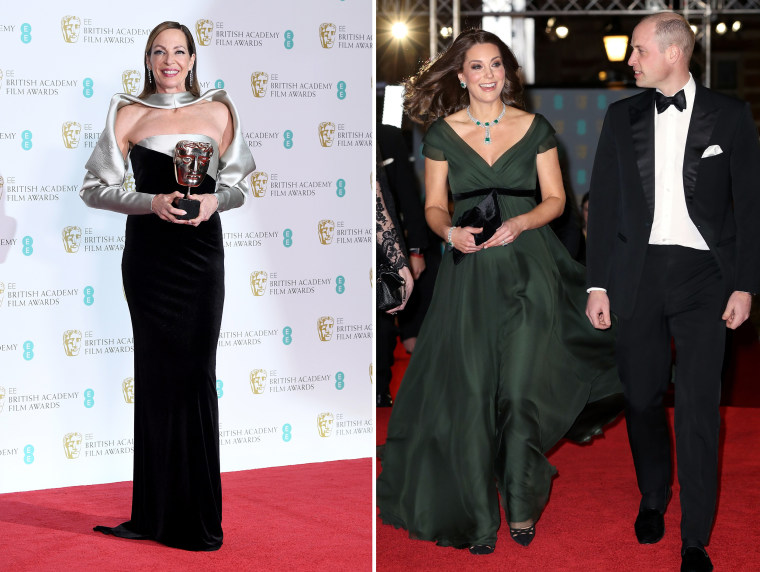 Janney also revealed she slipped and called the duchess "honey."
"That might not have been royal etiquette," she quipped.
Still, said the actress, she was excited to have met the dashing pair.
"She was lovely," Janney said of Kate. "They loved 'I, Tonya' and it was a pretty cool thing to meet them."