The 90th Academy Awards got off to a funny, but serious, start Sunday when host Jimmy Kimmel shared a few zingers at the expense of disgraced Hollywood mogul Harvey Weinstein and other celebrity men who've been accused of sexual harassment and assault.
Nodding to a gigantic Academy Award statue onstage, Kimmel joked, "Oscar is the most beloved and respected man in Hollywood. And there's a very good reason why. Look at him. He keeps his hands where you can see them, never says a rude word, and most importantly has no penis.... That's the kind of men we need more of in this town."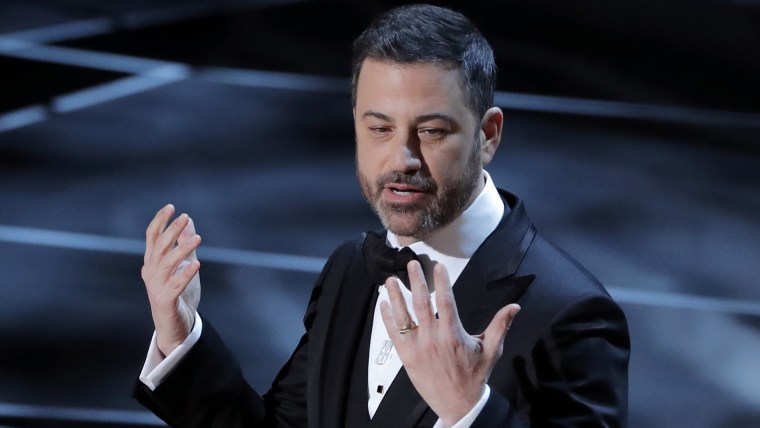 The late-night funnyman, hosting the ceremony from the Dolby Theater in Los Angeles for the second consecutive year, continued railing against Hollywood's treatment of women while keeping his tone light.
"We will always remember this year as the year men screwed up so badly, women started dating fish," he joked, referring to the unusual love story in Best Picture winner "The Shape of Water."'
The host also poked fun at last year's chaotic Oscar finale, when Hollywood legends Warren Beatty and Faye Dunaway mistakenly presented the Best Picture award to "La La Land" instead of the rightful winner, "Moonlight."
"This year, when you hear your name called, don't get up right away. Give us a minute," Kimmel advised.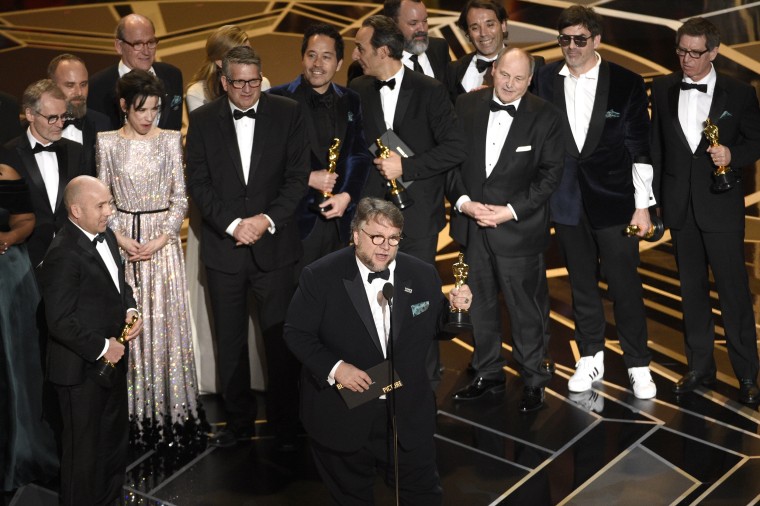 'The Shape of Water' nabbed the night's biggest award
Guillermo del Toro's fantasy drama, about a mute cleaning lady who falls in love with an amphibious creature held captive in a government lab, led the pack with an impressive 13 nominations. The surreal love story nabbed two of the night's biggest awards, Best Picture and Best Director.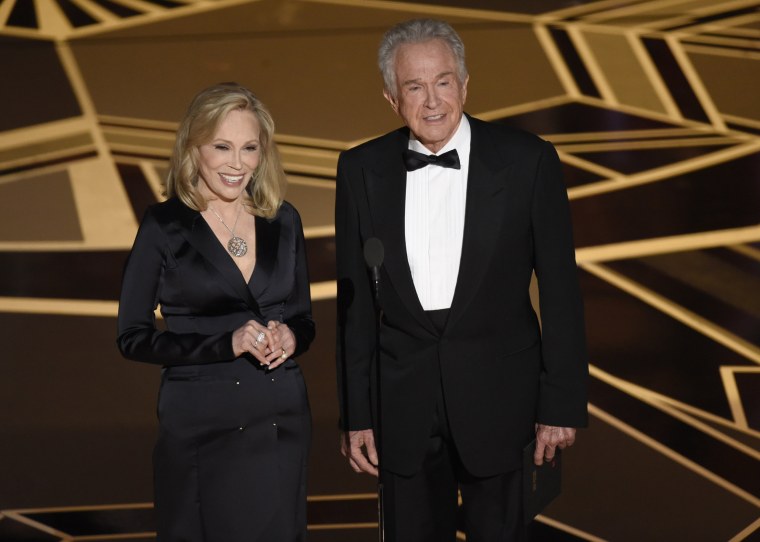 Warren Beatty and Faye Dunaway get a second chance
The "Bonnie and Clyde" co-stars returned to present the Oscar for Best Picture to "The Shape of Water" — and this year things went far more smoothly, even if director Guillermo del Toro spoofed the pair by double-checking the winning card.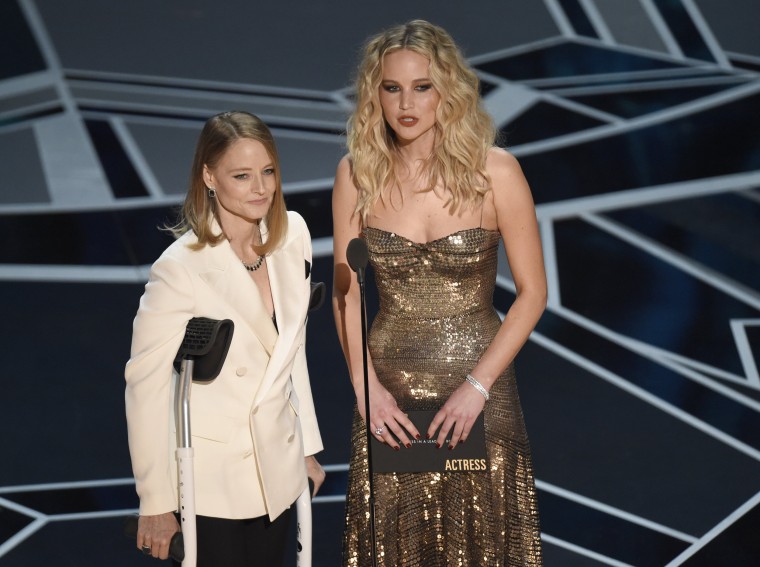 Jodie Foster and Jennifer Lawrence
Jodie Foster and Jennifer Lawrence showed off their comedic chops when they presented the award for Best Actress to Frances McDormand. Lawrence, noting that Foster was hobbling on crutches, asked her fellow Oscar winner how she got her injury.
"Streep," Foster replied in perfect deadpan. "She 'I, Tonya'd' me."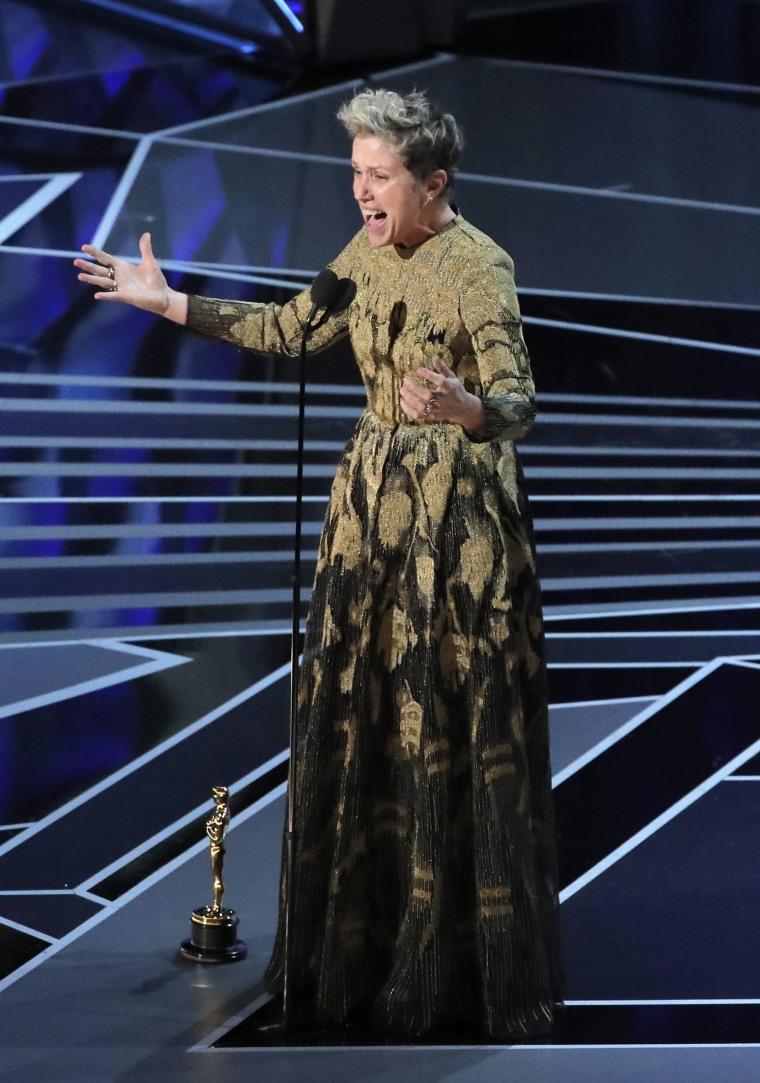 Frances McDormand urges all the ladies to rise up
McDormand, who won for her performance as a grieving mother out for justice for her murdered daughter in "Three Billboards Outside Ebbing, Missouri," accepted her award with a rousing speech. "I think is what Chloe Kim must have felt like after doing back-to-back 1080s in the Olympic half-pipe," said the two-time Oscar winner before asking all the female nominees in the room to stand up and cheer one another. She ended her speech by urging everyone to demand inclusivity on their movie sets.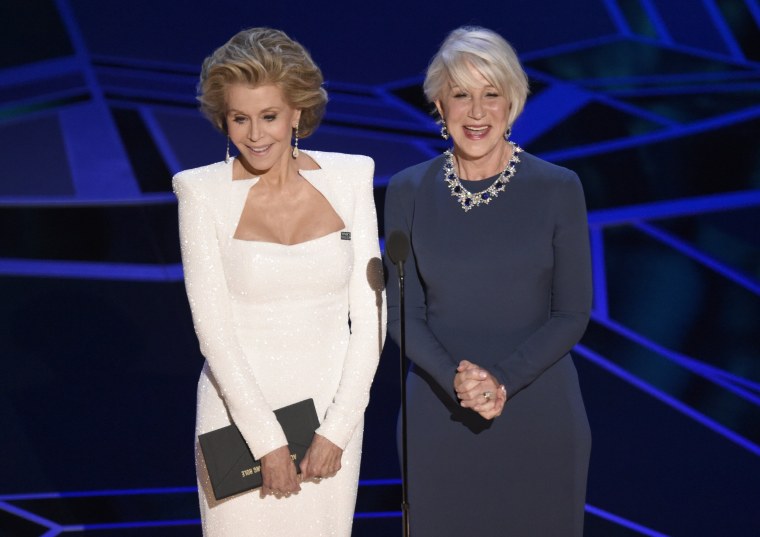 Jane Fonda and Helen Mirren join forces
Screen icons Jane Fonda and Helen Mirren wowed the audience when they joined forces to present the Oscar for Best Actor to British actor Gary Oldman, who transformed himself into Winston Churchill in "Darkest Hour."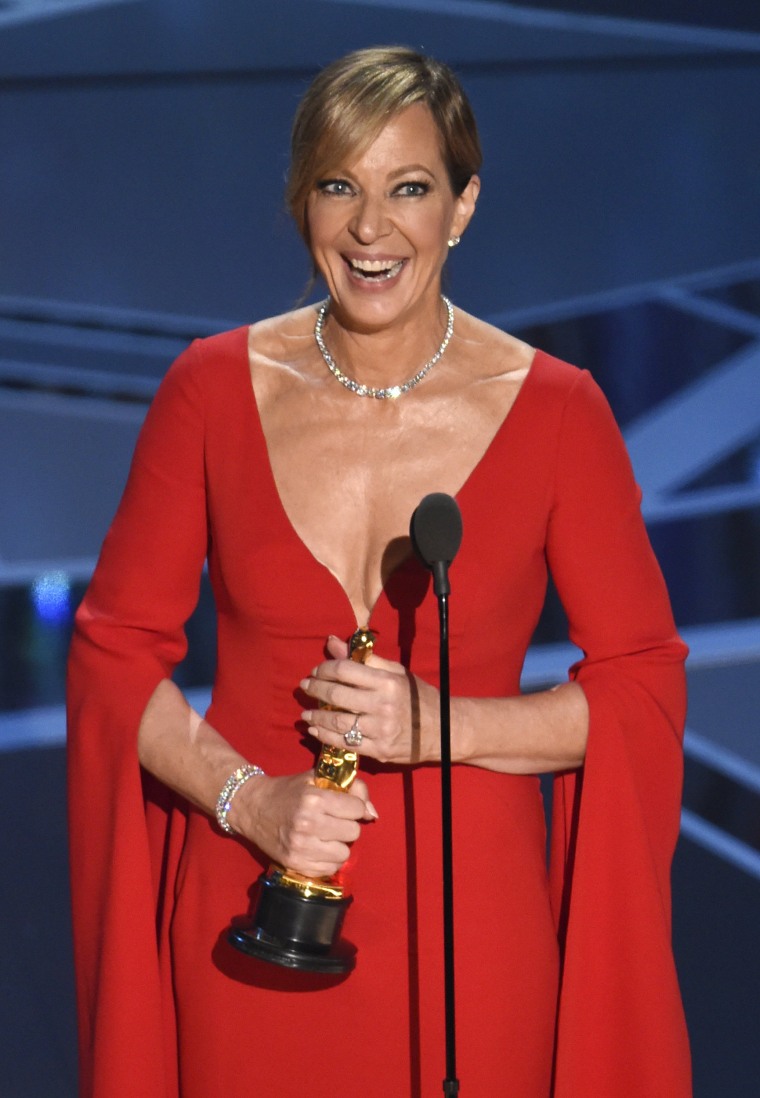 Allison Janney wins Best Supporting Actress
Allison Janney nabbed the Oscar for Best Supporting Actress for her role as Tonya Harding's abusive mother in "I, Tonya." Janney accepted her award, joking, "I did it all by myself," before extending her gratitude to a long list of loved ones and colleagues, including her co-nominees.
"You represent everything that is good and right and human," Janney told them.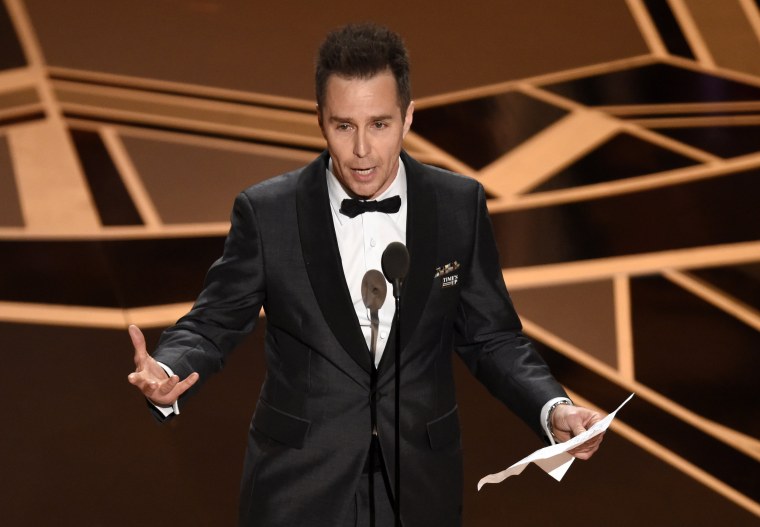 Sam Rockwell wins his first Oscar
First-time nominee Sam Rockwell nabbed the Best Supporting Actor award for his performance as a dim-witted racist sheriff in "Three Billboards Outside Ebbing, Missouri." The actor dedicated his Oscar to late actor Philip Seymour Hoffman.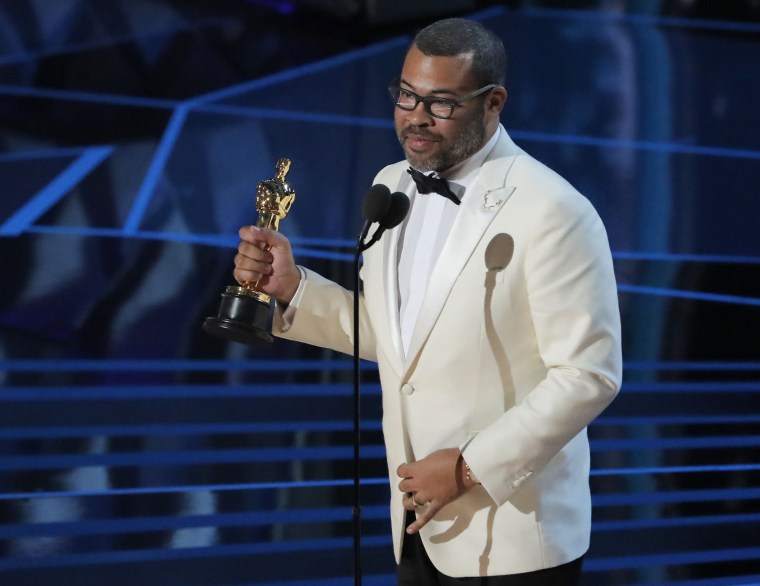 'Get Out' wins Best Original Screenplay
Jordan Peele made history when he won the Best Original Screenplay for his groundbreaking horror masterpiece "Get Out." Peele, the first African-American to win the award, thanked an array of people, including his mother who taught him how to love "even in the face of hate."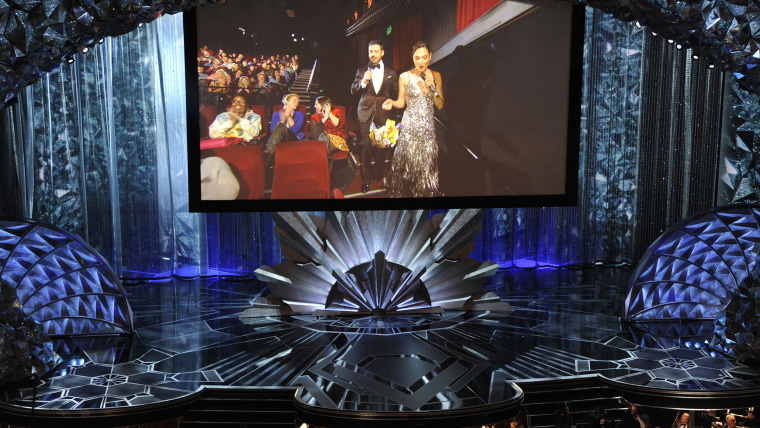 Gal Gadot (and friends) surprise moviegoers
Kimmel's fans know he loves a good prank. On Sunday, the host invited a group of A-listers, including Gal Gadot, Emily Blunt, Lupita Nyong'o, Mark Hamill and Armie Hammer, to join him on a jaunt to a nearby movie theater where they handed out candy to surprised moviegoers who believed they were waiting for a sneak preview of "A Wrinkle In Time."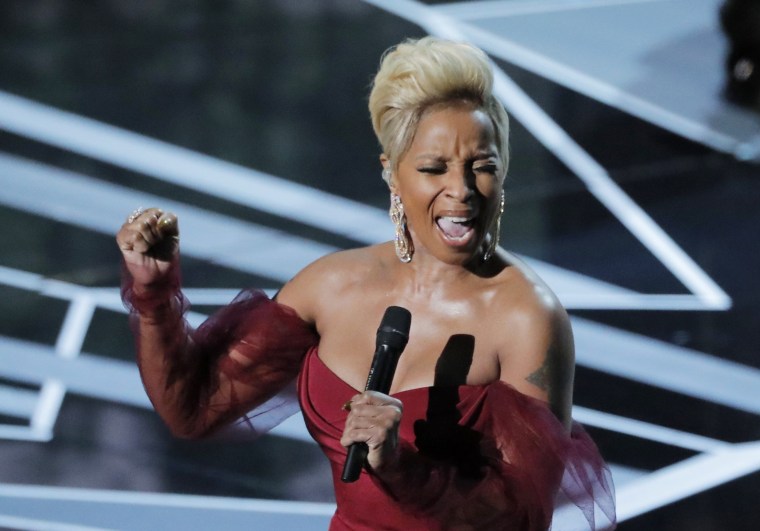 Something about Mary
Mary J. Blige made Oscar history this year by becoming the first entertainer to be nominated for both Best Supporting Actress and Best Original Song. The R&B legend, who was nominated for her performance as a sharecropper's wife in "Mudbound," delivered a powerhouse rendition of "Mighty River," from the film.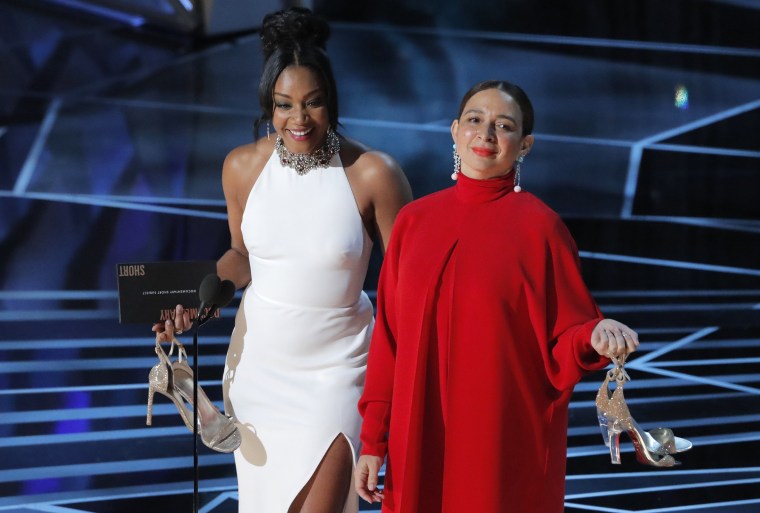 Tiffany and Maya bring down the house
Funny ladies Tiffany Haddish and Maya Rudolph had audience members roaring — and online fans clamoring for a buddy comedy — thanks to their undeniable chemistry. The wacky duo presented two awards together and peppered their lines with hilarious ad-libs, like when Haddish looked into the audience and told Meryl Streep, "I want you to be my mama one day."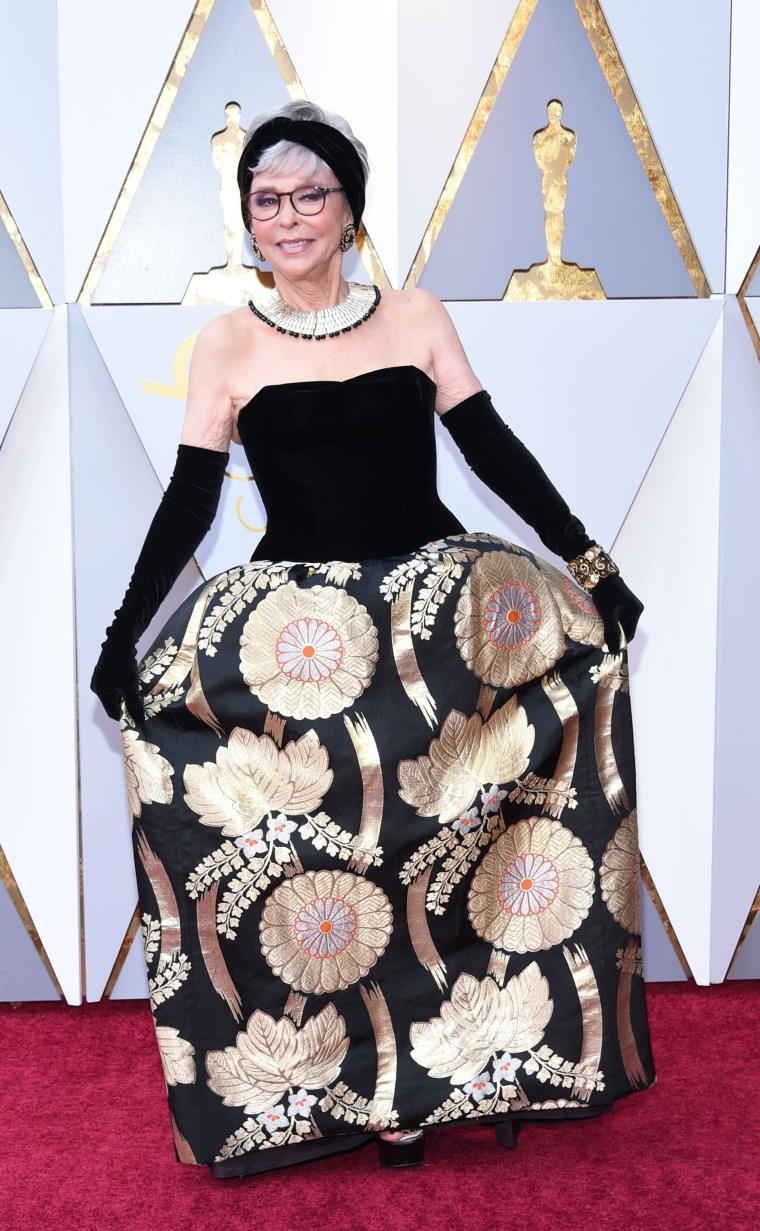 Rita Moreno revives her classic dress
Stage and screen legend Rita Moreno presented the award for Best Foreign Film to "A Fantastic Women" wearing the same dress she accepted her own Oscar in, for "West Side Story," back in 1962.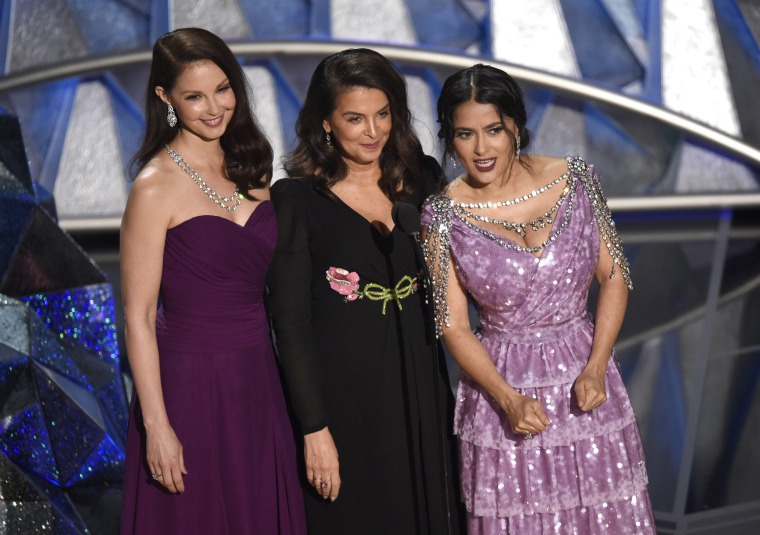 Ashley Judd, Annabella Sciorra and Salma Hayek
Three of Harvey Weinstein's most outspoken accusers — Ashley Judd, Annabella Sciorra and Salma Hayek — together presented a video montage of trailblazing movies and performers that celebrate diversity.
The trio also shared a message of hope about the future, with Hayek saluting the "unstoppable spirits who kicked a-- and broke through the biased perceptions against their gender, race and ethnicity to tell their stories."