Millions of people tune in every night to watch "Wheel of Fortune," but did you know one of the show's biggest fans in TODAY's own Al Roker?
The weatherman got to visit the set of the show, now in its 33rd season. The show's become so popular over the years that it has been merchandised out to casinos, and White even appears in a video loop on the machine.
MORE: 'Wheel' of incredibly good fortune: Contestant stuns with one-letter guess, $91K win
A development the co-host Vanna White admitted to having fun with.
"When I'm walking through the casino, I walk by those slot machines and people are playing, I tap them on the shoulder and I say, 'Good luck!' and keep on walking," she admitted. "I get a kick out of that!"
MORE: 'Wheel of Fortune' contestant gives Snow White an eighth dwarf
"It's been a long and very happy relationship," co-host Pat Sajak said of his and White's ongoing on-screen partnership. "She just says, 'You know, I touch letters and they light up.' I mean, she understands it. But the folks at home really have taken to her."
Well, it may be all fun and games for the hosts, but Roker didn't have much luck when he appeared with his mom on the show in 1997. They ended up with zero dollars and had to go home!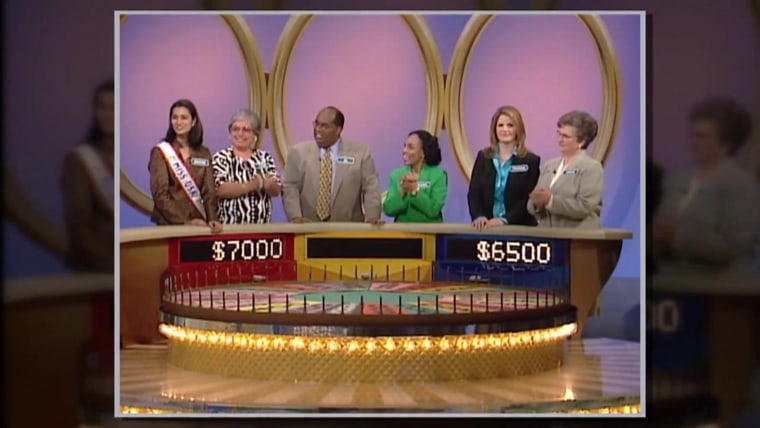 MORE: Wheel of (Mis)Fortune! Vanna White laughs off wardrobe malfunction
So how did Al do on his latest try at the wheel — just for fun, mind — when he visited the show?
Well, let's just say he probably needs to keep practicing. As he left the studio this time, Roker quipped, "Maybe ["Jeopardy!" host] Alex Trebek wants to see me!"
Follow Randee Dawn on Twitter.