Wrapped inside a trash bag and left for dead inside a dumpster, with her bound legs raw and rotting away by the wires still wrapped around them, Chi Chi the golden retriever clung to life.
Thanks to two sets of rescuers — the animal workers who found her in South Korea and the Arizona family who adopted her shortly afterward — Chi Chi not only survived, but now inspires others with her spirit and strength.
Today, despite having all four limbs amputated above the paws, Chi Chi has no problem getting around her home or around town. Her new family has fitted her with prostheses, enabling her to travel around Phoenix to provide comfort each week as a therapy dog who works with veterans, physical rehab patients, people with Alzheimer's disease and young children learning how to read.
"Her story is about resilience and overcoming life's worst, and just never giving up," said Richard Howell, the real estate agent whose family adopted her. "That's what she embodies for us and for everybody who meets her."
His wife, Elizabeth, first spotted Chi Chi shortly after her amputation surgery in a Facebook video posted by Animal Rescue, Media and Education, the parent organization of a group from which the couple adopted two beagles. Elizabeth watched the video repeatedly, captivated by Chi Chi's eyes and the way she wagged her tail despite her injuries.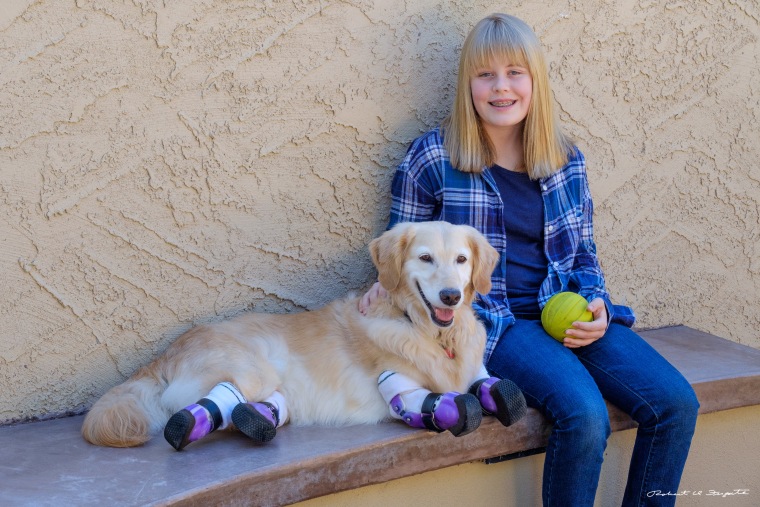 "She stole my heart," Elizabeth said.
The Howells reached out to the organization and arranged to adopt Chi Chi, even though they weren't sure how she would recover from her surgery or if she would even be able to walk.
Chi Chi flew from Seoul to Los Angeles in April 2016. One of her Korean rescuers then drove her to Phoenix. While she quickly took to Elizabeth and Megan, the couple's now 14-year-old daughter, she took another couple of weeks to warm up to Richard. But he now is the person she trusts to put on her prostheses every morning, and to take them off each night before he carries all 30 pounds of her upstairs into their room.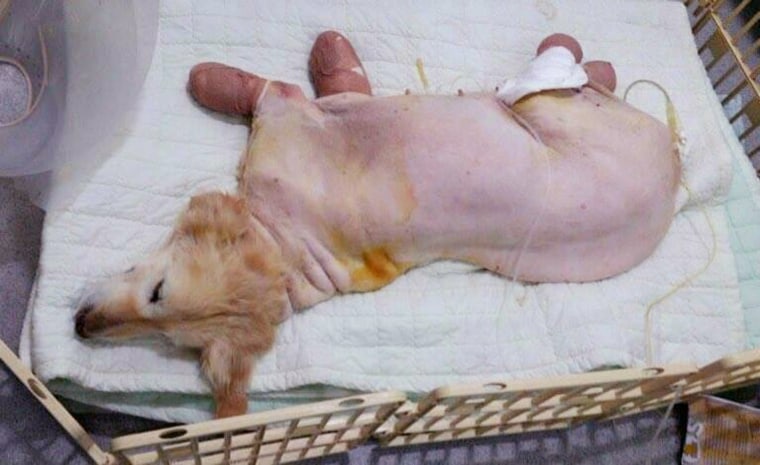 "Being involved in Chi Chi's life has enabled us as parents to teach our daughter that sometimes you do hard things for the right reasons," Richard said. "It was a difficult choice to make that commitment but it's been worth it a thousand times over already."
The Howells connected with someone locally who made human prostheses but who wanted to craft something for Chi Chi. They started with a very simple set of foam-like covers that slipped over her stumps. It was a dramatic improvement over what they had been using: cotton padding secured by baseball tube socks.
"It's always been kind of trial and error," Richard said of the versions Chi Chi has gone through since. Complicating the process is that she needs four different prostheses because each leg was amputated at a different place.
With help from a veterinary technician, the family found a prosthetics expert who specifically works with animals. They have arranged for him to travel to Phoenix later this year to personally fit Chi Chi for her latest set of prostheses. A GoFundMe page has been created to help pay for some of the dog's expenses, including medication she uses to treat the sores that often develop on her stumps.
Any pain Chi Chi feels has never stopped her from going on walks with the Howell's three other dogs. It also hasn't affected her easygoing temperament, a major factor that helped her therapy dog certification process. In recent weeks she's been called to provide comfort at the Veterans Affairs hospital, and been read to by elementary school students trying to improve their skills.
She also has paid visits to a rehabilitation facility, where she worked with one woman recovering from an amputation. The woman told Elizabeth: "Well, if Chi Chi can do it with four amputations, I can get through it with one."
The Howells said that's the kind of hope Chi Chi provides to everyone she meets.
"People see the determination. They see the resilience; they see the decision to move forward and her ability to forgive," Elizabeth said.
"Despite what she's been through, and she's been through horrific things that are unimaginable, she is a happy dog and she has figured out how to move forward and live her life to the fullest."
Follow Eun Kyung Kim on Twitter or Facebook.