An angelic Saint Bernard named Clarence has been busy earning his wings.
The 10-year-old dog spent this week at the U.S. Capitol to attend services for Capitol police officer William "Billy" Evans, who was killed April 2 when a driver rammed his car into a security barricade outside the complex. He and his handler, Deputy Chief William Gordon of the Greenfield Police Department in Massachusetts, volunteer with the nonprofit K9 First Responders, which offers comfort to people affected by traumatic events.
"It's kind of how you have a dark, cloudy day and it's raining and then you get that first ray of sunshine, and it's beautiful," Gordon told TODAY. "That's kind of what Clarence does: He brings a ray of sunshine into a dark world."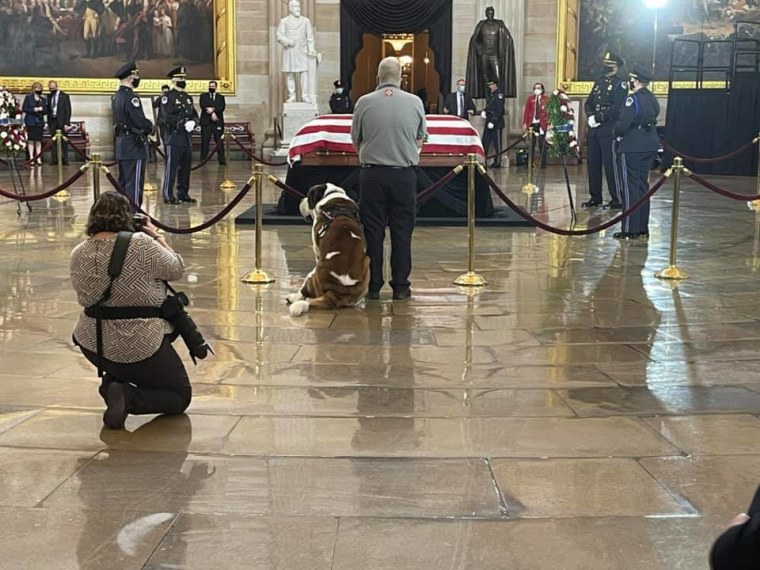 Gordon and Officer Clarence, a police comfort dog who is named for the late musician Clarence Clemons and the angel from "It's a Wonderful Life," met with Capitol police before Tuesday's service. During the ceremony, after President Joe Biden paid his respects, he happened to walk by the duo.
"He was on his way out and he came across Officer Clarence and bent over and gave him a hug and a kiss and shook my hand and then went to the family," he said.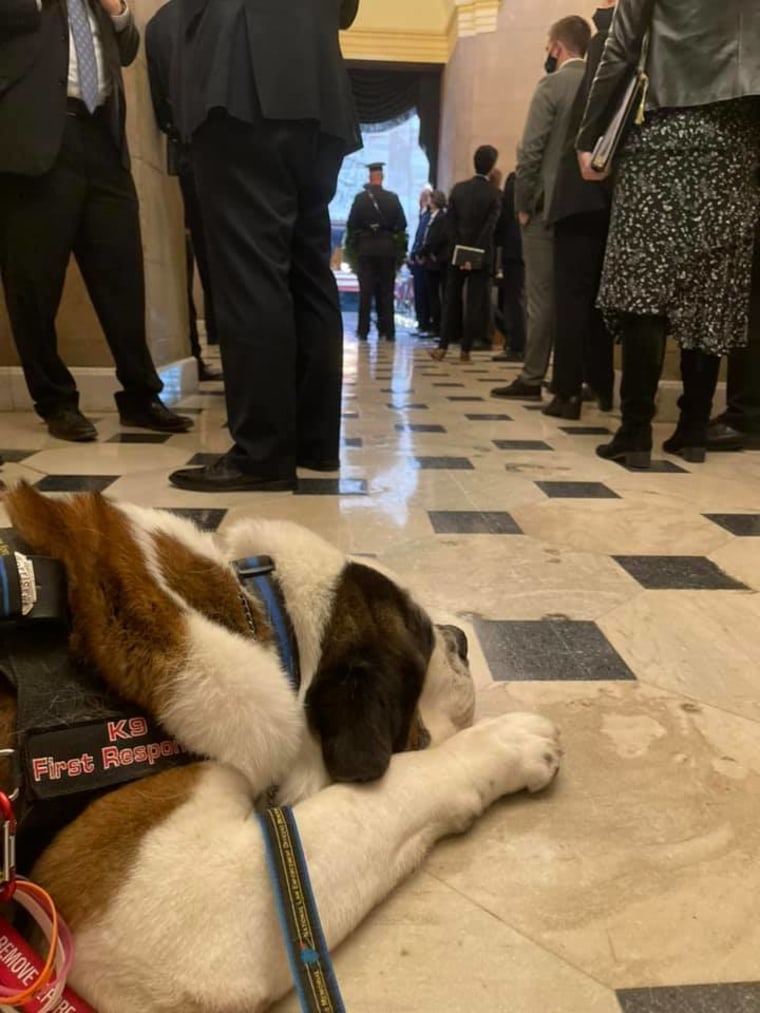 While Gordon thought the encounter was a special way to cap a decade of service for America's first police comfort dog, Officer Clarence was unfazed. The dog enjoys getting attention from everyone he meets.
This week, Officer Clarence proved a hit with elected leaders and staff from both sides of the aisle, such as Republican Sen. John Cornyn, House Speaker Nancy Pelosi and Senate Majority Leader Chuck Schumer. Vice President Kamala Harris asked them to take care of themselves, and Senate Minority Leader Mitch McConnell walked by and commented, "That's a very large dog."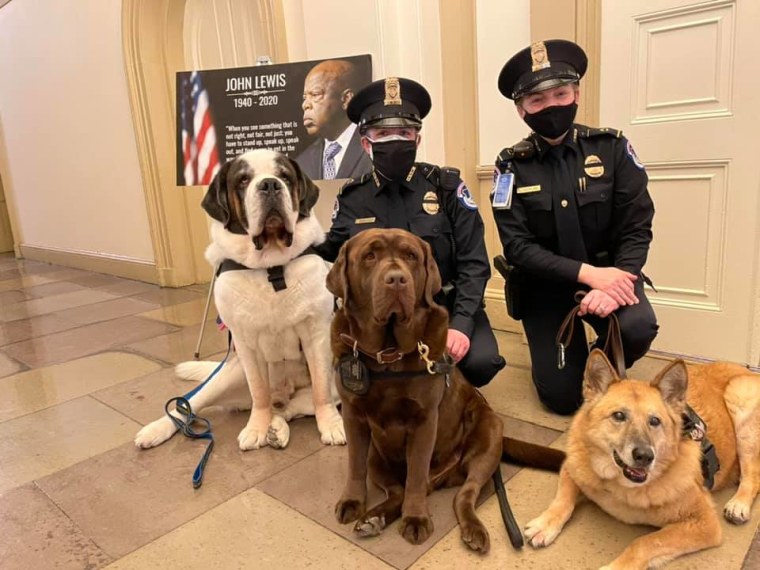 The very large dog got his start helping others as a pretty small puppy. When Gordon and his wife, who is also a police officer, welcomed Clarence into their home in 2011, Gordon was struggling with post-traumatic stress disorder.
"Clarence was helping me and as I went to get treatment, they noticed how much he started helping other first responders," he said.
They started working to help first responders and in December of 2012, traveled to Sandy Hook, Connecticut, with other therapy dog teams from K9 First Responders to meet with firefighters who had to break the news to families that their children had been killed.
"It was very sad and upsetting," he said. "We came down with our dogs and met with them. It was the first time that they smiled in the period of almost a week."
Six months later, Officer Clarence comforted athletes after the Boston Marathon bombing. They also deployed to Las Vegas after the 2017 mass shooting and to Pittsburgh following the synagogue shooting at the Tree of Life Congregation.
"Our goal is to take a really tragic, dark situation and interject a small positive," Gordon said.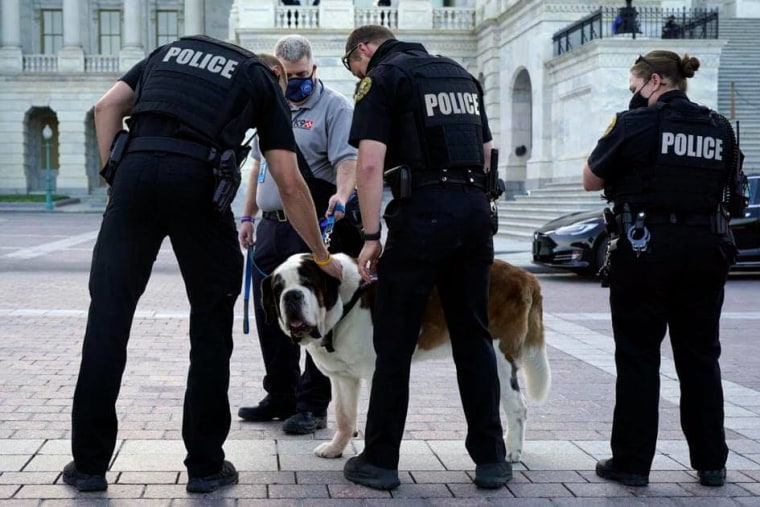 Officer Clarence goes to work every day at the Greenfield Police Department, where he comforts victims of crimes, including children. The dog loves his job.
"He has a special harness that we put on, and he knows that when the harness gets on, he's no longer a pet but a working dog," Gordon said. "We have to bury his harness in a drawer because if he sees the harness, he tries to put it on himself so he can go out the door and go to work. Then he goes to work and sleeps all day. He sits there and snores and sleeps as people pet him."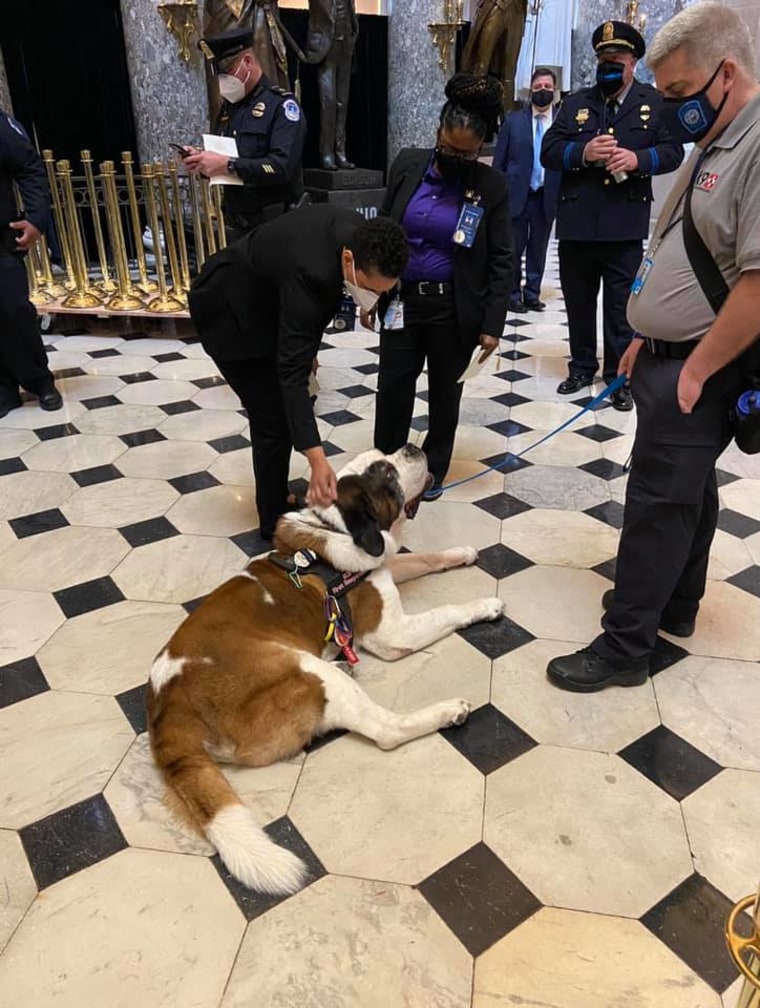 No rewards are needed for a job well done. The mellow dog relishes being pet, and Gordon knows better than to offer treats because he drools on people.
"He could fling his drool and hit the top of the rotunda if he wanted to," Gordon quipped. "It's the scratching behind the ears and whatnot that he really works for."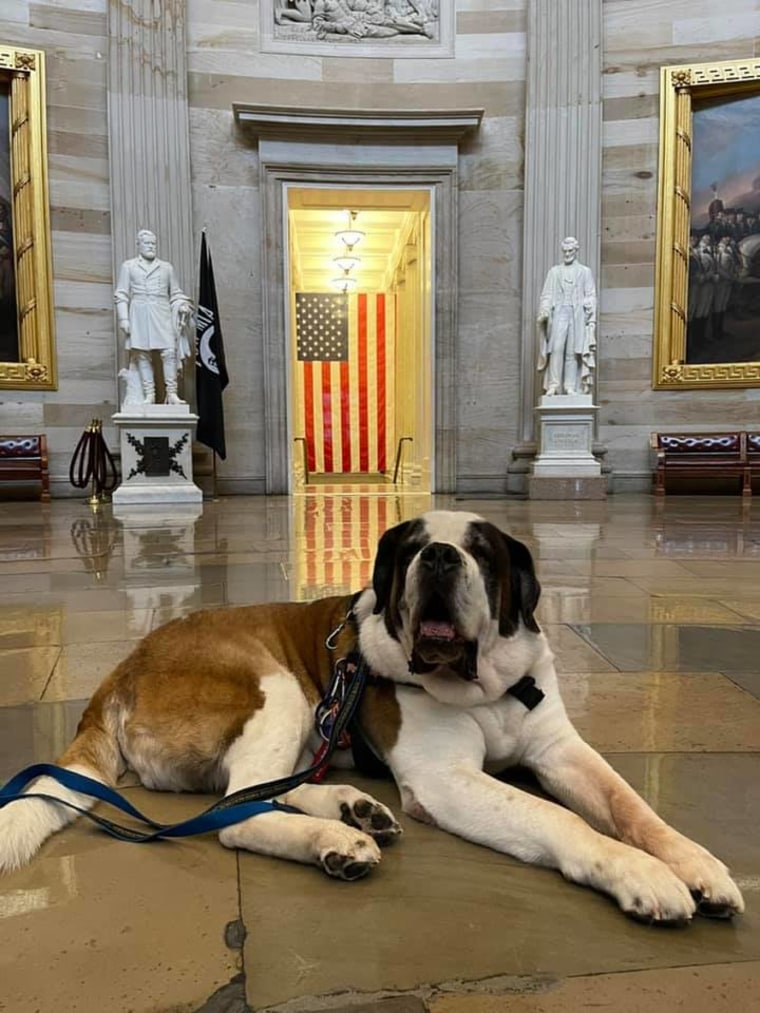 Officer Clarence is semiretired, so Gordon and his wife are training Officer Donut, another Saint Bernard, to fill in for him when he fully retires. Gordon feels the breed's disposition makes them perfectly suited for being pets as well as comfort dogs.
"Their job in the 1800s was to go out to the Alps and rescue people in avalanches of snow. Their job was to lay down next to somebody and keep them warm and comfort them as the rescue crews would come," he said. "They're basically still saving people from avalanches, but this one is avalanches of stress. So that's why we go to crisis and when people are overcome with emotion, he comes to the rescue."