Al Roker went absolutely wild over his internship at the San Diego Zoo!
Kicking off TODAY's week-long series "Up for the Job," Al helped the renowned zoo celebrate its centennial by becoming an intern for a day there.
After signing a frightful-sounding waiver freeing the zoo from responsibility in the case of any maiming or dismemberment, Al dove in to prove he's up for the sometimes-stinky job. Among his responsibilities:
Cleaning the panda exhibit. Pandas have a fiber-heavy diet — which means a lot of panda poop to scoop. "They poop 50 times a day?" an amazed Al exclaimed before taking the rake to some of that waste.
Feeding lunch to the lions. Fortunately, Al was not on the menu. Instead, he learned that different scents get put out for the felines throughout the day, including kitchen spices and perfumes. "They want to mask their own predator smell in order to be better at hunting," a zookeeper explained.
Cuddling with koalas. Al helped weigh Bradley, a koala he remarked "smells like eucalyptus."
Racing over to the tortoises. Al tossed some green roughage to the elderly creatures, four of which came to the zoo in 1928. The oldest among the group is estimated to be 130 to 140 years old.
Al finished his day with a special zoo member who gave the anchor his "seal of approval" with a special kiss.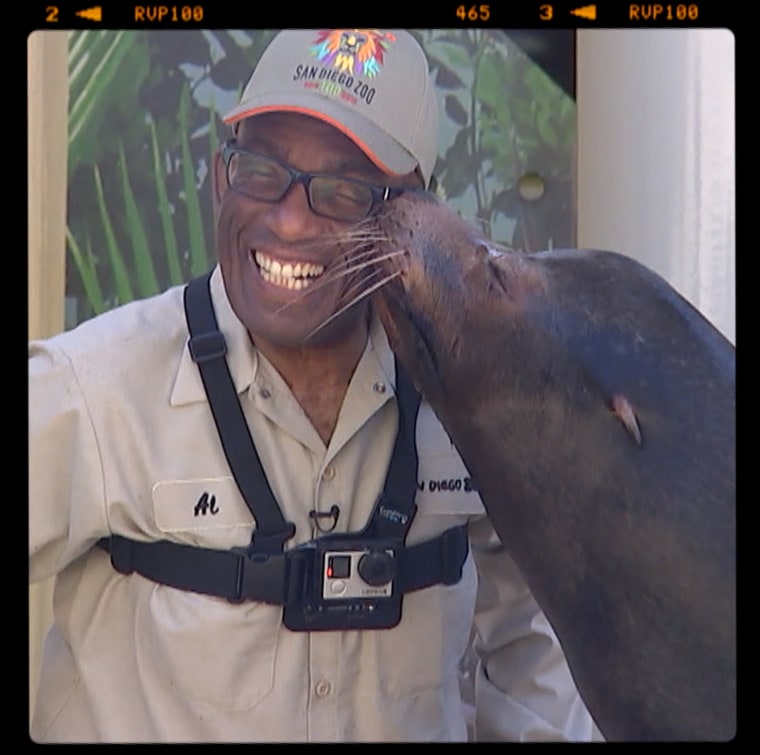 Great job, Al!