Commander and Willow are making another appearance outside of the White House as part of first lady Jill Biden's Valentine's Day decorations.
Hand-painted wooden artwork featuring the first dog and the first cat appeared overnight on the North Lawn of the White House in honor of Biden's Valentine's Day tradition.
"Reach Out with Open Hearts and Helping Hands this Valentine's Day," reads Biden's Valentine's Day message this year on a pink heart with a red border.
The office of the first lady said in a statement this year's decorations feature "the helping hands" of military children she visited at U.S. Army Garrison Fort Drum, in New York state, represented by handprints in the shape of hearts.
The decorations don't stop outside: Biden is also displaying "heart-work" made by the children at Fort Drum inside the White House.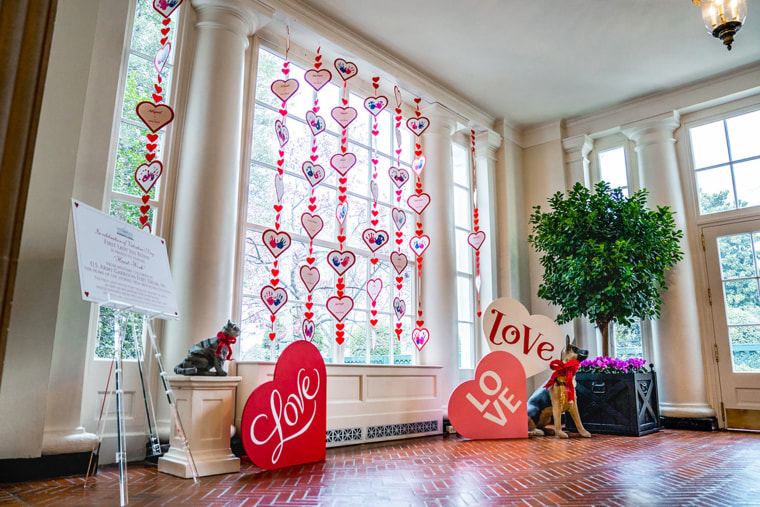 Biden began her Valentine's Day tradition in 2021 when she had large pink, red and white hearts installed on the North Lawn with messages like "strength," "love," "kindness," "family" and "healing."
The first lady spoke with reporters in 2021 about her inspiration for the decorations.
"I just wanted some joy," she said. "With the pandemic, just everybody's feeling a little down. So, it's just a little joy. A little hope. That's all."
Biden's husband, President Joe Biden, took dogs Champ and Major on a walk to scope out the decorations in 2021.
"Valentine's Day is a big day," he said in C-SPAN clip of the walk. "Jill's favorite day. For real."
Commander, the Bidens' German shepherd, and Willow, the Bidens' cat, made their first appearance as part of the decorations last year, along with a giant red heart reading 1 Corinthians 13:13: "Three things will last forever — faith, hope, and love — and the greatest of these is love."
The Bidens added Commander to the family in December 2021, six months after the death of Champ, who lived to age 13. Willow, a short-haired tabby, arrived shortly afterward in January 2022.