Here's one thing Joanna Gaines doesn't have to improve!
The HGTV star has been seen around town with baby Crew recently, and it's not the adorable baby photo ops everyone is obsessing over (this time).
The "Fixer Upper" co-host has been transporting her latest newborn around in a Stokke Xplory Chassis Stroller, according to Country Living. The mom of five snagged the black version, but the stroller comes in over a dozen customizable combinations.
The stroller comes with a steep price tag — the cheapest models start at $1,149 and go up to $1,199 — but not without reason. The carrier can be adjusted into three different positions (sleep, rest and active), is made from water-resistant fabric and features adjustable handles for parents of all heights.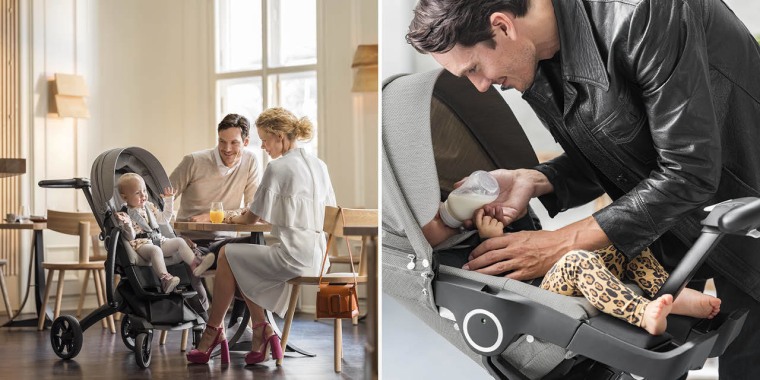 But if the Gaines' boutique pick is too pricey, here are five more strollers Consumer Reports have dubbed the best in the market.
The Best 'Traditional' Stroller
Peg Perego Booklet Travel System, $600, BuyBuyBaby
Also available at Albee for $479.
The Peg Perego stroller was rated "best traditional stroller" among consumers. Every detail is supposed to aid busy parents, with one-handed folding and a padded handle. It does, however, weigh a bit more than other Consumer Reports picks — coming in at around 20 pounds — but with a car seat included, taking your child from car to stroller becomes easy.
The Best Combination Stroller
Baby Jogger City Select, $530, Amazon
The City Select Stroller is also available at Albee Baby (20 percent off with code 'OCT20' at checkout!) and Target.
The City Select Stroller is ideal for parents with two kids close in age. Consumer Reports aptly rated this stroller as the best combination stroller. It has 16 different combinations available to parents using second seats or car seat adapters, allowing you to transport both children at once.
The Best Umbrella Stroller
Maxi-Cosi Kaia, $100, BuyBuyBaby
You can also snag the Maxi-Cosi stroller at Walmart.
Voted "best umbrella stroller," the Maxi-Cosi Kaia is a lifesaver. The stroller is thinner than traditional styles, making it an easy option to have on hand for kids who may or may not want a ride. It also stands on its own when folded up, leaving you hands free during times when children want to hop out and walk.
The Best Infant Car Seat Carrier Stroller
Graco Snugrider Elite, $60, Amazon
It's also available via Graco and BuyBuyBaby.
For parents who want the ease of using the same carrier for the car and while on foot, the Graco Snugrider Elite is great. The base connects with many Graco infant car seats, allowing parents to transport sleeping babies between the stroller and car.
The Best Travel Stroller
Graco FastAction Jogger Travel System, $195, Amazon
The travel set is also sold on Walmart for $159 and BuyBuyBaby.
Voted "best travel system," the Graco FastAction Jogger Travel System works well on uneven terrain like grass or curbs. A SnugRide Click Connect 35 infant car seat is included with the stroller, and the seat is rated for babies up to 35 pounds, meaning you likely won't have to buy another car seat for your little one for at least a year and a half.
To discover more deals, shopping tips and budget-friendly product recommendations, subscribe to our Stuff We Love newsletter!