Five years after she was paralyzed when she was pushed into a pool at her own bachelorette party, Rachelle Friedman-Chapman is focusing on the bright side — especially now that she's a mom.
With the help of a surrogate, the North Carolina resident who became known as the "paralyzed bride" welcomed daughter Kaylee Rae Chapman last month.
"Having a baby is what I've always wanted," she told TODAY. "It is a dream come true. ... She's adorable, she's super expressive, and she sleeps a lot, which is great."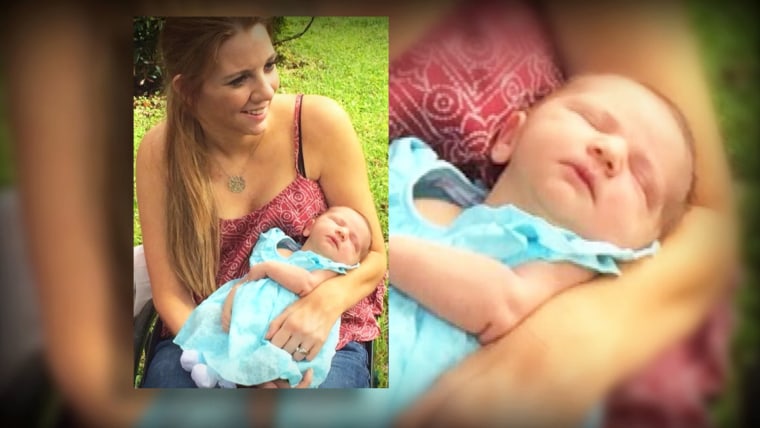 While Kaylee may be a dream, Friedman-Chapman has endured her share of nightmares.
"I had this life planned, where I'm gonna graduate college, get married, have a baby, and I was totally on track," she recalled. "And the accident just threw my whole plan off course."
In 2010, just weeks before she married her husband, Chris, one of her guests playfully pushed her into a swimming pool. In an instant, she was paralyzed, and her whole life was turned upside-down. "Everything changed," Friedman-Chapman said. "Everything that I have to do, I have to do differently than I did before."
That included her path to motherhood. Because of medications she must take, carrying a child was not considered a healthy option, so she and Chris searched for a surrogate. That's when Laurel Humes, a distant friend from her college days, contacted the couple on Facebook.
"This is a great opportunity to get to help another family and see their joy," Humes told TODAY.
Friedman-Chapman was ecstatic. "We were just so excited that someone that amazing would come forward for us," she said.
Humes got pregnant on the first attempt. In January, Friedman-Chapman announced she was expecting a girl. And on April 26, Kaylee was born, weighing in at 7 pounds, 11 ounces.
In addition to overcoming adversity, Friedman-Chapman is defying some people's perceptions of motherhood. In addition to taking care of Kaylee, she's blogging, working as a motivational speaker, and playing wheelchair rugby.
"I think a lot of people think, 'Well, how can she be a mom? She's a quadriplegic,' and I just don't think a lot of people realize what many quadriplegics or paraplegics are capable of," she said.
Acknowledging some physical limitations, Friedman-Chapman says her love has no limits.
"I wish I wasn't paralyzed; I wish there was a cure," she said. "But in the meantime, I have to focus on the positivity and the fact that I have an amazing husband and I now have an amazing daughter. Hopefully one day I'll be able to run around with her, but for now we'll take what we have and be happy for it."
Follow TODAY.com writer Chris Serico on Twitter.