A United Airlines pilot made the flight cabin cheer when he announced that an on-duty flight attendant was none other than his mom.
Pilot Cole Doss, 31 made the touching pre-flight announcement before departing from Dulles, Virginia to Madrid, Spain on July 25. After sharing the weather conditions, Doss introduced a special crew member: His mom Moya Doss.
"One of these flight attendants in particular working with us today is not only an exceptional flight attendant but also my exceptional mom," said Cole, prompting cheers from the cabin. "Today is the first time in two years at United we're able to work together. She's been one of my biggest supporters in life and my career in becoming a pilot ever since my very first flight lesson."
"I'm especially honored and excited to be able to fly her for the first time today and to be able to share this experience with all of you on our flight to Madrid," said Doss. "To my mom, I love you and to everyone on board, welcome aboard our family-friendly skies."
First Officer Cole, a 2-year pilot for United, shared footage of his announcement in an August 8 Instagram video.  
"The highlight of my career came to life when I was able to work a trip with my mom and fly her for the first time!" he wrote on the post. "She's been my biggest supporter in becoming a pilot. We had the best trip to Madrid together. I'll never forget this experience and everyone who helped make this possible."
Moya, who has worked at United for more than 45 years, tells TODAY.com that Cole's announcement took her by surprise.
"I was taken aback," she says. "It was really, really sweet."
Cole, whose father and sister are also flight attendants, said working with his mom has always been the dream.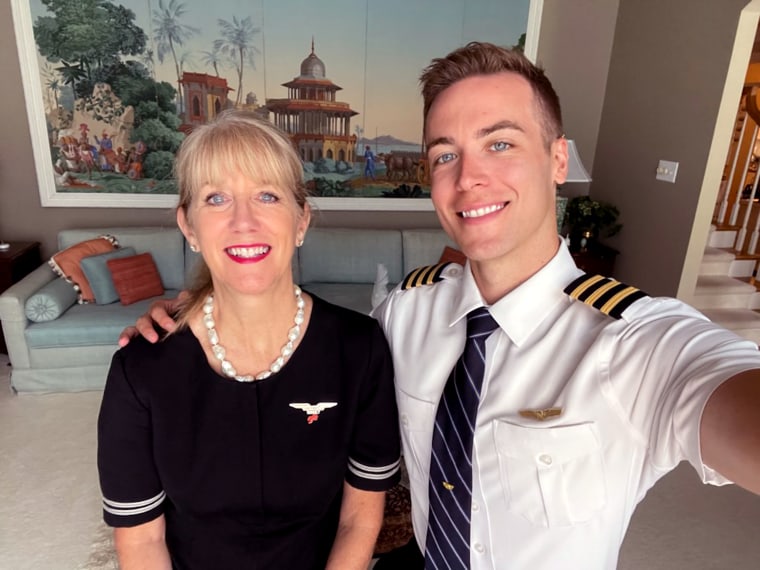 "I don't know my schedule until about 24 hours prior and when I was assigned a flight to Madrid, I told my mom," Cole tells TODAY.com. "She was originally booked on a flight to Tokyo and was able to rearrange her schedule to work with me. She had never been to Madrid, so she was super excited."
Having his mother onboard was a proud moment. "It was great to be able to showcase to my mom everything I've learned," he says.
"In flight school, we're trained to fly as though our family members are on board," says Cole. "It was really cool to finally have that reality. It felt like I had been training for this for quite a while."
Cole admits that he was "thrown off" overhearing his mom assist passengers.
"While on break, Cole would hear me and think I was talking to him," adds Moya.
Cole had written his passenger speech in advance, so he wouldn't stumble and could "say exactly what I felt."
"He's always been very sweet and protective of me," says Moya. "At first, I was kind of embarrassed but then I started crying because I can be emotional, especially when my kids say nice things."
During the 26-hour layover in Madrid, the pair visited the El Palacio Real de Madrid and The Plaza Mayor.
The pair are already trying to coordinate their next trip together.
"My mom has so many years of dedicated service as a flight attendant and also as a mom," says Cole. "Those two groups sometimes don't receive the appreciation they deserve."