Happy birthday, Hal!
Jenna Bush Hager's son just turned 4, and she shared his birth story to celebrate.
The TODAY with Hoda & Jenna co-host, 41, and husband Henry Chase Hager, 45, welcomed their youngest child Hal on August 2, 2019.
The couple also share daughters Mila, 10, and Poppy, 7.
Hal, whose full name is Henry Harold after Jenna's grandfather, was born via C-section.
According to Jenna, she was temporarily deprived of celebratory treats after Hal's arrival.
"I had Hal for an hour, and my sister arrived with tacos and doughnuts," she told Hoda, "and the nurse said I wasn't allowed to eat breakfast tacos and doughnuts."
She clarified that there was a medical reason behind the breakfast taco ban: "I wasn't allowed to eat yet because I'd had a C-section."
Jenna shared the story with her son.
"I FaceTimed him this morning and said, 'Hal, did you know that in one hour, four years ago, you were cut out of my tummy?'"
Apparently, Hal was less than thrilled, and Jenna mimed his horrified face.
"He goes, "cut out of your tummy?" she said.
"You're so literal," Hoda said with a laugh.
Jenna shared her plans to mark the occasion with her family.
"We're going to celebrate, and I can't wait to get home to him," she said.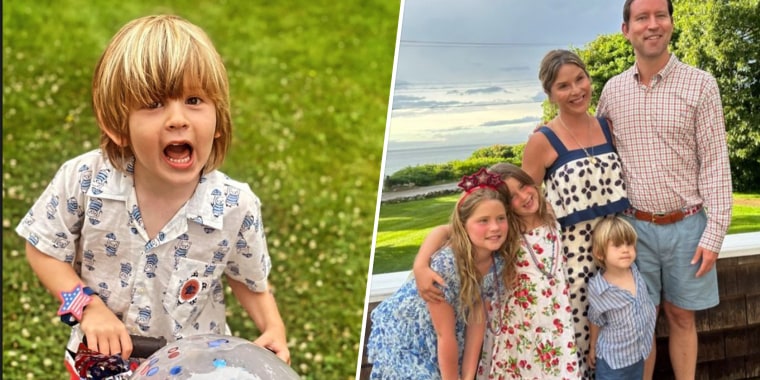 Before his birthday, Hal achieved a big milestone this summer: He learned how to swim.
"He learned how to swim. Hal learned how to swim," Jenna said July 17 on TODAY with Hoda & Jenna. "He swam to that dock, but on Henry's back."
"Were you scared?" Hoda asked.
"Yes," Jenna replied.
"Letting your child do scary things, supervised, is the hardest thing as a grown-up," Hoda said.
"I actually just closed my eyes and let him handle it because I don't want to be like a backseat parent," Jenna said.
Jenna also shared some photos of a blissful family vacation this summer.
"We just had a really wonderful time," she said.