Keke Palmer was granted a temporary restraining order against ex-boyfriend Darius Jackson and also is seeking sole custody of their 8-month-old son, court documents show.
The "Nope" star alleged multiple instances of physical abuse along with emotional abuse in a declaration filed on Nov. 9 in Los Angeles Superior Court, according to documents obtained by NBC News.
A Los Angeles Superior Court judge granted the temporary restraining order on Thursday. The order is in place until a hearing in Los Angeles on Dec. 5, according to court documents.
TODAY has reached out to Palmer and Jackson for comment and has not received a reply.
Palmer, 30, said in the declaration that the two dated from June 2021 until last month, but alleged the abuse continued after they ended the relationship.
She said in the documents that most recently Jackson entered her home without her consent on Nov. 5 and attacked her in a scene caught on surveillance video. Screenshots of the alleged attack also were attached to the court documents.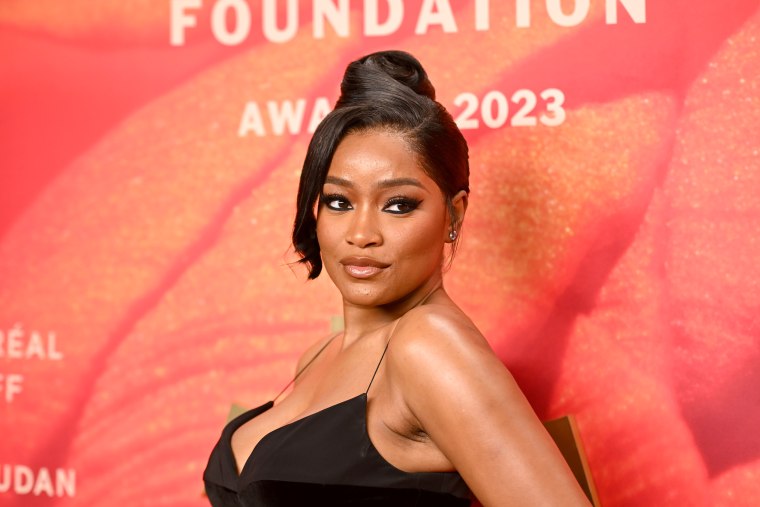 "Darius trespassed into my home, physically attacked me, knocked me over my couch and pinned me down, and stole my phone after I threatened to call the police," Palmer said in the court documents.
She said Jackson kept repeating that he was going to take their 8-month-old son, Leodis, to a football game, but the boy was with Palmer's sister. Palmer then asked Jackson to leave her home.
"He was yelling, leaning into me, getting into my face," she said in her declaration. "At that point, he lunged at me, grabbing at my neck and face, knocked me backwards over the couch, stole my phone out of my hands, and then ran out of the house."
Palmer said she ran outside to get her phone back, and Jackson "nearly hit me with his car." She added that her mother and another one of her sisters were upstairs at the time and came running to her aid after hearing her screaming.
After Palmer filed the court documents on Nov. 9, Jackson posted a photo on X, formerly Twitter, of him holding Leodis.
"I love you son," he wrote. "See you soon."
Palmer also said Jackson choked and "body slammed" her at her home in February 2022 after becoming "violently jealous and irrationally angry over a bikini picture," according to the documents. She said that incident was also caught on surveillance video.
In another alleged confrontation on April 21, 2022, Palmer said Jackson was convinced she was flirting with a girl at a restaurant in Santa Barbara and demanded they go home.
"When I was getting into my car, Darius grabbed my prescription eyeglasses away from me, threw them on the ground and stomped on them," she said in the court documents. "He then opened my bag, threw all of my belongings onto the pavement in the rain, and threw my car keys across the parking lot before he got into his own car and drove off."
Palmer said the alleged mistreatment occurred in other ways.
"The abuse during our relationship was not just physical, but emotional and manipulative," she said in the declaration. "Darius would 'love bomb' me and make me feel like I was the most important woman in the world, only to get extremely distant and cold over a perceived insult to him."
Palmer added that Jackson allegedly read her private journals that she had kept since she was 12 and then destroyed them.
She also said he began to "express jealousy" about the time she was spending with their baby son.
"Darius said very disturbing things to me that caused me to fear for our son's safety with him, including, 'how he understood why male animals in the wild want to eat their children,' and, 'A man's love for his child is based on if he loves the woman,'" Palmer said in the documents.
Palmer said Jackson became "rough physically" with their son while changing his diaper in an incident in September.
"I am afraid for my safety and the safety of our child given Darius' erratic, unpredictable and abusive behavior, including entering my house without my knowledge or permission and physically accosting me," she said in her declaration.
A dispute between Palmer and Jackson spilled into the public in July when Jackson criticized Palmer on social media for wearing a tight, black bodysuit underneath a sheer dress to watch Usher perform at his Las Vegas residency.
"It's the outfit tho.. you a mom," he wrote on July 5.
Palmer then appeared in a music video for Usher's song "Boyfriend," which was interpreted by some as a reaction to Jackson's comments. Usher called it a "positive" spin on what happened in an interview with TODAY.com.
Jackson later called their relationship "not perfect" on Palmer's podcast, "Baby, It's Keke Palmer," in August. Palmer said in the court documents that their relationship ended in early October.