Scottie Scheffler might be the top golfer on the PGA Tour, but there is a new fan favorite: his 87-year-old grandma, Mary.
On Sunday, March 12, Scheffler, 26, was crowned champion at TPC Sawgrass in Ponte Vedra Beach, Florida, after shooting a three-under 72 in the final round of the tournament.
While the win solidified his official No. 1 ranking on the PGA Tour, fans were swooning over a different family member.
Scheffler's grandma, Mary DeLorenzo, walked all 72-holes of the four day tournament to watch her grandson play.
For reference, the average PGA course is 7,200 yards, or 4.09 miles. Notoriously one of the world's most difficult courses, TPC Sawgrass measures 7,215 yards.
"Grandma lives about 20 minutes up the road. She turns 88 in about a week a half. All 72 holes she walked, even the ones from yesterday," Scheffler said during his victory speech.
Fans on social media reacted to the iconic feat.
"As only a grandparent would do," one Instagram user wrote.
Others noted Mary's speed.
"Does she play faster than he does?" one Twitter user asked.
Fellow walkers applauded her shoe choice.
"Of course she can with a sensible shoe like that," one user wrote.
Scheffler told NBC Sports his grandma lives locally and the family has been visiting for many years.
To have her here and win this championship ... it's just special memories," he said. "We've been coming here to visit grandma since we were little kids."
The PGA also shared the moment Delorenzo saw her grandson win the title and footage of their post-win embrace.
"It's pretty impressive she's walking so many holes out here," Scheffler said in his post-victory press conference. "She's a trooper."
Growing up, Scheffler's dad, Scott, stayed at home with the kids while his mom, Diane, worked.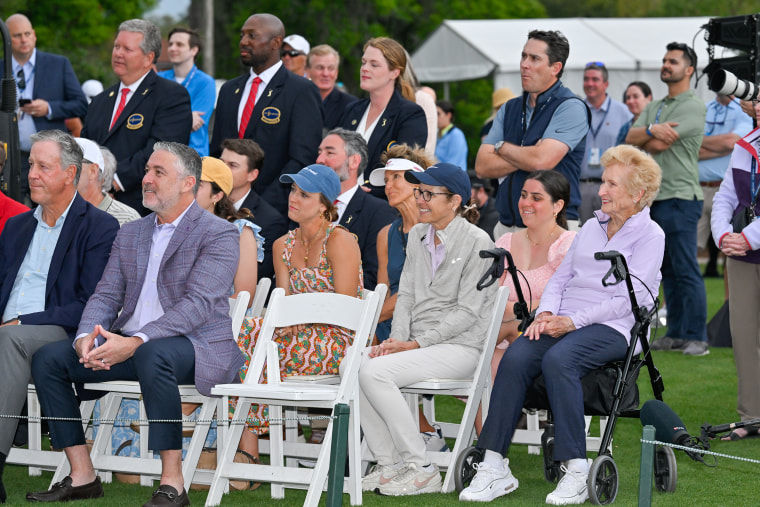 "I played this golf course once with my dad. We used to stay at the hotel here because my mom had built up some Marriott points traveling for work," Scheffler told NBC Sports Sunday after his win. "I have so many great memories of this town and coming to this golf course and it's going to be a fun night celebrating together and enjoying this win as a family."