This story discusses suicide. If you or someone you know is in crisis, call or text 988 to reach the Suicide and Crisis Lifeline. You can also text HOME to 741741 or visit SpeakingOfSuicide.com/resources for additional resources.
Paris Jackson isn't letting the trolls wins.
The Michael Jackson's daughter shared a makeup-free video after people called her "old and haggard" in a previous post.  
"This is no filter, no makeup and regular lighting for the people that wrote really s---- comments about how old and haggard I look in my last video," Paris Jackson wrote on Sept. 28. "I am literally 25. Just young and haggard. Thank you very much."
Paris Jackson's video comes weeks after her older brother, Prince Jackson, spoke out about Harry Styles being labeled the new "King of Pop," a title famously associated with his father, on a 2022 Rolling Stone cover.
The 26-year-old said it was "frustrating" for him to see the magazine calling Styles the "King of Pop" because, viewing it as media trying to "take away the title" his father worked so hard to get, he said in a "Hotboxin' with Mike Tyson" podcast episode released in early September.
"Harry Styles is a great artist. It's more so about these media publications that try to take away the title that was really worked hard for and earned in a different time than we are (in) today," Prince Jackson said.
"There's people in remote villages that don't have access to internet that know who Michael Jackson is, you know, and that was before we had computers in our pockets to spread that information," he explained, stating that his generation "expects things to be fast."
Prince Jackson also recalled how the late Michael Jackson's pride did surface from time to time, and he would tell his son, "Your daddy was the greatest."
Read on to learn more about Michael Jackson's three kids.
Prince Michael Jackson, 26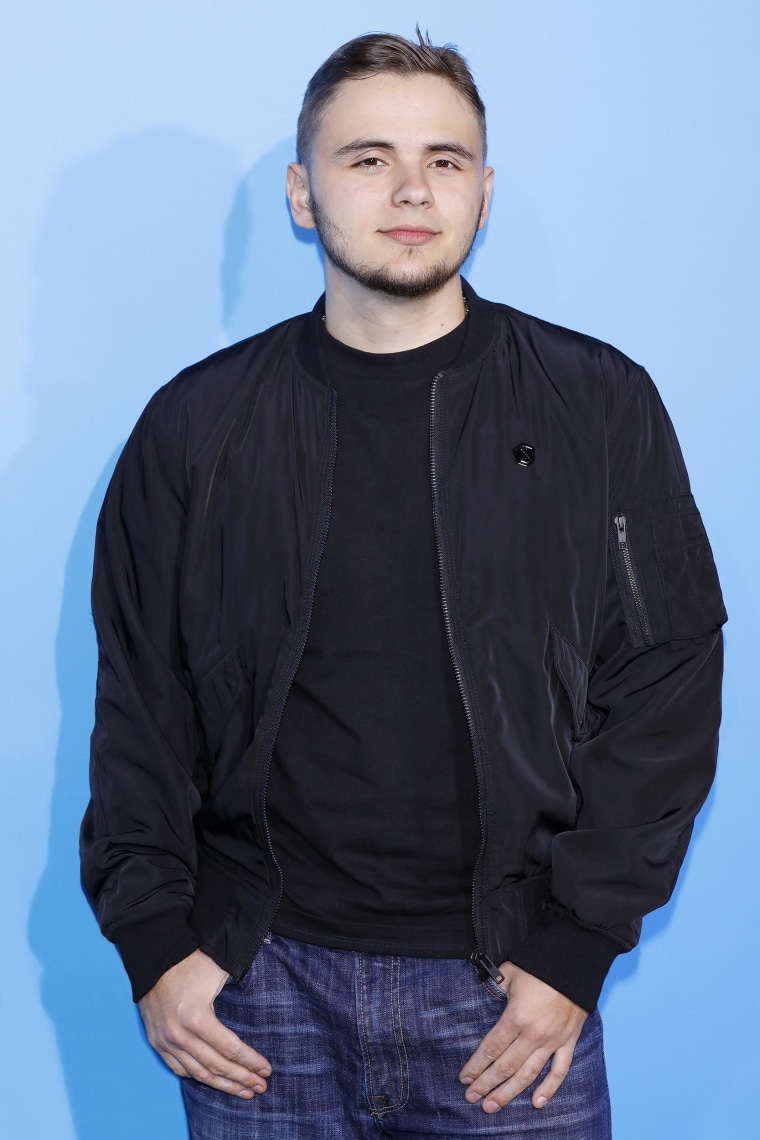 In February 1997, Michael Jackson welcomed his first child, Prince, with his then-wife, Debbie Rowe.
"Words can't describe how I feel, I have been blessed beyond comprehension, and I will work tirelessly at being the best father that I can possibly be. I appreciate that my fans are elated," Michael Jackson said in a statement at the time, according to MTV. "But I hope that everyone respects the privacy that Debbie and I want and need for our son. I grew up in a fishbowl and I will not allow that to happen to my child. Please respect our wishes and give my son his privacy."
In May 2019, Prince Jackson graduated with a degree in business administration from Loyola Marymount University.
To commemorate the occasion, Prince Jackson shared a collection of photos from his graduation on Instagram, including a picture with his little brother, Bigi, and a caption expressing gratitude to those who supported him.
"Yesterday I graduated from @loyolamarymount Cum Laude in the school of business with a focus on entrepreneurship," Prince Jackson penned. "I met so many people and learned so much that the experience alone is worth it. I wish I could thank everyone that helped me make it to the end but I can't and unfortunately they're not all pictured here."
Prince Jackson co-founded the charity Heal Los Angeles Foundation, which started as a student service organization in 2016 and eventually grew into a nonprofit. The organization aims to "improve the lives of young people in Greater Los Angeles," the official site reads.
In a 2020 interview with "Entertainment Tonight," Prince Jackson said that he thinks his dad would be "very proud" of all that he's achieved because having his kids spread "positivity and happiness" was one of Michael Jackson's "main goals."
"I was very fortunate to have him as a father. I had a lot of unique experiences growing up, and what I'm trying to do with my platform and the non-profit or the charity organization is to share those experiences," he said.
Paris Jackson, 25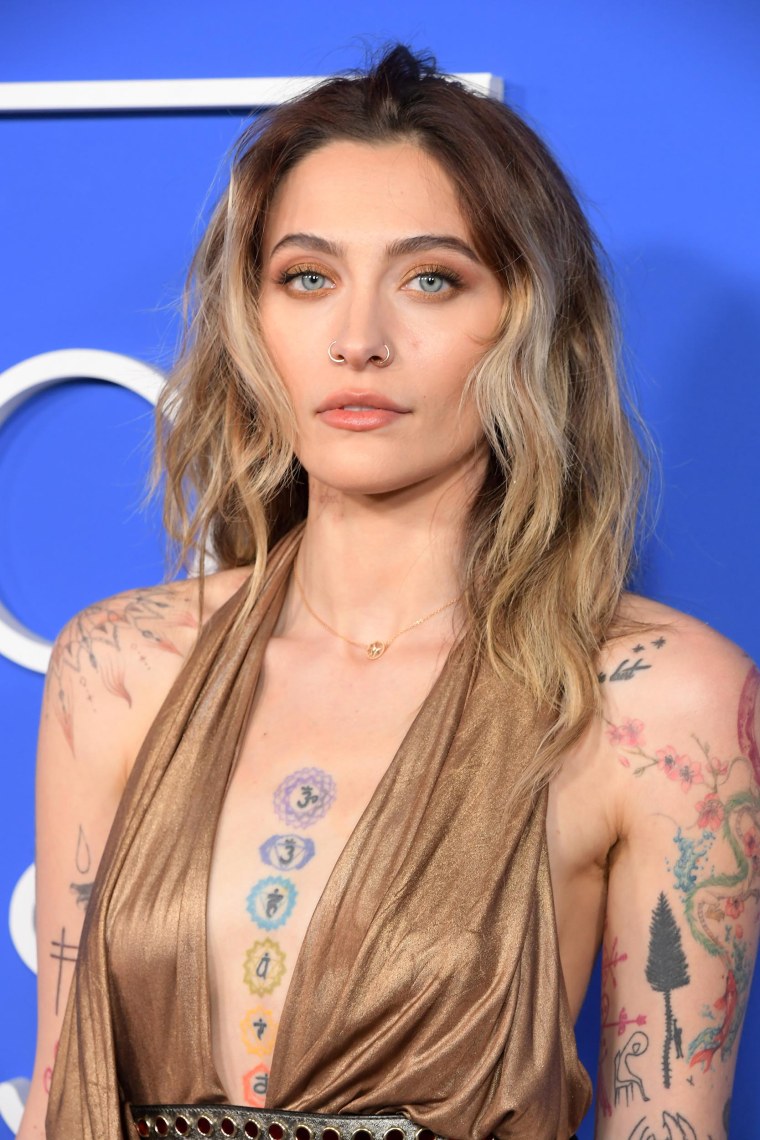 In April 1998, Michael Jackson welcomed his daughter, Paris, with Rowe.
While opening up about her life on the Facebook Watch series "Red Table Talk" in June 2021, Paris Jackson said there had been times when she has attempted suicide.
The "Running For So Long" singer noted that she dealt with a lot of trauma from growing up in the spotlight.
"I think a lot of it was not knowing who I was, being a young girl going through puberty and probably a lot of my situation and a lot of pressure," she said. "It was really hard. And people told me to kill myself everyday. And I was depressed."
However, in the episode, Paris Jackson noted that "things have gotten better" for her and she's "really grateful" to still be alive.
On a June 2020 episode of her Facebook Watch series, "Unfiltered: Paris Jackson and Gabriel Glenn," Paris Jackson talked about her sexuality and said she identifies as gay.
"I say I'm gay because I guess I am, but I wouldn't consider myself bisexual because I've dated more than just men and women, I've dated a man that had a vagina," she said. "It has nothing to do with what's in your pants."
"It's literally like, what are you like as a person?" Paris Jackson added.
In 2020, Paris Jackson released her first album "Wilted." Since then, she's released more songs, her latest single being "Hit Your Knees."
On what would have been Michael Jackson's 65th birthday, Paris took to Instagram to tell fans that her father "used to hate anybody acknowledging his birthday."
"He actually didn't want us to even know when his birthday was, because he didn't want us to throw a party, or anything like that," she said. "That being said, social media is apparently how people express their love and affection these days and if you don't wish someone a 'happy birthday' via social media, it apparently means that you don't love them, that you don't care about them."
Paris Jackson said in the clip that people have measured her "love" for her father based on what she's posted on Instagram, so she said she was going to share a "little video" that they would like.
She then shared a clip of herself on stage talking about Michael Jackson's birthday in front of fans.
"I owe everything to him," she said.
Bigi Jackson, 21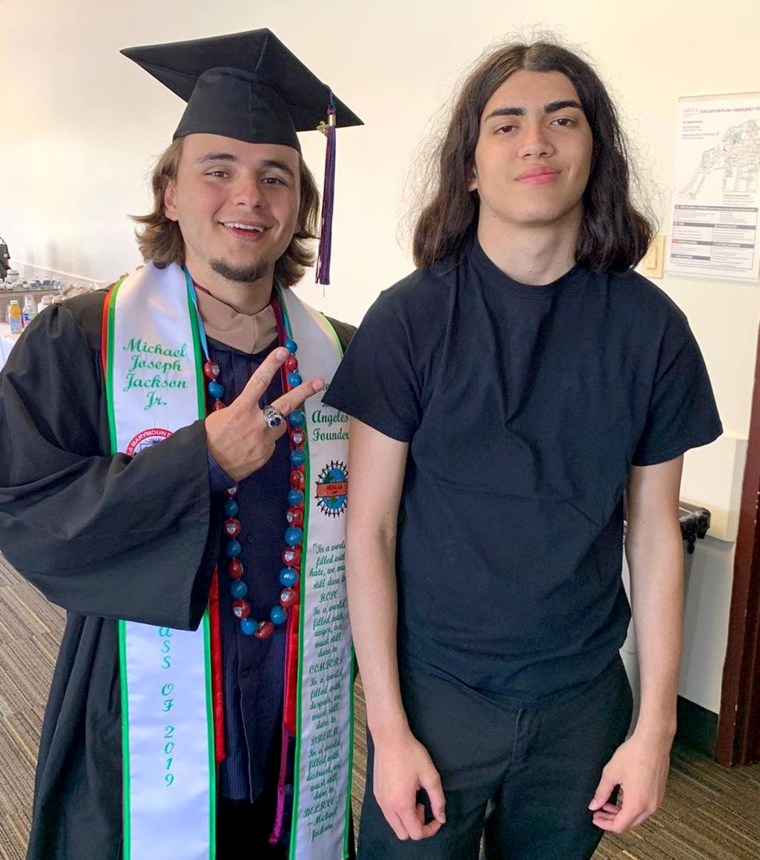 In February 2002, Michael Jackson welcomed his last child, who now goes by Bigi, with the help of a surrogate.
Bigi Jackson, who was born Prince Michael Jackson II, became known by his nickname "Blanket" during his childhood. He now goes by Bigi.
Out of all of his siblings, Bigi Jackson keeps the lowest profile. While it's not often, he occasionally makes a public appearance, like at Prince Jackson's graduation and a recent outing in Las Vegas on what would have been his dad's 65th birthday.
On Aug. 29, Michael Jackson's youngest son was spotted with his older brother, Prince Jackson, at the Mandalay Bay Resort and Casino in Las Vegas, where Cirque du Soleil is currently performing the "Michael Jackson ONE" show.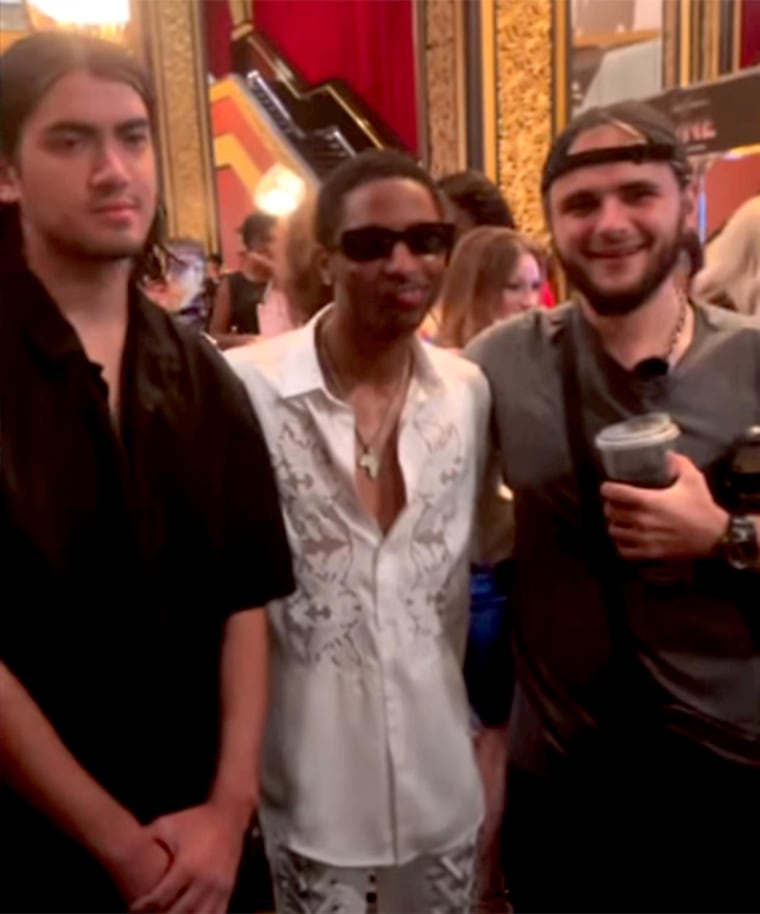 For the outing, Bigi Jackson wore an all-black outfit while Prince Jackson opted for a gray T-shirt with jeans.
At the venue, Bigi Jackson was spotted taking photos with people, including actor Myles Frost, who portrayed Michael Jackson in the Broadway show "MJ the Musical."